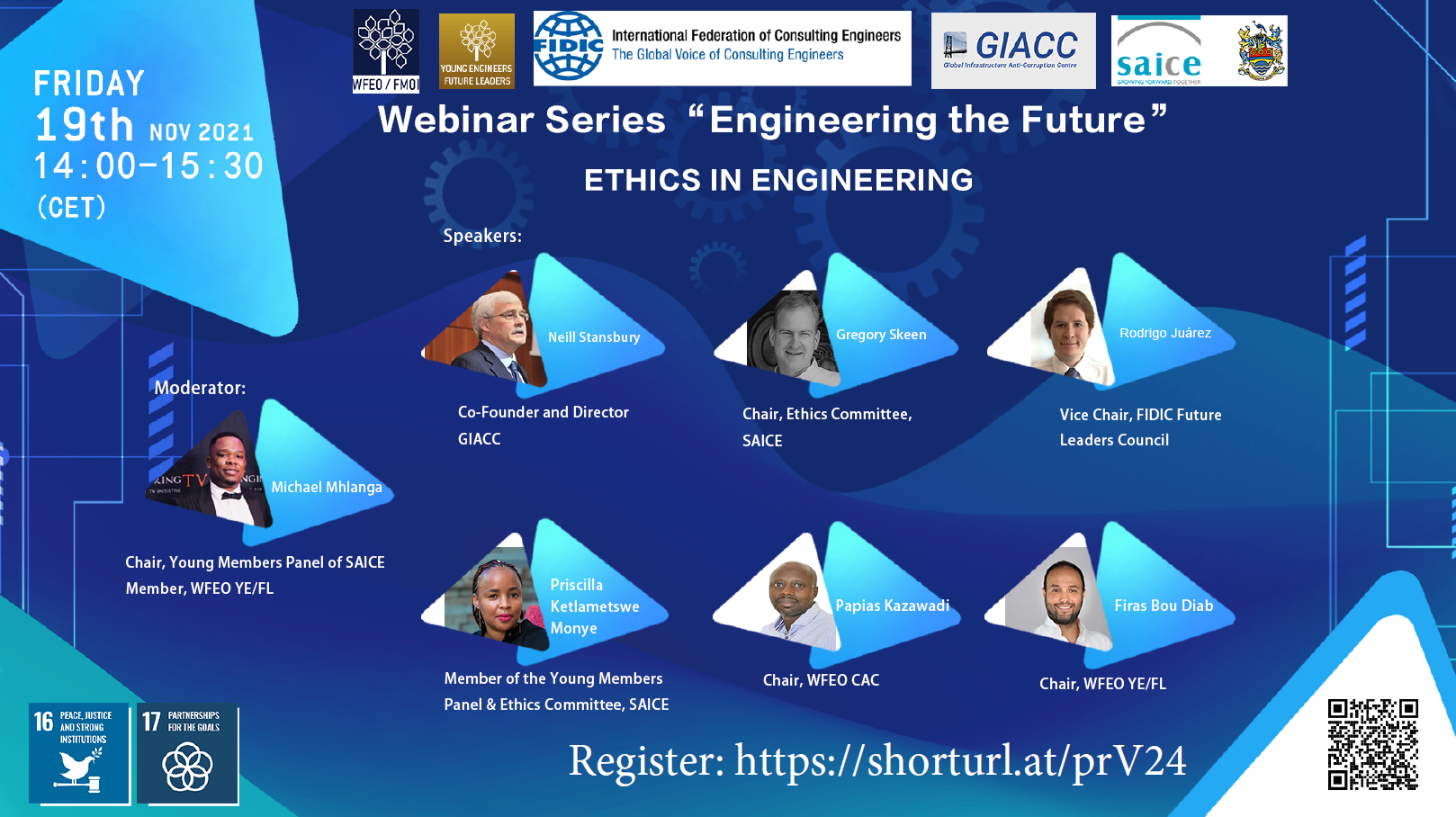 The WFEO Committee on Young Engineers / Future Leaders organized the webinar"Engineering the Future: Ethics in Engineering" last 19th November 2021.
Description
Engineering ethics is the field of system of moral principles that apply to the practice of engineering. The field examines and sets the obligations by engineers to society, to their clients, and to the profession. Ethics is an important topic for engineers of every level and field.
According to the Journal of Leadership and Management in Engineering – published by the American Society of Civil Engineers- (ASCE), corruption in the engineering sector has taken a high toll, including lost lives, finances, diverted resources, and destruction of the environment.
The webinar highlighted that Engineers are expected to display the highest standards of integrity and honesty. Engineers must be honest, fair and open-minded. They also need to be dedicated to protecting the health, welfare and safety of the public. Engineers must be willing to implement a degree of specialized behaviour that compels them to abide by the topmost principles of ethical conduct. This will protect everyone involved in the process.
The webinar aimed to educate and inspire young engineering professionals from all over the world and make them aware on the urgency of implementing measures that promote ethical behavior in their organizations, ethical theories to use in our ethical decision making, and some tools to identify and resolve ethical conflicts.
Moderator:
Introduction:
Speakers:
Closing remarks:
The recording is available by clicking on the below image.

For more information:
Video recording of the webinar
WFEO Committee on Young Engineers / Future Leaders (YEFL) website
WFEO Committee on Anti Corruption (CAC) website
South African Institution of Civil Engineering (SAICE) Website
Global Infrastructure Anti-Corruption Centre (GIACC) Website
Global Infrastructure Anti-Corruption Centre (GIACC) Website
WFEO YEFL Webinar "Engineering the Future" #4 – Young Engineers = Board Members ?
WFEO-YEFL Webinar "Engineering the Future" #3 – Volunteering for the Future
WFEO-YEFL Webinar "Engineering the Future" #2 – Climate Action
WFEO-YEFL Webinar "Engineering the Future" #1 – Resilience and Sustainability for Young Engineers
Firas Bou Diab, Project Manager, Senior Transportation Engineer at a world-leading planning, design, management and supervision consultancy trusted by more than 850 clients, consistently ranked among the world's top 10 engineering and architectural global consultancies for over 25 years. He has a considerable and diversified experience in many areas of transportation and infrastructure with a wide spectrum of design aspects in the Middle East, Africa, the Arab Gulf region. He is responsible for planning, design and coordination activities, preparation of engineering reports, presentation of design reviews to clients, and preparation of technical and financial proposals and presentations for various potential infrastructure projects in the Middle East and Africa. Firas Bou Diab is the Chair of World Federation of Engineering Organizations (WFEO) Young Engineers / Future Leaders committee and a board member at the Federation of Lebanese Engineers (FLE)
Michael Mhlanga, is a qualified Civil Engineer. He currently holds a bachelor's degree in civil engineering and is currently pursuing his masters in civil engineering at the University of Johannesburg. Michael is appointed as the South African representative of World Federation of Engineering Organisations Young Engineers Future Leaders (WFEO YE/FL) committee. Representing the voices of young South Africans on the international stage. He is an executive board member of The South African Institute of Civil Engineering (SAICE) and the current Chairperson of SAICE Young Members Panel. He has served as the Chairperson, Vice Chairperson & community engagement officer of SAICE Johannesburg branch. Michael has worked for both public and private sector as an engineer with experience in school's infrastructure design and construction. He is currently working as a Project Manager and facilities management.
Priscilla Ketlametswe Monye, is currently a full-time lecturer at the Central University of Technology, Free State and an experienced civil engineering practitioner. She has served on a variety of strategic, management and technical roles in the consulting, government department and construction fields for over 11 years with research and academia just over 4 years of her 11 years' experience. Research and academia were inspired by her passion for solving social issues through engineering. She is currently part of the SAICE Young Members Panel Committee & Ethics Committee.
Rodrigo Juárez, a Civil Engineer from ITESM, México. He holds a Master´s degree in Construction Management & Engineering from the University of Leeds. In addition, he is pursuing a PhD in Project Management at the Faculty of Civil Engineering, also at the University of Leeds, in the United Kingdom. In addition, he has completed FIDIC´s Young Professionals Management Training Programme (YPMTP), now FLMC. As for his professional experience, he has worked with the Texas Transportation Institute (TTI) in Mexico City, the PMO for the Mexico City New International Airport (NAIM) with Parsons Corporation – FOA Consulting, and currently works as a consultant for FOA Consulting, the first Mexican company certified in ISO37001:2016 in Anti-Bribery Management Systems and First Global Consulting Company certified in Business Integrity. In addition, he works as an external consultant for the Inter-American Development Bank (IADB), exploring best practices and lessons learned for rail transport and metro systems megaprojects in Latin America. Rodrigo is also the current Vice-Chair of the FIDIC Future Leaders Council and Vice-Chair of the Young Professionals Group of the Mexican Chamber of Consulting Companies (CNEC) Mexico.
Neill Stansbury, Co-founder and Director of GIACC. He is a construction lawyer who has worked for over 35 years in the international infrastructure sector. He was Chairman of the International Organization for Standardization Anti-Bribery Project Committee which published ISO 37001, Chairman of British Standards Institution Anti-Bribery Working Group which published BS 10500, and Vice Chairman of the World Federation of Engineering Organisation's Anti-Corruption Standing Committee. He has given anti-corruption presentations and workshops in over 40 countries.
Papias Kazawadi, Professional Engineer, Project Manager, Entrepreneur for over 25 years, Founder and CEO of Star Learning Solutions Ltd, President Elect of Federation of Africa Engineering Organizations (FAEO) and Chairman of the World Federation of Engineering Organizations (WFEO) Committee on Anti-Corruption, Immediate Past President of the Institution of Engineers Rwanda (IER) with practical experiences in leadership, advocacy, mediation and arbitration. Passionately he stands to inspire and transform the new generation into market leaders and entrepreneurs full of integrity and best practices. He is also an associate member of the Chartered Institute of Arbitrators and Kigali International Arbitration Centre (KIAC) as well as an Accredited Mediator.