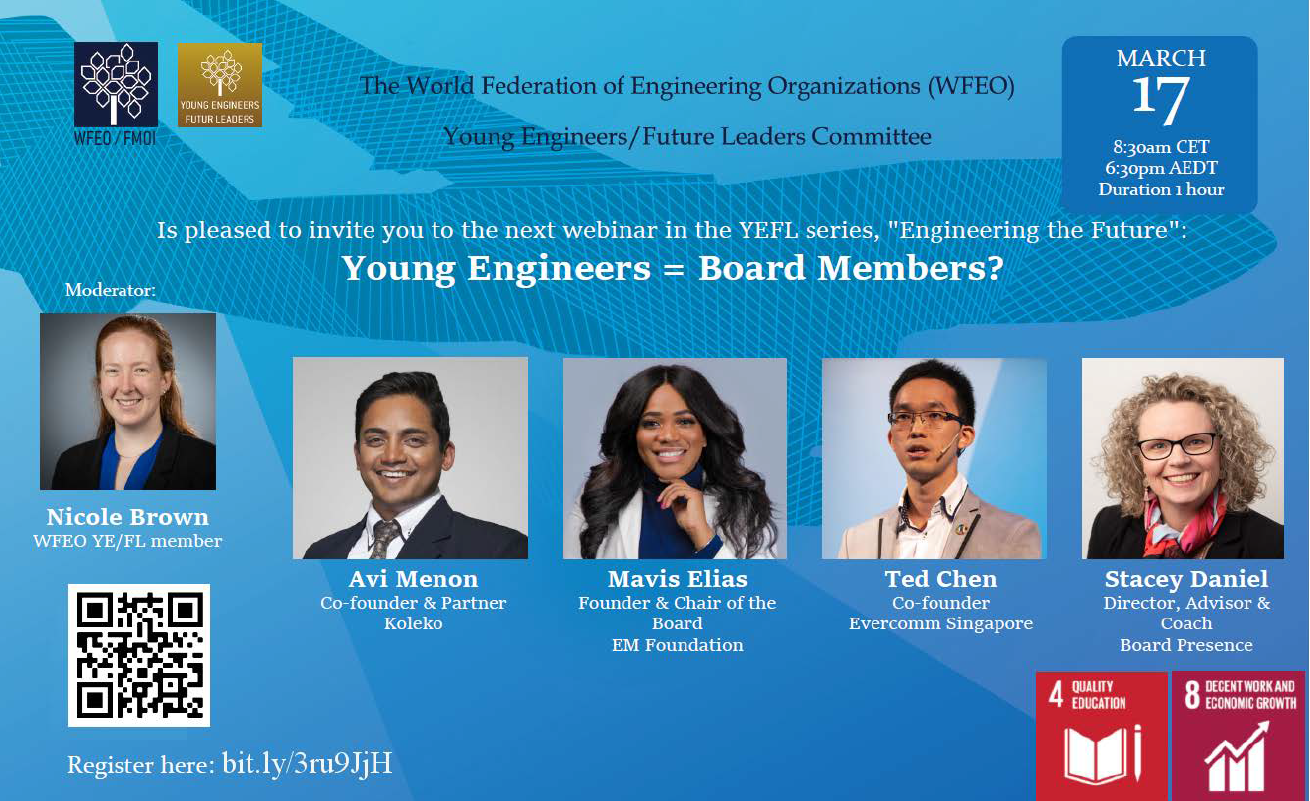 The WFEO Committee on Young Engineers / Future Leaders organised the fourth webinar of its serie Engineering the Future #4 Young Engineers = Board Members ? on 17 March 2021.
One of the challenges facing young engineers is having a "seat at the table" and understanding how organisations and companies operate. This discussion provided young engineers insights and a starting point to understanding company structure, in particular the role of the board and how young engineers can get involved.
Moderator: Nicole Brown, WFEO YE/FL member.
Speakers:
The recording is available by clicking on the below image.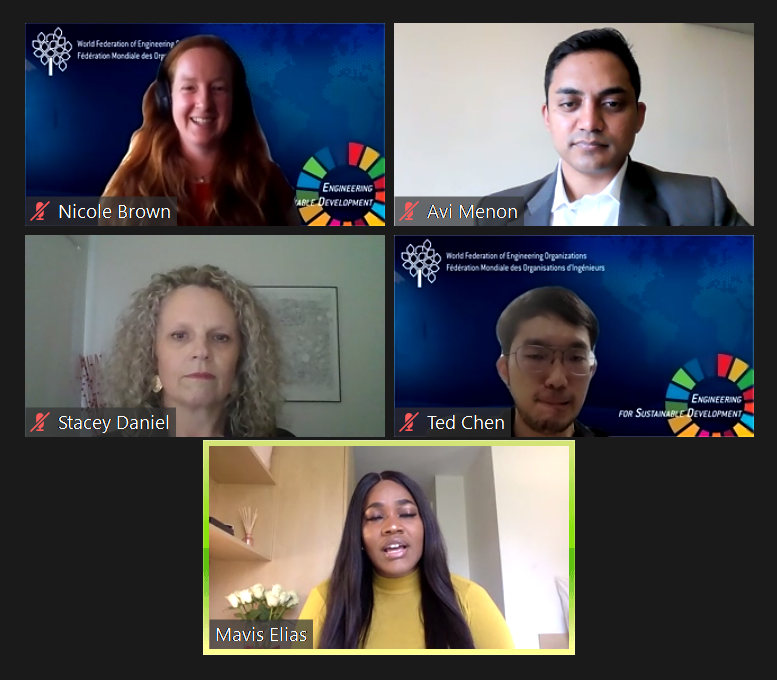 For more information:
Video recording of the Webinar
WFEO-YEFL Webinar "Engineering the Future" #3 Volunteering for the Future
WFEO-YEFL Webinar "Engineering the Future" #2 Climate Action
WFEO-YEFL Webinar "Engineering the Future" #1 Resilience and Sustainability for Young Engineers
WFEO Committee on Young Engineers / Future Leaders website
Stacey Daniel is a consultant, coach and speaker who builds capability and capacity in boards, committees, members and aspiring directors.
As a young engineer, Stacey sat on a number of statutory, industry and community boards and is now a published author on the topic of 'Boards'. Last year, she released her book, Fly to the Boardroom: Your Essential Guide to Getting on a Board where she demystifies the world of boards, the boardroom and provides guidance for how to get on a board.
Stacey has presented at national and international conferences about boards and spoken about diversity in the boardroom. As a result of her work, she was recognised in 2020 as one of Australia's Innovative Engineers.
Her career has involved working in the corporate and community sectors with multi-national companies, State and Federal government departments, local government, community groups and small business. She now runs her own business Board Presence supporting and servicing organisations and individuals from various industries and sectors.
Known for her tenacity in driving social change and development, mentorship and branding, Mavis Elias is a multi-faceted youth leader. She is a qualified civil engineer, practicing branding and marketing expert, founder of EM Love Foundation and Ehaveco Events. Mavis is an internationally acclaimed public speaker, award-winning blogger, and philanthropist. She is presently a Chevening scholarship scholar studying at the University of Sussex in England, pursuing a Master's degree in Globalisation, Business and Development.
With a diverse portfolio, Mavis has served as a Director of the One Economy Foundation, a Namibian non-profit organization lead by the First Lady of the Republic of Namibia. She too has been at the forefront of transforming multiple brands, starting up SME development programs and creating mentorship programs.
Ranked as a young African trailblazer and leader, Mavis was awarded the Vivid Philanthropist of the year award 2015, the Queens Young Leader Award 2018 by Her Royal Highness Queen Elizabeth II and the Pan African Award for Women in Business and Governance in the Social Welfare Sector 2019.
Mavis has a keen passion for writing and has been a blogger for over 8 years, having gone on to win the Simply You Magazine Blogger of the year award 2019. She has contributed her writing to the Queens Young Leader platform, The Namibian Newspaper, and has been a columnist for two years at the New Era Newspaper.
With a growing public platform, Mavis has taken to teaching and speaking on personal development, having done her first professional public speaking talk in the year 2012 and over the past 8 years has been gracing the international stage with thought-provoking content. She delivered the closing speech at the 2nd Global Forum for Youth Leaders (GoFORTH) in Nairobi in the year 2019.
With her love for African people, Mavis is on a mission to use her voice to challenge the mindset of young people in the role they play in economic freedom and the upheaval of poverty.
Click on this link to know more.
Ted is the Co-founder and CEO of Evercomm Singapore – one of the fastest-growing energy artificial intelligence companies in Asia Pacific's cleantech sector.
Youngest to receive the prestigious Singapore Energy Award and recognized as one of the digital pioneers by the Singapore Committee on the Future Economy (CFE), Ted works closely with the United Nations Major Group for Children & Youth (UN MGCY) as the Science-Policy Interface Focal Point, with the mission of advancing the role of children and youth in contributing to the sustainable development. He is also an expert technical partner for the United Nations Development Programme (UNDP) City2City Network, a member of the International Telecommunication Union's Generation Connect Visionary Board and a Barclays Unreasonable Impact Fellow.
Ted has notably received the Nanyang Outstanding Young Alumni Award from Nanyang Technological University (NTU) and made it to World Cities Summit Young Leader and Forbes' inaugural 30 Under 30 Asia list.
Mr Menon is the Co-founder and Partner of Koleko, a Civil Engineering firm with offices in South Africa, Mozambique and Uganda. He has over 15 years experience in engineering projects spanning over India, Netherlands, US and seven African countries. He holds a Bachelor's Degree in Civil Engineering, a Masters in Civil Engineering from the prestigious Ivy League – Cornell University and a Masters in Town and Regional Planning.
He served on the Executive Board of the South African Institution of Civil Engineers (SAICE) for a few years. He currently serves on the board of Koleko Group of companies. He serves as an advisor to the board of several other companies.