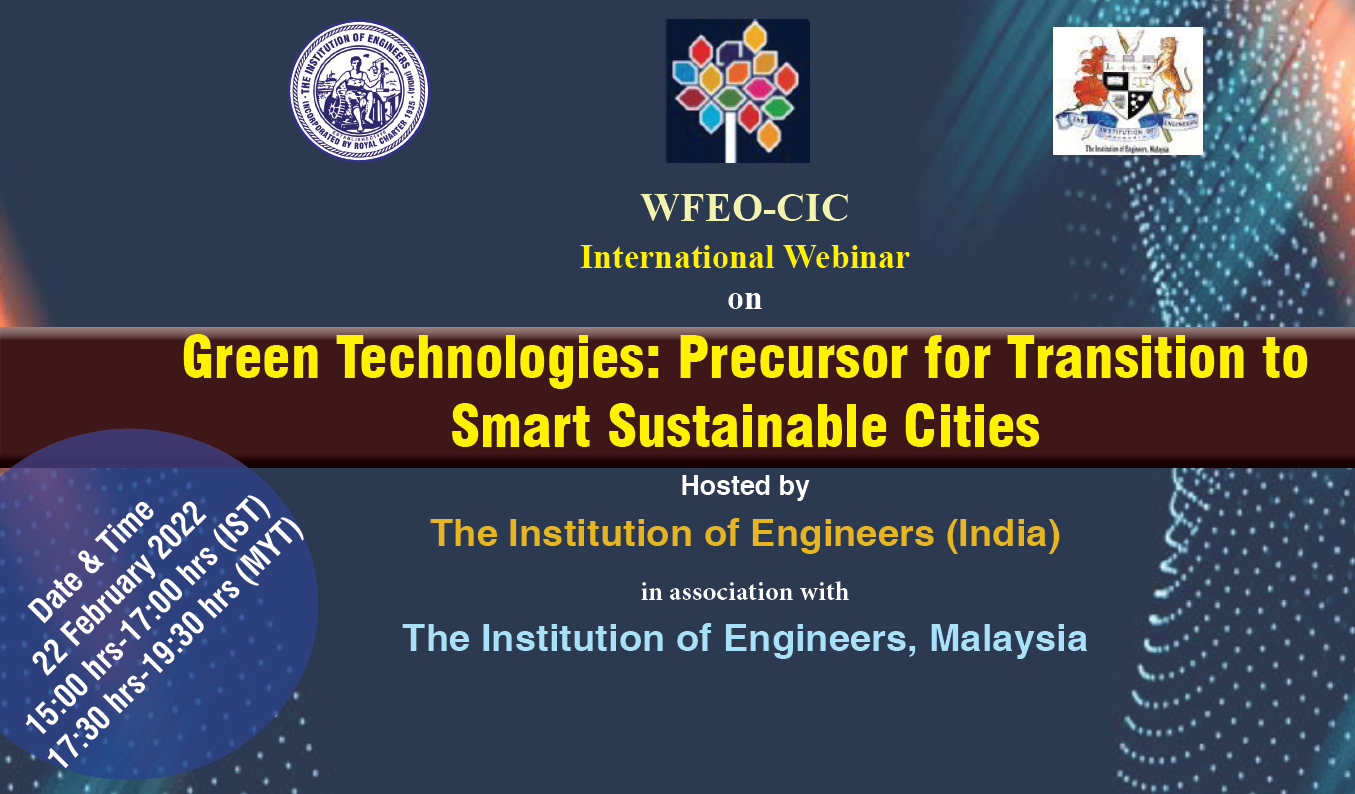 An International Webinar on the topic "Green Technologies: Precursor for transition to Smart Sustainable Cities" was organized under the aegis of the WFEO Committee on Information and Communication (CIC) on 22 February 2022.
The International webinar was hosted by The Institution of Engineers (India) in association with The Institution of Engineers, Malaysia (IEM).
The following experts from India and Malaysia were the speakers:
Shri V Suresh, President of Forum for Critical Utility Services, Former Chairman, IGBC, Former CMD, HUDCO, Vice Chairman, National Building Code of India , Chairman, Housing and Planning Committee and Member, Smart Cities Committee of BIS – Presentation
Prof (Dr) P K Sikdar, President, Intercontinental Consultants & Technocrats Pvt. Ltd., New Delhi, India – Presentation
Ir. Kesavan Jaganathan, Director of Freelance Consultancy, Malaysia – Presentation.
The program was also graced by:
Dr H O Thakare, President, IEI,
Mr S S Rathore, Chairman, WFEO-CIC & Past President, IEI,
Mr Navinchandra B Vasoya, Member of WFEO Executive Council & Past President, IEI,
Mr Ashok Kumar Basa, Advisor to President, WFEO & Past President, IEI,
Maj Gen MJS Syali, VSM (Retd), Secretary & Director General, IEI.
The event was organized on Zoom and was attended by over 170 delegates from India, Bahrain, Malaysia, Kuwait, Oman, Singapore, South Africa, UAE, UK and Zambia.
The recording of the event is available in this page.

For more information: