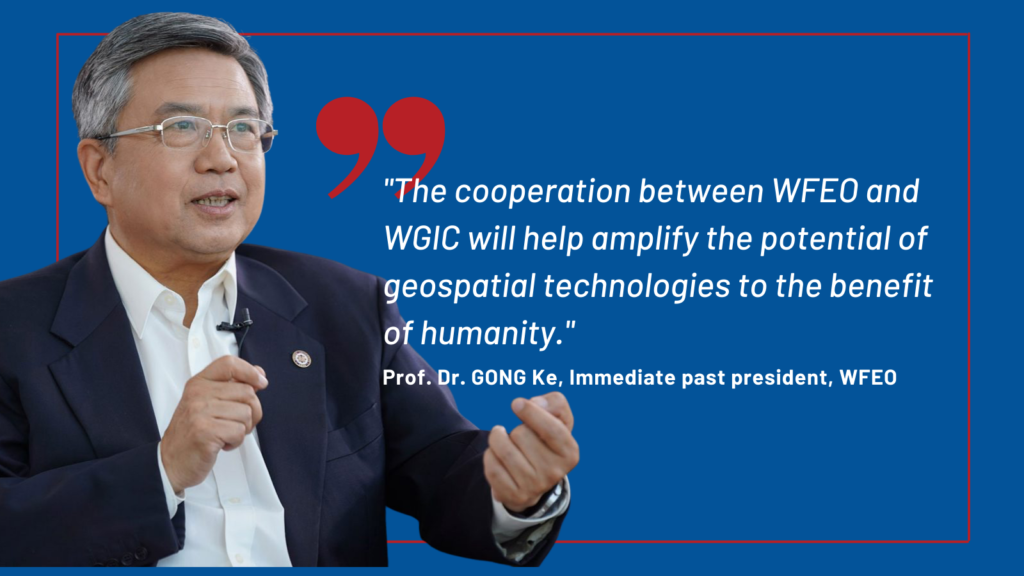 In an exclusive interview, the World Federation of Engineering Organizations' (WFEO) immediate past president Prof. Dr. GONG Ke discusses the value of engineering in global development, its role in achieving UNSDGs, and WFEO's successful partnership with World Geospatial Industry Council (WGIC).
---
WGIC: Prof GONG Ke, thank you for speaking with WGIC. You are a strong believer of innovative engineering approaches to development. Can you tell us more about the role of engineering solutions in achieving the UN Sustainable Development Goals (UNSDGs).
GONG Ke: WFEO's cooperation with the different divisions of the UN has a strong and long record. WFEO uses its resources (e.g., professional societies and members worldwide) to assist the UN bodies to provide analysis of technical, economic, and environmental feasibility of SDG proposals. We make sure that the UN implements best of the practices to achieve SDGs. In fact, together with the UN, we have contributed much to implementation of SDGs, a recent significant work is the UNESCO Engineering Report – Engineering for Sustainable Development.
The focus of UNSDGs is economic, environmental, and social development, and engineering plays a major role in these aspects. For example, the construction of basic infrastructure such as railways, airports, mobile, broadband and other telecommunications are the drivers of economic growth. These are impossible to build without engineering. On the environmental front, engineers are the real heroes. They develop resilient infrastructure to reduce greenhouse emissions, ensure clean air, water and energy, and help to mitigate the impacts of climate change. Without engineering solutions, the world could have never had AI, robotics, or Internet of Things. These are the technologies of high social importance, driving advances in people's health and education worldwide.

"WFEO uses its resources (e.g., professional societies and members worldwide) to assist the UN bodies to provide analysis of technical, economic, and environmental feasibility of SDG proposals."

Words such as sustainable, effective, resilient and breathtaking best describe a world where the most innovative engineering approaches are applied. This is the dream that we, together with the UN, go for. UN Secretary-General Antonio Guterres, in his congratulatory letter to commemorate WFEO's 50th anniversary, said, "Every one of the Goals requires solutions rooted in science, technology and engineering."
WGIC: Certainly, engineering technologies and solutions are driving us all to a better and more sustainable future. Prof GONG Ke, could you please specify the SDGs in which engineering is most used?
GONG Ke: Sure. It all starts from Goal 1 – No Poverty and goes all the way up to Goal 17 – Global Partnerships. Engineering plays a crucial role in all of them. Figure 1 explains the role of engineering in each of the UNSDGs.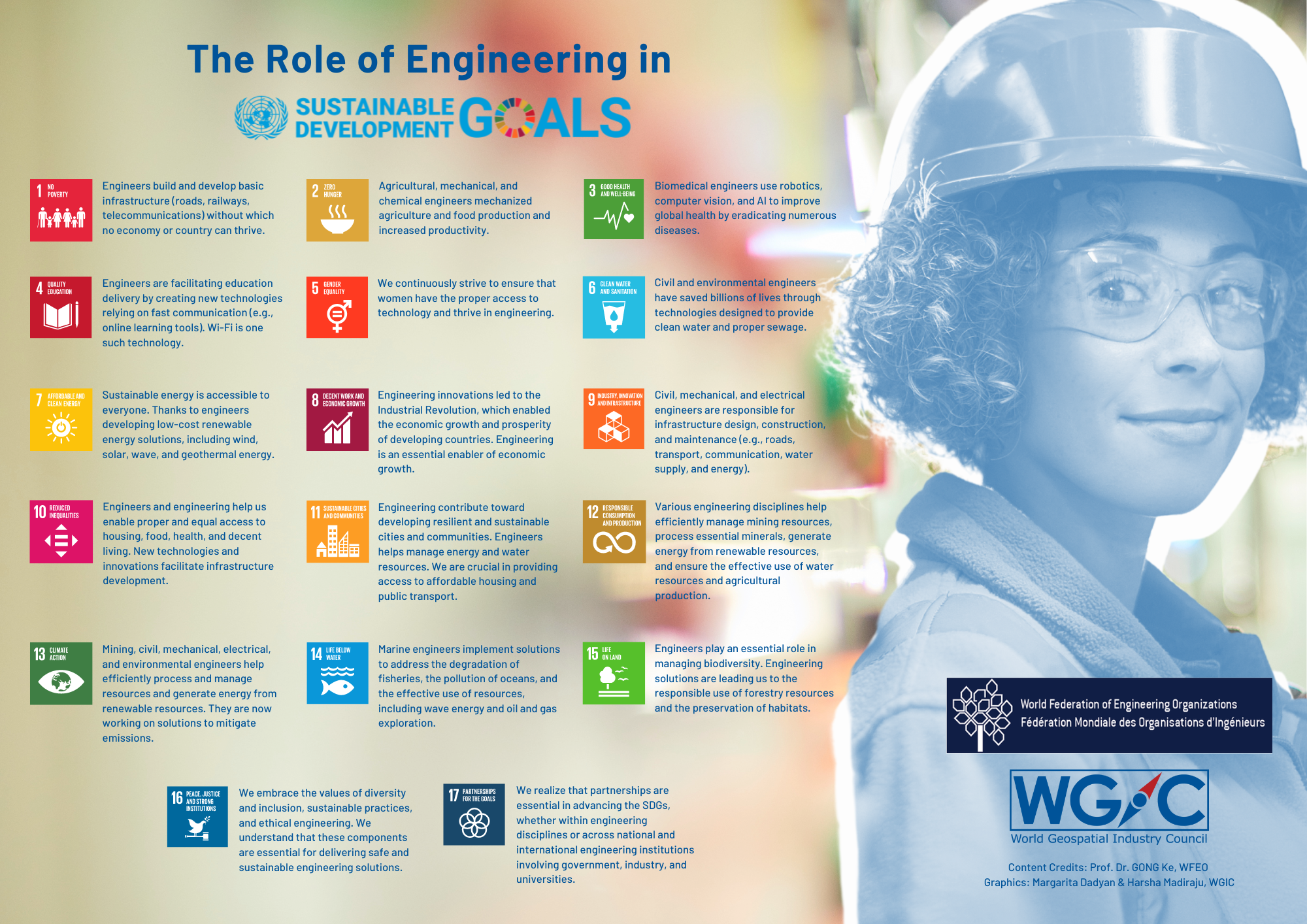 Figure 1: Role of engineering in UN Sustainable Development Goals
Quite a long list, right? Though, as someone with over 30 years' experience in engineering, I can say that the uses of engineering are way more than these.
WGIC: Thank you for this detail, Prof Gong Ke. What are the key programs that you implemented or/and continue to implement in WFEO?
GONG Ke: The key ones that I am personally proud of are the establishment of World Engineering Day (WED) for Sustainable Development, updating the Graduate Attributes and Professional Competencies Framework (GAPC) for Engineering Education, creating COVID-19 information portal, and the establishing of WFEO GREE Women in Engineering Award. I will expand and talk about each of them separately.
Establishing the World Engineering Day for Sustainable Development
In 2018, WFEO initiated the proposal to launch the World Engineering Day for Sustainable Development to be celebrated each year on March 4th, the founding date of the Federation. In 2019, it was adopted by UNESCO at its 40th General Conference unanimously. It is a critical bring-together of the engineering communities around the world to celebrate the contribution of the world's engineers for a better and sustainable world.
Updating the Graduate Attributes and Professional Competencies Framework (GAPC) for Engineering Education
Endorsed by UNESCO, WFEO and its partners initiated a project with International Engineering Alliance (IEA) to update the Graduate Attributes and Professional Competencies Framework (GAPC). This is essential to train future engineers to carry out engineering for sustainable development. The other goal is to form a regular review and update mechanisms for GAPC through multi-party cooperation. The revised GAPC was approved and published in September 2021 (IEA GAPC).
COVID-19 information portal
Since the outbreak of COVID-19, WFEO has opened a special website to issue an initiative to engineering circles, calling on global engineers to unite in the fight against the pandemic. The portal provides relevant and reliable information, news feeds and media articles highlighting the role of engineering and emerging technology initiatives that serve and support the fight against COVID-19.
WFEO GREE Women in Engineering Award
During its 50th anniversary celebrations at UNESCO headquarters in March 2018, WFEO announced a new award to acknowledge and give visibility to outstanding women engineers. The award, sponsored by GREE Electric Appliances, recognizes women engineers who have shown professional excellence and impact in their work, sets role models and promotes equal representation of women in engineering.
WGIC: These WFEO programs and initiatives are impressive. While listening to you, I was constantly thinking, well, what is the role of geospatial technologies in all of it. In other words, how do geospatial technologies intersect with engineering?
GONG Ke: That's a good question and it has a simple answer, which is timely and reliable data. Geospatial information and technology play a huge role in data acquisition and information mining, helping to achieve the UNSDGs.
Geographic information tells us what, where and when something happens. This is needed for engineering projects and for decision-making. Geographic information is used to monitor SDG indicators for agriculture, biodiversity conservation, humanitarian relief, disaster risk management, smart and sustainable cities, urban transportation optimization, heritage protection, and much more. WFEO does promote the application of geospatial information to enhance engineering practices.
WGIC: Professor GONG Ke, our organizations started collaborating on a good note. Why did you think it was essential for WGIC and WFEO to collaborate?
GONG Ke: I would go even further and qualify our cooperation as an exceptional one and here is the reason. WFEO consists of 100+ national and international engineering organizations, is a co-convener of the UN Scientific and Technological Community Major Group (STCMG), works with International Science Council (ISC) but still lacks detailed know-how on geospatial technologies.
Organizations such as WGIC provide professional and industry-specific advice and help to use geospatial technology to enhance engineering capacity.
WGIC: What, according to you, is the success WGIC and WFEO achieved together so far?
GONG Ke: Since WGIC became an associate of WFEO, there are a number of examples of our successful cooperation. For instance, together with UN-GGIM, we have released the white paper "Resilient Infrastructure – Geospatial & BIM" in 2020. We have also co-organized webinars and workshops on GEOBIM and Spatial Digital Twins. Besides, WGIC sponsors World Engineering Day for Sustainable Development celebrations since 2020.
WGIC: Moving forward, what do you think WGIC and WFEO should do collaboratively?
GONG Ke: I would suggest WGIC play an active role in WFEO standing technical committees such as the Committee on Information and Communication (CIC), Committee on Engineering for Innovative Technologies (CEIT), and Committee on Disaster Risk Management (CDRM). Eventually, a working group may be set up to join WFEO forces and work with other institutes and organizations, such as the International Research Center of Big Data for Sustainable Development Goals (CBAS), on geospatial information.
Together, we can establish SDG big data information platform system to serve engineering communities to have easy access to geospatial information and use it to provide substantive solutions to the problem of data gaps in the process of SDG implementation. Also, we can develop open access courses for capacity building on big data and digital twin for engineering practices.