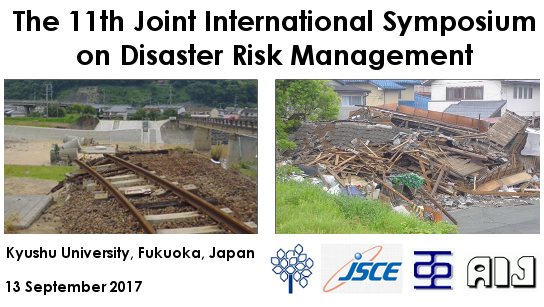 The joint international symposium on Disaster Risk Management (DRM) was held on September 13, 2017, in Kyushu University, Fukuoka (Japan) in collaboration with the Japan Society of Civil Engineers (JSCE), Architectural Institute of Japan (AIJ), Japan Federation of Engineering Societies (JFES), and the WFEO Standing Technical Committee on Disaster Risk Management (WFEO-CDRM), and supported by the Science Council of Japan (SCJ).
The symposium has been annually held since 2009 in order to disseminate the information that the DRM is a key to promote disaster prevention and reduction. The symposium attracted approximately 50 participants. Seven guest speakers presented their great expertise and valuable experiences for natural disasters. They were invited from five countries.
Three Japanese professors (Dr. Mazda, Dr. Shimizu, and Dr. Shimatani) reported the situations of severe earthquake – or water – related disasters that recently occurred in Japan.
The representative of the USA National Member in the WFEO Executive Council Dr. Vilas Mujumdar talked about the framework for resilience and sustainability. Dr. Saber (Egypt) and Dr. Sutcu (Turkey) presented the updated technologies locally developed against disasters. Dr. Lai (Chinese Taipei) showed the hazard mapping for severe landslide disasters.
The audience was interested in their talks and had several questions and comments to the guest speakers. For example, one discussed with Dr. Mazda the broken bridges over highways during Kumamoto Earthquake through specific breaking mechanism.
The symposium was successfully ended with greatly valuable talks by the speakers and their constructive discussions with the audience.
The proceedings of the International Symposium are available here.
Report by Dr. Nobuaki Kimura, Deputy Secretary of WFEO-CDRM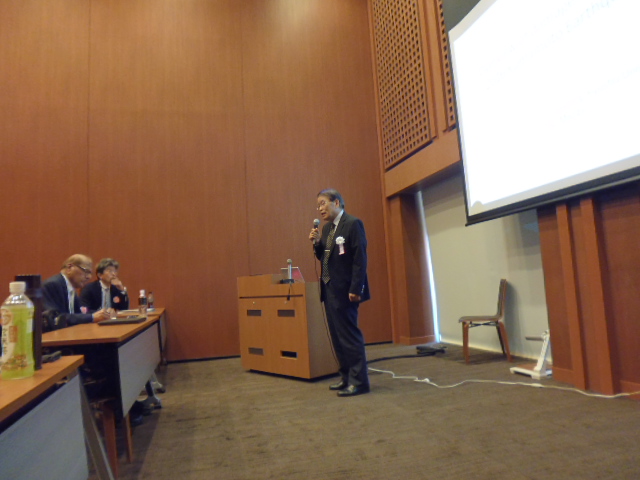 Prof. Komatsu's opening remarks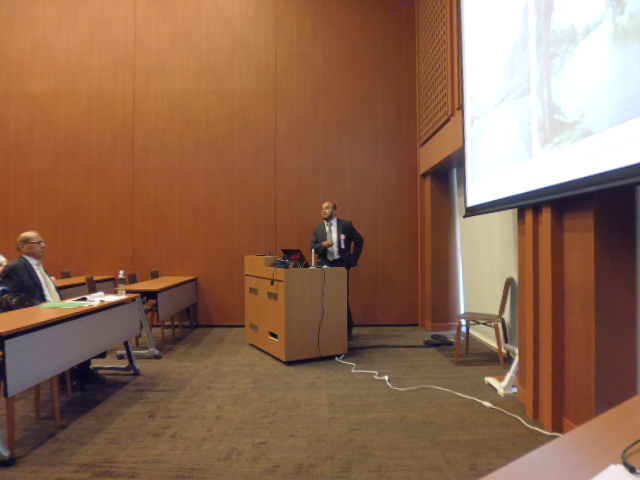 Dr. Saber's talk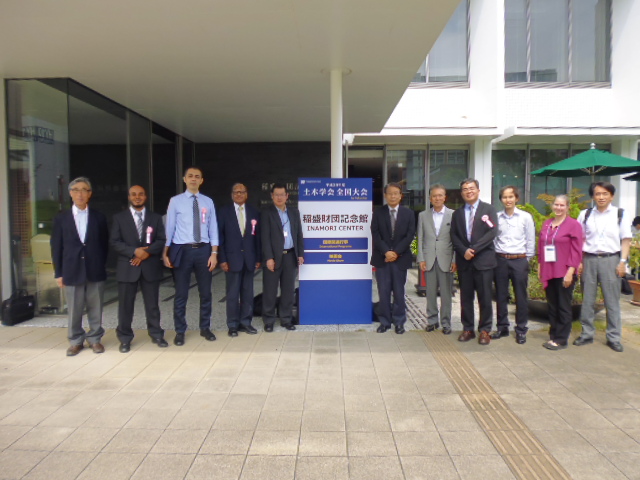 Guest speakers and organizing committee's members
For more information:
The International Symposium proceedings
WFEO Committee on Disaster Risk Management website
Visit the Japan Federation of Engineering Societies (JFES) website
Visit the Japan Society of Civil Engineers (JSCE) website
Visit the Architectural Institute of Japan (AIJ) website
Visit the Science Council of Japan (SCJ) website
Visit the Kyushu University website