The First annual Multi-stakeholder Forum on Science, Technology and Innovation for the Sustainable Development Goals (STI Forum) met June 6-7 2016 at the UN HQ in New York. What will be an annual forum is an integral part of the Technical Facilitation Mechanism (TFM) that is charged to find ways to leverage technology for achievement of the goals. The TFM provides input on STI to the High-Level Political Forum that will meet in New York in July 2016.
The American Association of Engineering Societies (AAES) participated for WFEO in a side event organized by the International Council for Science (ICSU) and the International Social Science Council (ISSC).
Bill Kelly, USA Member of WURC, made a presentation on "Building Engineering Capacity" at the side event. According to the 10-member advisory group to the TFM, capacity building is one of the ways achievement of the goals can be accelerated (statement). WFEO had two people participating.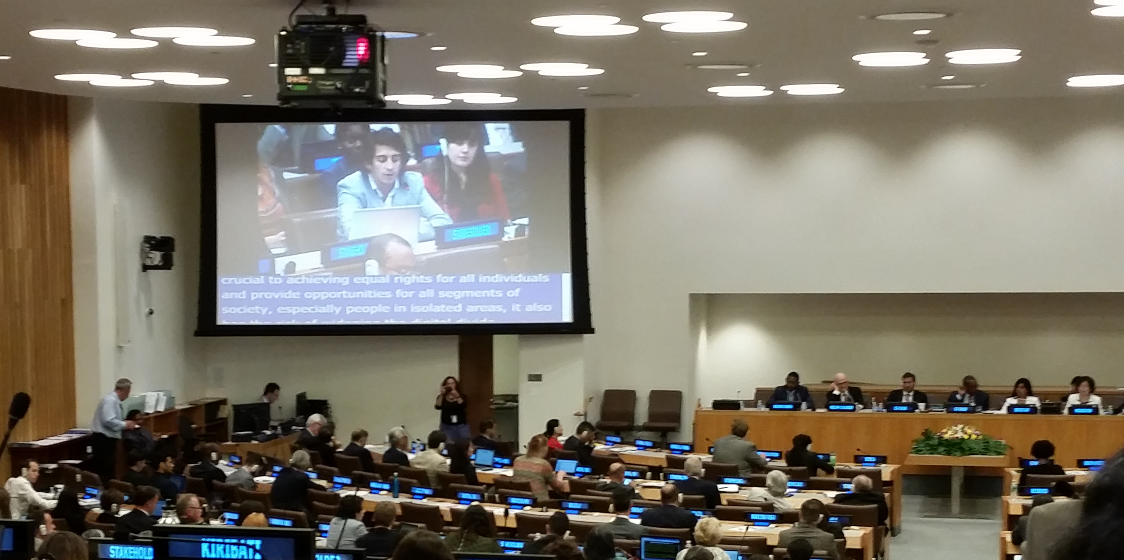 Forum held June 6-7, at the UN, New York City. Photo courtesy of Bill Kelly.
This is session 3 Realizing the potential of science, technology, and innovation for the SDGs. Second from the left on the panel is William Colglazier, co chair of the 10-member group of the TFM. On the monitor making and intervention for the Children and Youth Major Group is Donovan Guttieres – May graduate of BU in biomedical engineering will start master's at
MIT
in fall and member of the WFEO Committee Young Engineers and Future Leaders.
For more information:
"Building Engineering Capacity" Presentation