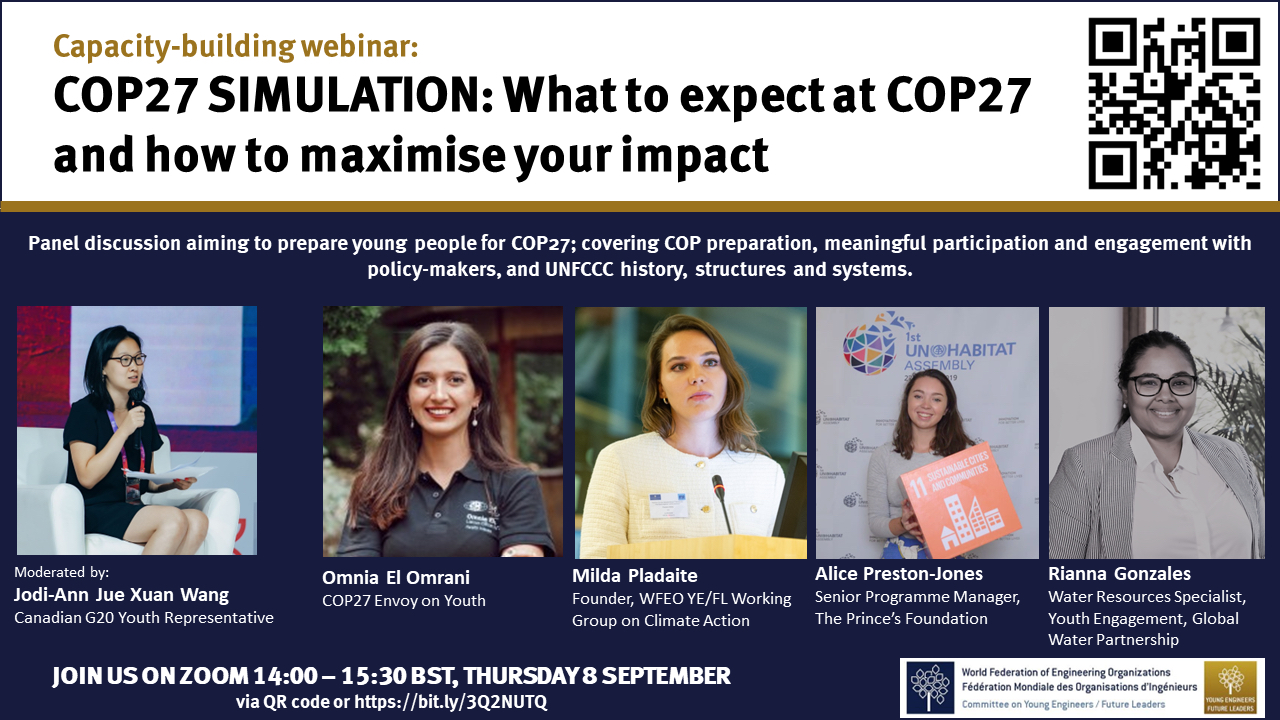 The Working Group on Climate Action (WG on SDG13) of the WFEO Committee on Young Engineers / Future Leaders (YEFL) organized the Capacity-Building session entitled "COP27 SIMULATION: What to expect at COP27 and how to maximize your impact" on Thursday 8 September 2022.
This session aimed to prepare young people for COP27 and future UNFCCC COPs and addressed for young people who have not attended a COP (UNFCCC Conference of the Parties) before, or want to know how to best maximize their impact at COP27.
Young people will be disproportionately affected by climate change. The 2021 World Bank population data indicates that over 60% of global population are youths (15 to 24 years: 30.8%) and young professionals (25 to 34 years: 30.7%). These young people need to be included in the development of policies, negotiations, and decisions that will determine the quality of their lives and that of generations to come – this is particularly important in existential topics and decisions like climate change.
Unfortunately, the experiences of youths at previous UN COPs show that even when youths and young professionals have been invited to the engagements, there has been limited to no representation or participation by young people in the policy development and negotiations in the lead-up to the global consensus and outcomes realised at the COPs.
Several factors have been identified as the drivers of this statistic which the panelists explored in detail at this webinar.
Building the capacity of youth is critical to driving meaningful change in the pace of climate action. The World Federation of Engineering Organisations (WFEO) Global Young Engineers Working Group on Climate Action has developed a suite of capacity building events targeted at youths, young professionals and policy makers who are looking to better understand the overall COP set-up, gain insights on what to expect and explore how to maximise the experience for impact.
The goal of these events will be to ensure that the inputs and voices of youths and young professionals are fully integrated into the policy development, negotiations, and outcomes at COPs as well as other engagements defining the global commitment to and urgency of climate action.
The panel discussion included the following experienced and engaged youth climate leaders:
Omnia El Omrani, COP27 Envoy on Youth
Milda Pladaite, Founder of the WFEO Young Engineers/Future Leaders Working Group on Climate Action
Alice Preston-Jones, Senior Programme Manager at the Prince's Foundation
Rianna Gonzales, Water Resources Specialist, Youth Engagement at the Global Water Partnership
Moderated by Jodi-Ann Jue Xuan Wang, Canada G20 Youth Delegate 2022

The video recording is available by clicking on the following image.


For more information:
WFEO Committee on Young Engineers / Future Leaders website