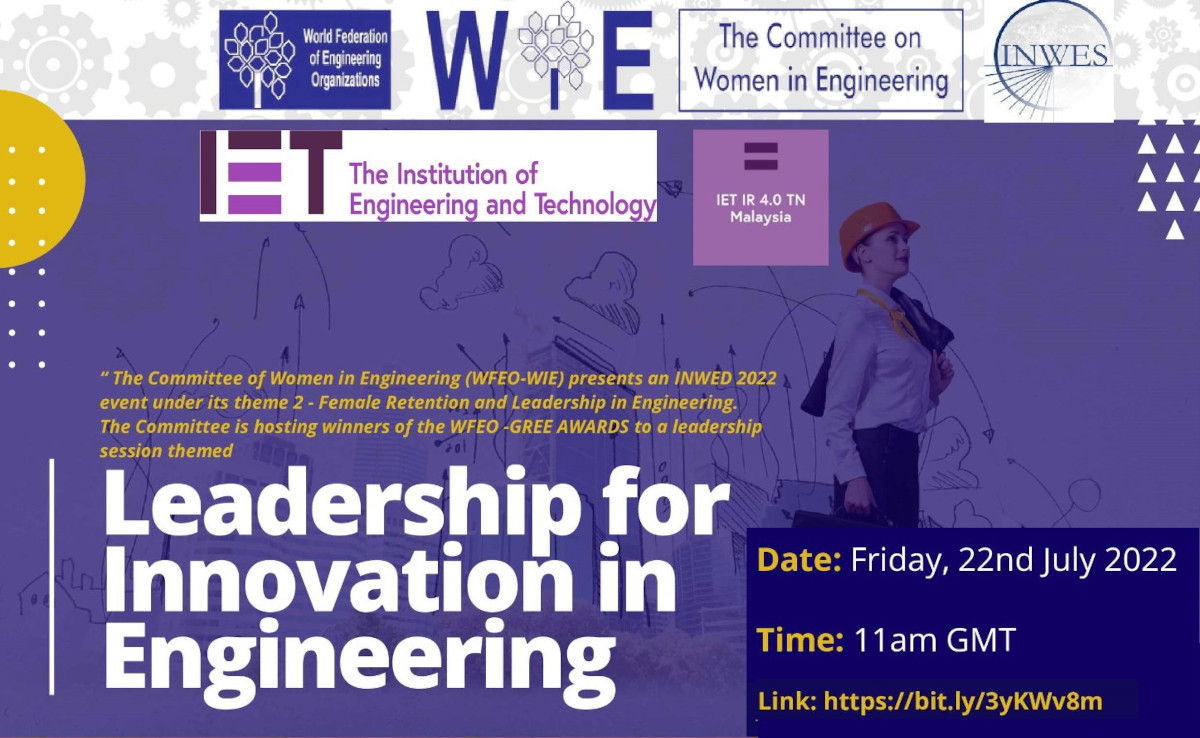 In celebration of the International Women in Engineering Day (INWED) 2022, the WFEO Committee Women in Engineering (WIE) invited the winners of the WFEO GREE Women in Engineering Award 2020 in a webinar themed "Leadership for Innovation in Engineering" in line with the INWED 2022 theme: "Inventors & Innovators".
The webinar, held virtually on 22 July 2022, was a success with about 98 participants from different countries of the world.
The Speakers were:
IR. Prof. Dr. Leong Wai Yie (Malaysia)
Prof. Rosalind Archer (Australia)
Magali Anderson (France)
Ing Harriet Amissah-Arthur (Ghana)
Sabah Mohamed Mashaly (Egypt)
The webinar was organized as one of the activities towards the achievement of the WFEO WIE strategic theme 2: Engineering Workforce Capacity building- to encourage female engineering retention and leadership.
The program facilitators were:
Moderator: Ing. Dr. Enyonam Kpekpena (Ghana), WFEO-WIE Theme 2 lead
Technical Facilitator: Eng Tessy Gyaban (Nigeria), administrator at WFEO WIE secretariat
Rapporteur: Alice Cunha da Silva (Brazil), WFEO-WIE Theme 2 lead
Closing Remarks: Ania Lopez (Italy), WFEO-WIE Theme 3 lead
Presentation of Speakers and Delivery of Messages:
Ing. Dr. Enyonam Kpekpena started the webinar explaining the purpose for the establishment of the WFEO GREE Women in Engineering Award and welcomed all the participants to the event in celebration of the INWED 2022.
In her opening remarks, the chair of WFEO-WIE engr Yetunde Holloway, , gave an overview of the objectives of WFEO and WIE, stating that WFEO is proud to promote diversity, inclusion and gender equality in engineering and indicated their relevance in the world today.
The discussion started with IR. Prof. Dr. Leong Wai Yie sharing her experiences and how she managed to receive the WFEO GREE and other awards. She started by giving an overview of the discrepancies and stereotypies that led to less women pursuing the engineering career and how, in her experience, these can be summarized as three big challenges: confidence, lack of mentorship and understanding ourselves. She highlighted her participation is different organizations and professional bodies that supported her to acquire confidence and skills to deal with several issues and mentioned that she always treated these issues as a challenges and opportunities for growth.
Professor Rosalind Archer gave her remarks describing her journey in engineering as rich because of all the people she was able to interact as well as dealing with interesting ideas and global issues and getting to travel the world. In her description of her journey, she highlighted the importance of a professor reminding her of what she dreamed of doing when she was already giving up to follow a different path, and that reminder allowed her to continue pursuing enabling her to get scholarship to do her PhD abroad. Professor Rosalind shared the important role engineering has in solving global issues and transforming people's lives such as clean energy. She ended her initial remarks with some advice to young females to believe in themselves and find people that would believe in them as well. She reminded everyone that leadership can come in different ways and one should not think that only one personality type makes a leader.
The third speaker, Magali Anderson, shared how the numbers of females in engineering had improved from when she started her studies and careering in engineering to what exists now in her organization. She shared her passion regarding technical careers in an oil rig and in other roles throughout her journey allowing her to continuously learn. She also shared how her degree and experience allowed her to work in different areas including sustainability and innovation, highlighting the broad nature of engineering careers. She iterated that having different experiences makes you better prepared to tackle challenges and new opportunities in future. She ended her initial remarks giving advice to the young people to follow their dreams and more specifically to young girls, telling them to believe in themselves and not allow anyone to convince them that they can't achieve anything they had decided to do.
Ing Harriet Amissah-Arthur shared her story and how she started by looking for a career in applied mathematics leading to engineering and how each opportunity and experience that she had was able to bring different learnings in her journey. One highlight was the chance to visit different communities helping her to finally put faces to the people that she was serving through her work as an electrical engineer. This according to her, was a turning point in her career allowing her to look for real life solutions that would help to change the lives of people in those regions. She stated how mentorship made a difference in the way she perceived herself, building her confidence and having someone that believed in her. In the midst of many inspirational advice, she shared some of her challenges, opportunities and lessons learned. She advised younger leaders to always try to be themselves, not to be afraid of taking initiatives, be responsible and work as team players, always leveraging the support they had and build the support they needed.
To close the first session, Sabah Mohamed Mashaly presented an overview on the theme of the INWED 2022, Inventors and Innovators, speaking on the many inventions that were created during the industrial revolution and how they transformed many sectors and innovations. She explained improvements in manufacturing and other engineering sectors, noting that great inventions had marked several key turning points in human history, transforming society and our daily lives. She shared her incredible journey from the beginning of her career in engineering and how she became the CEO of one of the biggest companies in the MENA regions and also being the first woman engineer to do so in the history of her organization. She ended up with five (5) recommendations: Always get a mentor, learn management skills as early as you can, keep asking questions for more knowledge and never to stop learning and finally staying up to date with modern trends and other engineering fields.
Q&A Session
After the remarks of each of the speakers, there was a very rich Q&A session.
Each of the speakers answered the question: What is the importance of increasing women participation in engineering to promote innovation?
Sabah mentioned how globally females are underrepresented in the field of engineering and how beyond argument of justice, the lack of diversity could impact production and innovation.
In her words: "We cannot ignore the involvement of women engineers", and this can positively impact all fields in our society."
Professor Rosalind added that diversity influences not only the answers but the kinds of questions being asked. Without diverse teams and diverse voices, we will not come up with the answers to serve our entire society.
Professor Wai added that woman are essential human resources for solution of global issues such as Climate change, clean energy, environmental sustainability and so on. According to data she presented, she drew attention to the fact that less than 30% of researchers worldwide are women, that is why events, celebrations of women in engineering and stem are important. She iterated that events such as these brings awareness and encourages female participation.
Ing. Harriet closed the answers to this question by explaining the importance of innovation and how she was looking forward to the day that women participation was no longer an issue.
As the Q&A session continued, Ing. Harriet shared examples of how developing a platform to support underrepresented communities, listening to women sharing their experiences helped in building a platform that actually attended to their needs taking social aspects into consideration.
Giving the proximity with COP 27 in Egypt this year, Sabah shared the importance of the event and how the city is preparing to have everything from electricity to transportation to rely on green sources before the event. Among several interesting points about the goals of Egypt in electricity and clean energy field, she shared the ambition of Egypt becoming an energy hub between Europe, Asia and African Countries by expending the grid interconnection around the Arabic.
Prof. Wai was asked to give advice to the future generation, and she recommended that engineers needed to try a lot of different things while young, to define their goals, commit themselves to constant improvement to enhance their problem-solving skills, and always learn and embrace change. Among other great advice, she shared the importance of recognition, celebrating the success of the teams without forgetting to recognize individual contributions, to have mentors and became mentors to share our knowledge.
Before the end of the Q&A session, two online participants provided advice and words of inspiration. They included Hany Amin (Country) who suggested that we also focus on increasing ways of mobility to improve the contribution for the development of female engineers. She also mentioned the need for collaboration on different initiatives for increased benefits for more women across the globe.
Maha Mosafa, shared more light on what the electricity sector in Egypt was doing specifically regarding the training and capacity building of females in renewables and energy efficiency.
After the Q&A, Ania Lopez closed the event with her remarks, emphasizing the importance of these type of events, the importance of these awards and how the female speakers in the event were powerhouses and role models in a variety of different areas in engineering. She encouraged young girls to look up to them and to participate in these types of events, although they were sometimes difficult to organize. She noted the need to continue and expand to allow others to learn from the female leaders in engineering and others disciplines, teaching and demonstrating their capacity to young girls.

The recording is available by clicking on the below image.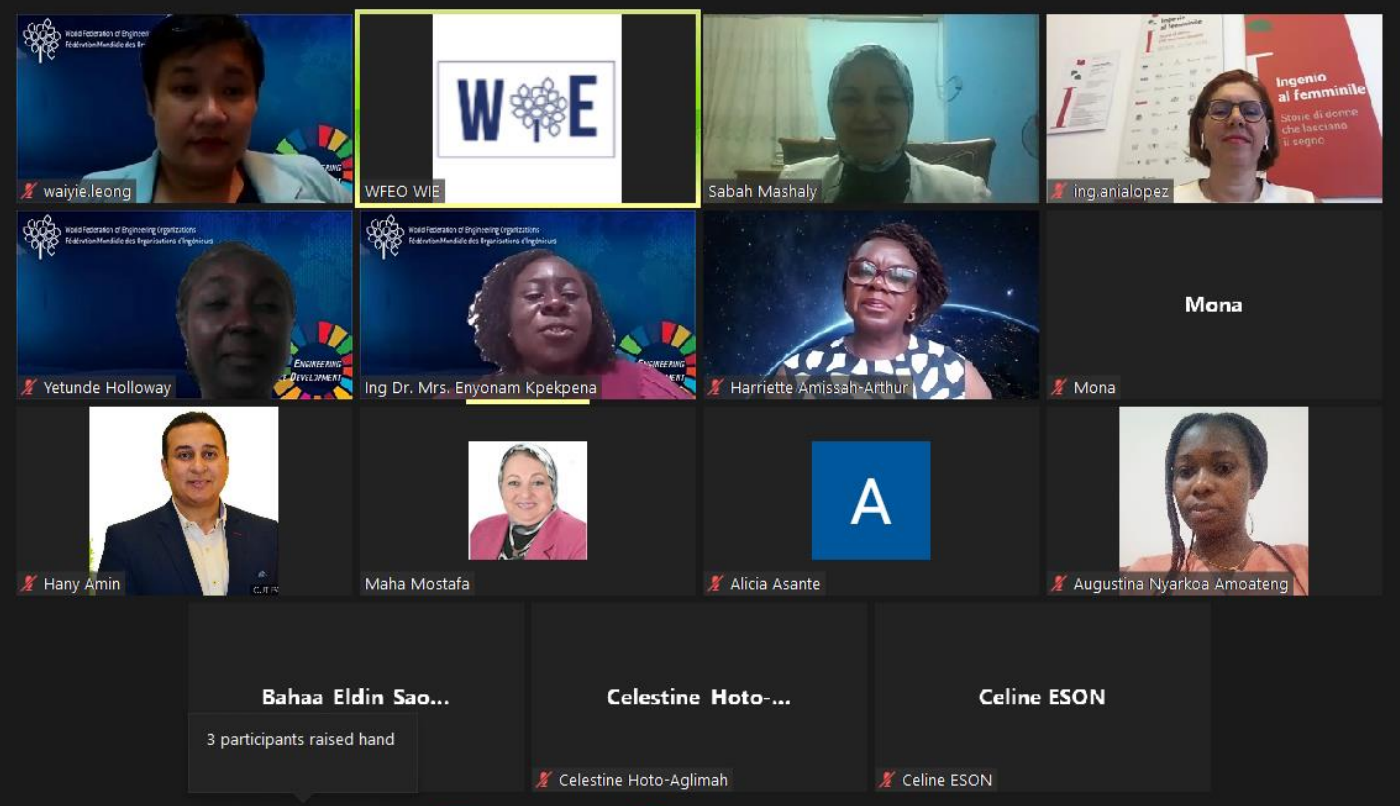 For more information:
WFEO Committee on Women in Engineering website