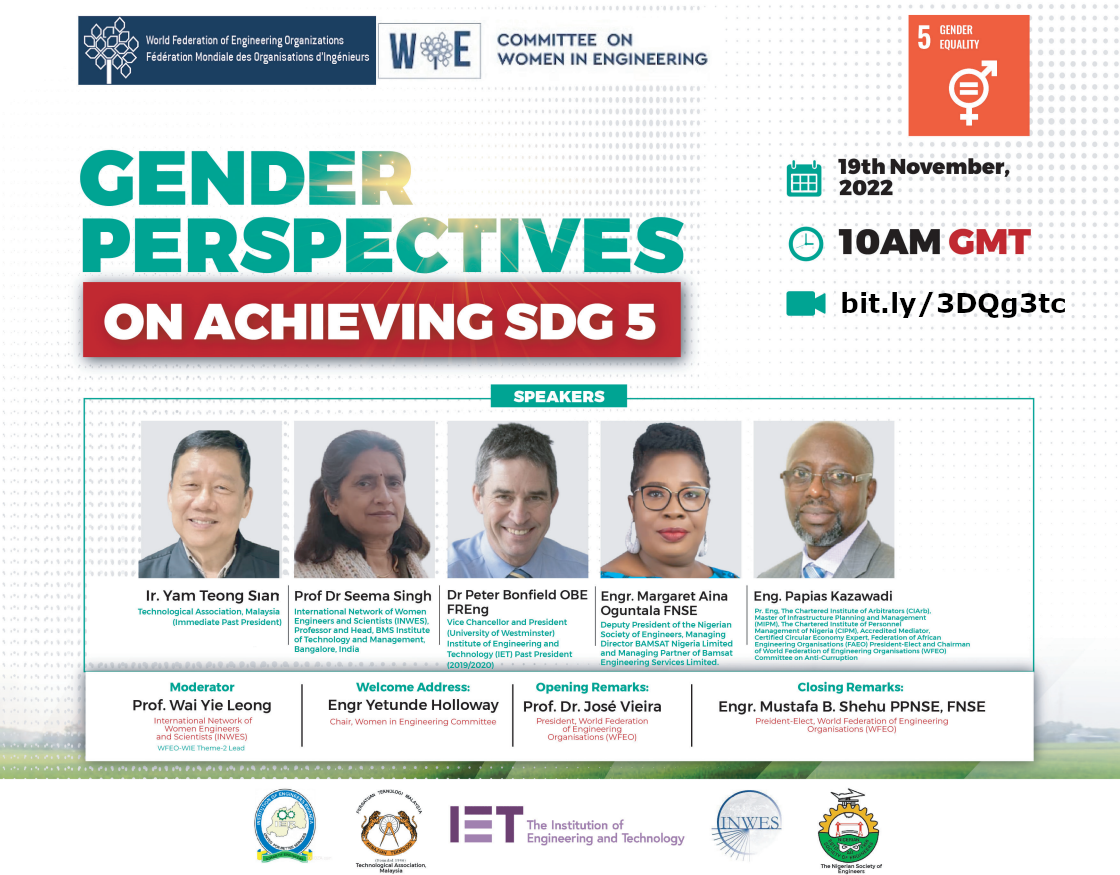 The WFEO Committee on Women in Engineering in collaboration with the Institution of Engineering and Technology (IET), the International Network of Women Engineers and Scientists (INWES), the Nigerian Society of Engineers (NSE), and the Technological Association, Malaysia, organized the webinar "Gender Perspectives on Achieving the SDG 5" on 19 November 2022, to celebrate International Men's Day.
The 2030 Agenda for Sustainable Development and its 17 Sustainable Development Goals (SDGs) adopted by world leaders in 2015, embody a roadmap for progress that is sustainable and leaves no one behind. The SDG5 seeks to achieve gender equality and empower all women and girls. Achieving Gender Equality is integral to achieving each of the other 16 goals and it is only by ensuring the rights of women and girls across all the goals that the world will get equity, justice and inclusion and economies that work for all. Fulfilling this right is the best chance we have in meeting some of the most pressing challenges of our time—from economic crises, lack of health care, to climate change, violence against women and escalating conflicts all over the globe, elimination of gender-based violence, discrimination and censorship; women's economic, empowerment through income security and decent work; leadership, equitable representation and gender-responsive systems of governance; and participation in scientific and technological developments, including frontier technologies.
The Committee of Women in Engineering (WIE) realizes the need for men to be partners and allies to women, in order to achieve SDG5. WIE also recognizes that men themselves also suffer from forms of inequality. This webinar on the International Men's Day was an opportunity for us to listen to men, as they share their own views on ways that men can support and partner with women to achieve gender equality for all.

Moderator:
Prof. Wai Yie Leong, INWES, Theme-2 Lead of the WFEO Women in Engineering Committee
Welcome address:
Eng. Yetunde Holloway, Chair of the WFEO Women in Engineering Committee
Opening Remarks:
Prof. Dr. José Vieira, WFEO President
Speakers:
Eng. Yam Teong Sian, lmmediate Past President, Technological Association, Malaysia
Prof Dr Seema Singh, INWES, Professor and Head, BMS lnstitute of Technology and Management, Bangalore, India
Dr. Peter Bonfield OBE FREng, Vice Chancellor and President, University of Westminster, IET Past President
Eng. Margaret Aina Oguntala FNSE, Deputy President of NSE, Managing Director BAMSAT Nigeria Limited and Managing Partner of Bamsat Engineering Services Limited.
Eng. Papias Kazawadi, Federation of African Engineering Organisations (FAEO) President-Elect and Chairman of WFEO Committee on Anti-Corruption
Closing Remarks:
Eng. Mustafa B. Shehu, WFEO President-Elect

The recording is available by clicking on the below image.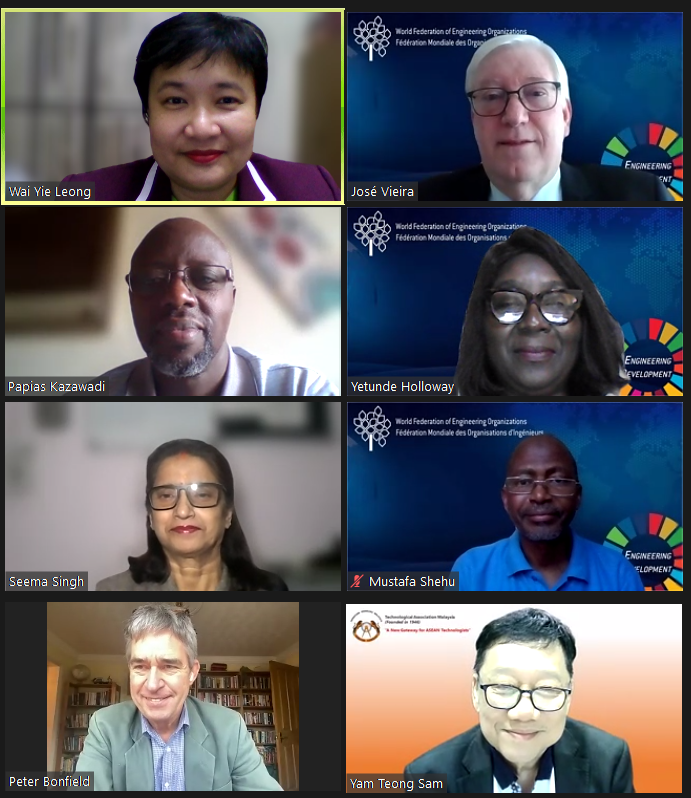 For more information:
WFEO Committee on Women in Engineering website