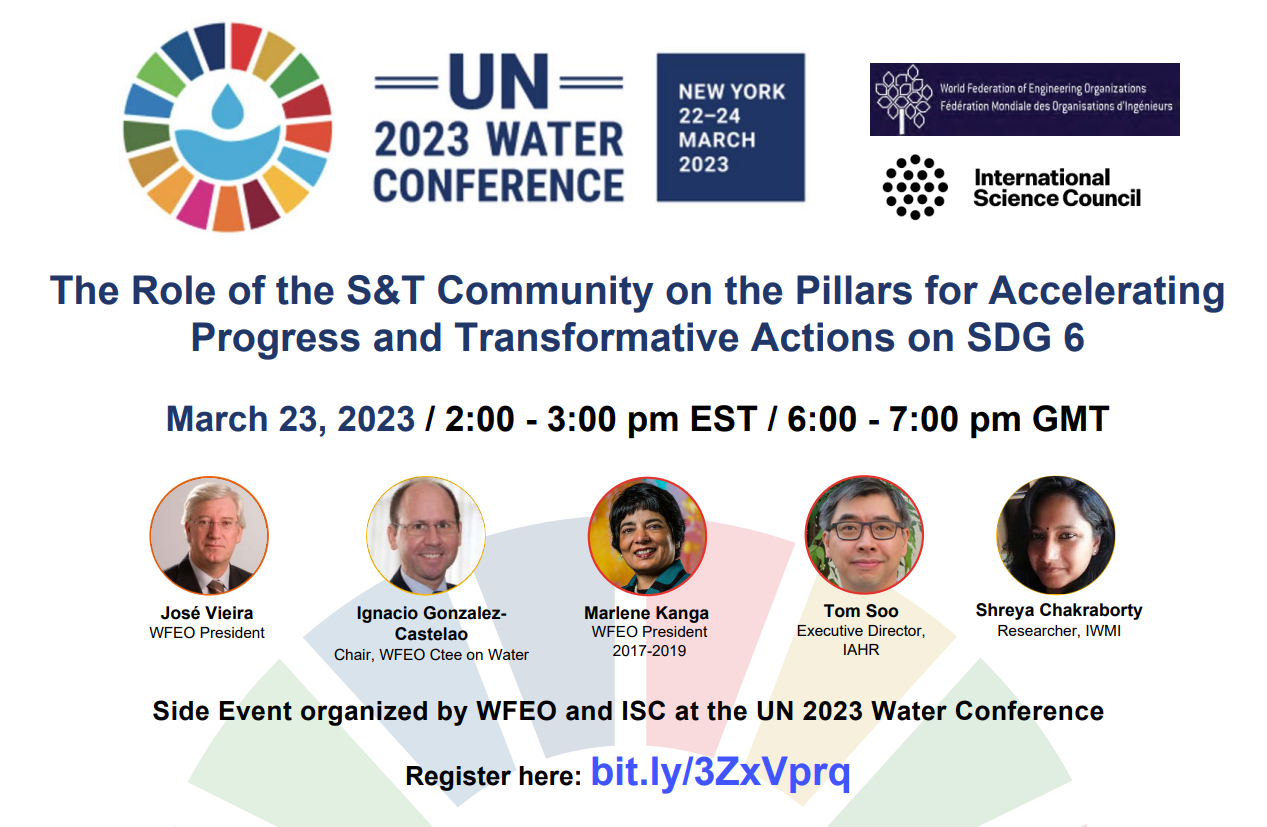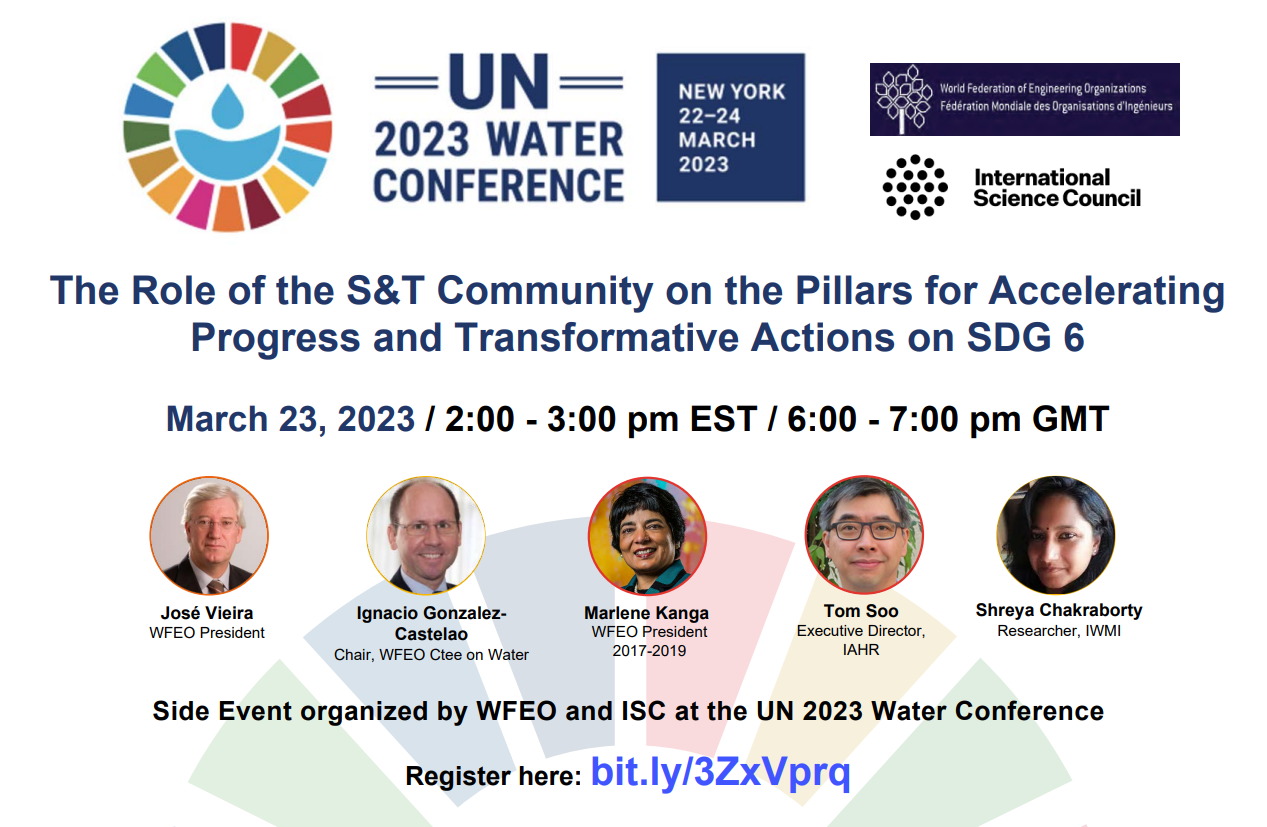 The World Federation of Engineering Organizations (WFEO) and the International Science Council (ISC), partners in the UN Scientific and Technological Community Major Group, organized the side-event "The Role of the Science and Technology (S&T) Community on the Pillars for Accelerating Progress and Transformative Actions on SDG 6" on 23 March 2023.
This side-event was organized within the UN 2023 Water Conference that took place at UN Headquarters in New York, between 22 and 24 March 2023.
The recording is available by clicking on the below image.

The questions asked during the side-event are available in this link.
Limited access to safe water and sanitation, strains on available water resources, threats to water use in critical aspects of daily life and exacerbating disaster risks in the forms of droughts, floods and other damage to ecosystems still affect too many people worldwide. Sustainable Development Goal 6 (SDG 6) – 'to ensure availability and sustainable management of water and sanitation for all by 2030' – supports many, if not all, of the other 16 SDGs, particularly on health and disease prevention, education, food, gender equality, energy, and climate change.
However, we are alarmingly off-track, and the issue is only going to become more critical in a context of changing weather patterns under the effects of climate change, migration of populations and shifting resource demands, poor management of water resources leading to overuse, pollution, damage to critical aquifers and the resulting inadequate supplies of water for critical needs, such as health care and food production.
The challenges we face are unprecedented and growing. With less than 10 years to go to achieve the SDGs in time, we need an immediate and integrated global response to rapidly improve progress on SDG 6.
Therefore, the UN has launched the SDG 6 Global Acceleration Framework – a new, unifying initiative that involves all sectors of society to speed up progress by improving support to countries. It is part of the UN Secretary-General's Decade of Action to deliver the SDGs by 2030. The work will be carried out through action pillars: Engage, Align, Accelerate and Account.
Within the scope of the "Accelerate" pillar, five accelerators will dramatically improve the international community. These are:
Financing – Optimized financing is essential to get resources behind country plans.
Data and information – Data and information targets resources and measures progress.
Capacity development – A better-skilled workforce improves service levels and increases job creation and retention in the water sector.
Innovation – New, smart practices and technologies will improve water and sanitation resources management and service delivery.
Governance – Collaboration across boundaries and sectors will make SDG 6 everyone's business.
Traditionally, society has advanced after technological innovations have occurred, but today, as with climate change, changes are happening first and mitigation and/or adaptation technology is lagging behind. Therefore, we need disruptive changes that will allow us to achieve the SDG 6 targets.
For this, the technical and scientific community role is vital, both in terms of providing data and information to support decision-making and the adoption of policies and practices for more efficient and sustainable water governance and management; supporting capacity development for improved water resource management; as well as driving innovation and supporting the development and application of improved technologies for water use, recycling and conservation, and efforts to reduce excessive costs for water access.
The side event aimed at highlighting the latest and best scientific knowledge, key initiatives and innovations of the S&T community within the five pillars – financing, data and information, capacity development, innovation and governance – that will lead to accelerated and transformative action on SDG 6 in the second half of the International Decade for Action "Water for Sustainable Development".
Speakers on the side event were: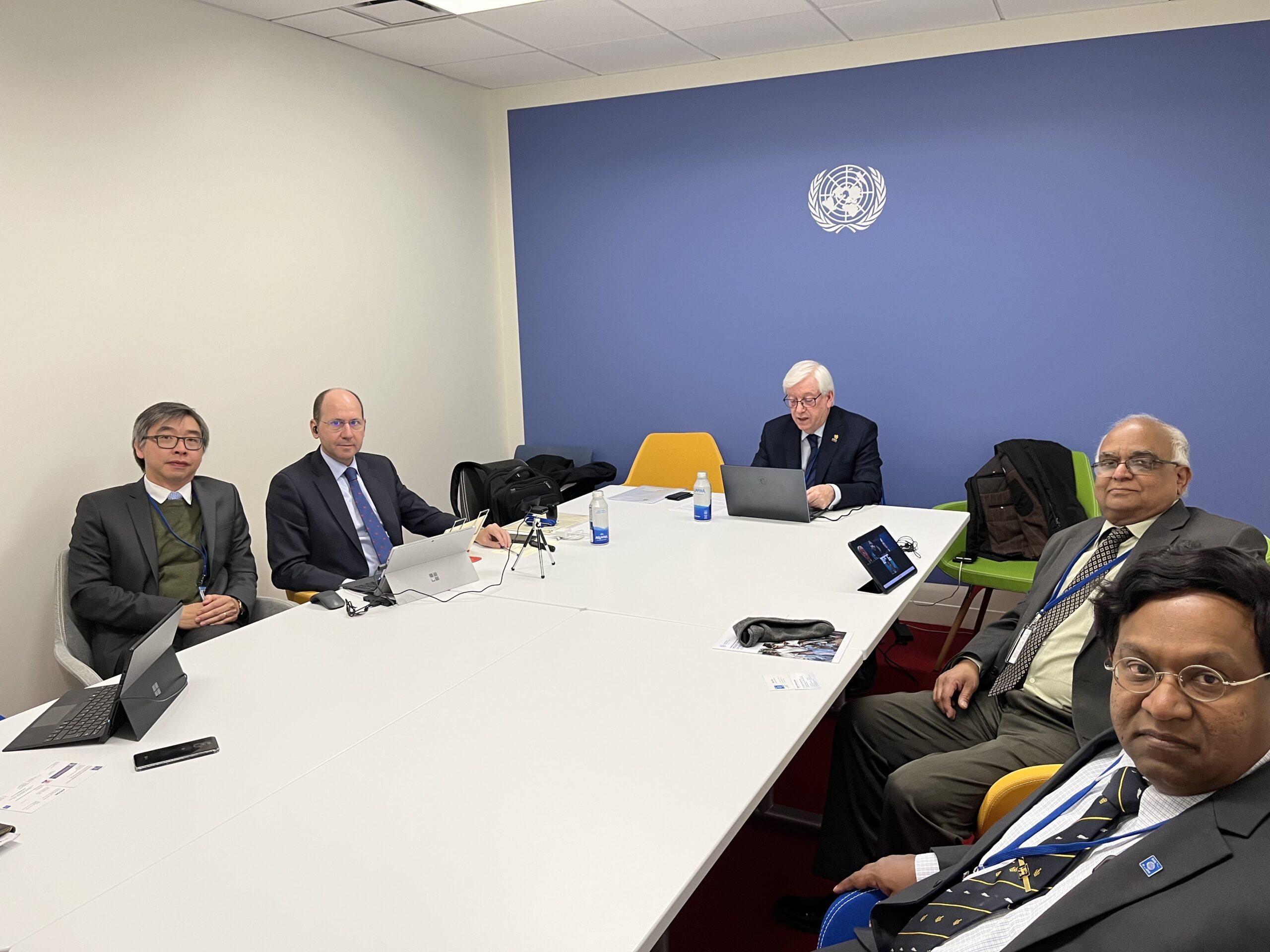 From left to right: Dr Tom Soo, Executive Director of the International Association for Hydro-Environment Engineering and Research (IAHR), Eng. Ignacio González-Castelao, Chair WFEO Committee on Water, Prof. José Vieira, WFEO President, Dr K N Gunalan, Chair WFEO UN Relations Committee and Dr Gregory De Costa, Academic Specialist at Open Polytechnic of New Zealand.
---
Speakers' short biographies
José Vieira is a civil engineer with extensive experience in engineering education, research and management. He is Full Professor at University of Minho, Portugal, where he served as Pro Rector (1990-1998) and Vice Rector (1998-2002). He has coordinated large number of graduation and post-graduation study programmes in civil engineering, and develops his research activities in the fields of water resources planning, hydrodynamics in estuaries and coastal zones, and drinking water and public health.
José Vieira was President of the European Federation of National Engineering Associations (FEANI) from 2014 to 2020. Under his leadership, strategic initiatives were launched to enhance the visibility of the value of engineers to society, stressing the relevance of promoting the UN Sustainable Development Goals in future engineering education and practice.
José Vieira was the National Vice President of the Portuguese Association of Engineers from 2010 to 2016, responsible for effective international cooperation in mutual recognition of engineering education and capacity building standards in the Portuguese speaking countries.
He has been involved in WFEO activities since 2015 as a member of the Executive Council and chair of the Strategic Planning Committee. He was elected President-Elect of WFEO at the General Assembly in Melbourne in November 2019 and became President of WFEO at the General Assembly in San José, Costa Rica in March 2022.

Eng. Ignacio González-Castelao
Ignacio González-Castelao Martínez-Peñuela is a dedicated Master Civil Engineer skilled in the water cycle and environmental issues. He has worked in different private and public Spanish engineering organizations, both within the water sector and in the infrastructure of roads and railways. He is also certified as an internal auditor by the international professional association of the Institute of Internal Auditors.
Ignacio has held various positions at Aguas de las Cuencas Mediterráneas S.M.E., S.A., since August 2002. Currently, he is Deputy to CEO.
He is committed to internalization and collaboration with technical communities, multilateral banks, and international organizations to share knowledge and learning. Ignacio has been a member of the Board of Directors of the Civil Engineers Association of Spain, and member of various committees of the Engineering Institute of Spain (IES), such as the Committee on Energy and Natural Resources, Committee on Engineering and Sustainable Development, and the International Commission. He is also the representative of the IES at the Pan-American Union of Associations of Engineers. He has served as Chair of the Standing Group on Water of the World Council of Civil Engineers and is currently the Chair of the Standing Technical Committee on Water of the World Federation of Engineering Organizations. These efforts to disseminate knowledge and learning have led him to be selected by the Department of State of the United States of America as an International Leadership Visitor and later Secretary-General of the VIA Jefferson Circle Association.

Dr Tom Soo
Tom Soo is the Executive Director of the International Association for Hydro-Environment Engineering and Research (IAHR). He has previously been Executive Director of IWRA and the World Water Council. He has a background in consulting to international institutions, public authorities, academia and private industry.
Tom's current focus areas include institutional arrangements, the science and policy interface, hydraulics for sustainable development, digital water futures, nature-based-solutions and climate change. He is a member of the Steering Committee of the Global Water Partnership, the Water Policy Group, the Executive Board of IWRA and also chairs the International Advisory Committee of the UNSW Global Water Institute.

Dr Marlene Kanga
Dr Kanga is a Chemical Engineer and Past President of WFEO (2017-2019) and 2013 National President, Engineers Australia. She is listed among the top engineers in Australia and the Top 10 women engineers in Australia. She was a member of the Board of Sydney Water Corporation (2014-2023) and Chair the of Sydney Water Corporation Planning and Infrastructure Committee (2017-2023).
Dr Kanga will speak authoritatively on the development of plans for Sydney over the next decade, the strategic governance by the Board, and the use of innovation, data and analytics and new financing methods for sustainable water services for a better quality of life for the people of Sydney.

Shreya Chakraborty
Shreya Chakraborty is a Researcher – Climate Change Policy and Adaptation, at the International Water Management Institute, India.
Previously she was the Executive Director at the South Asia Consortium for Interdisciplinary Water Resources Studies (SaciWATERs) a regional water policy research organisation based in Hyderabad, India. As a geographer, her research focuses on integrating the science, socioeconomics and politics of environment and natural resources at levels of theory, methodology and policy.