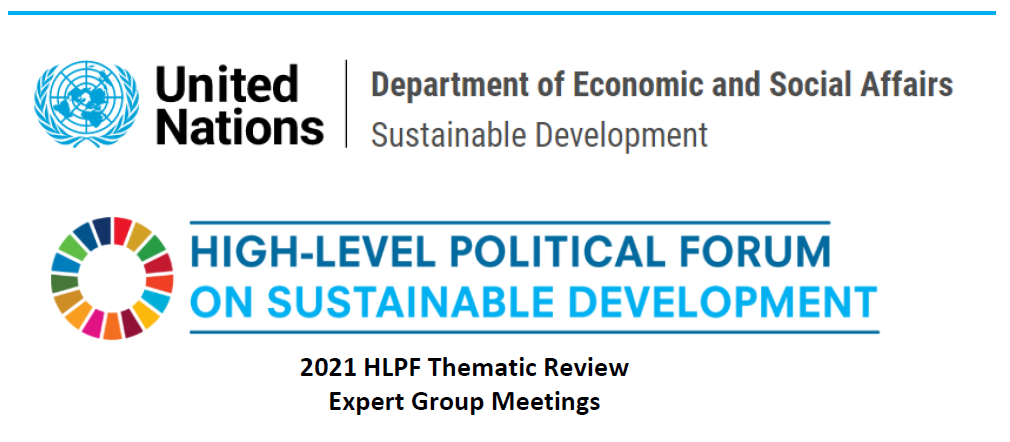 HLPF 2021 Theme and in-focus SDGs
The theme of the United Nations 2021 HLPF is "Sustainable and resilient recovery from the COVID-19 pandemic that promotes the economic, social and environmental dimensions of sustainable development: building an inclusive and effective path for the achievement of the 2030 Agenda in the context of the decade of action and delivery for sustainable development". Understanding the integrated, indivisible and interlinked nature of the Sustainable Development Goals, the 2021 HLPF will have an in-depth focus on Goals 1, 2, 3, 8, 10, 12, 13, 16 and 17.
It will also cover the targets of the SDGs with a 2020 timeline.
Expert Group Meetings (EGMs) to inform HLPF thematic reviews
The meeting of EGMs to prepare the HLPF thematic reviews of the above theme and SDGs was held during the week of 17 May bringing together a multi-stakeholder group of experts from academia, civil society, government experts participating in their individual capacity, and UN system technical colleagues. Participants assessed progress and challenges to achieving the in-focus SDGs in the context of the broader 2030 Agenda; considered how COVID-19 response and recovery efforts can contribute to achieving these SDGs; identified particular areas of concern and opportunities for transformation; and suggested partnerships and the way forward.
WFEO is the Co-Chair of the Scientific and Technological Community Major Group at the UN. As part of the preparations for the 2021 HLPF, WFEO Immediate Past President Dr Marlene Kanga AM was nominated to represent the UN Major Group of Stakeholders in the discussions relating to SDG 8 at the Expert Group Meetings.
The Concept Note for the meetings is available in this page.
The submission by WFEO in relation to the inputs that will be made to the 2021 HLPF is available in this page.
For more information:
Expert Group Meetings on 2021 HLPF Thematic Review webpage
High-level Political Forum 2021 webpage