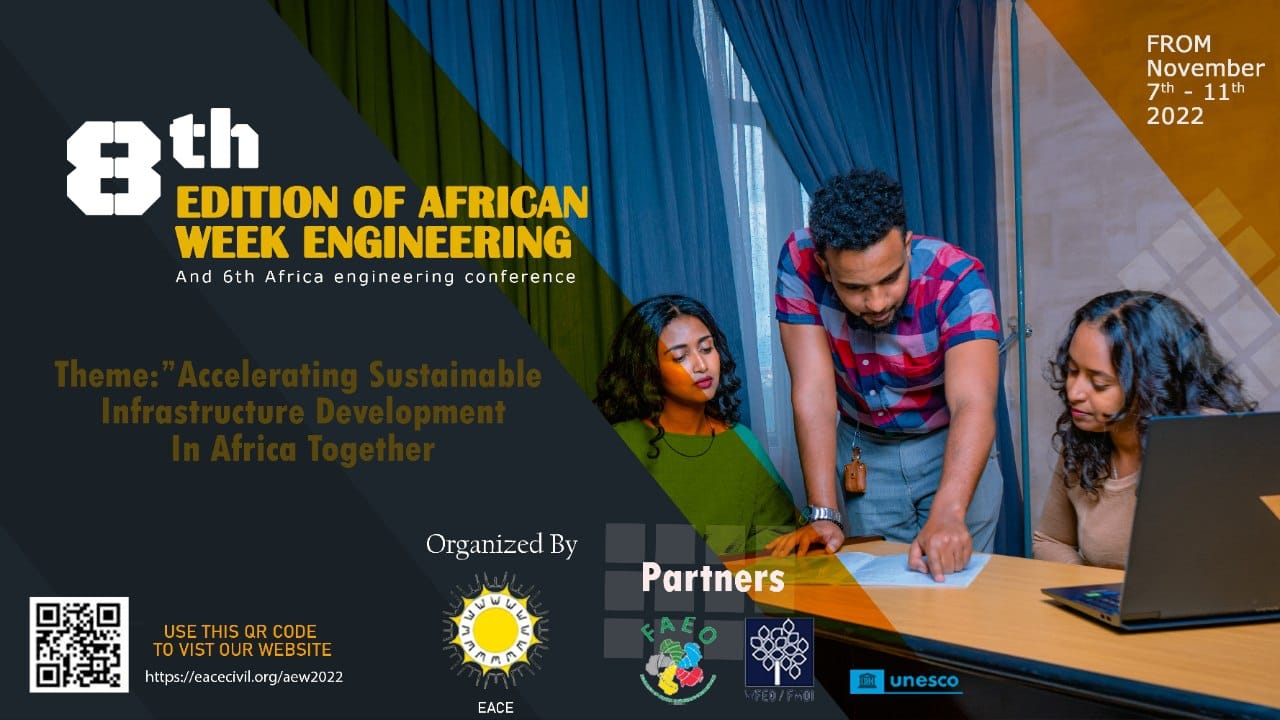 The 8th Africa Engineering Week and 6th African Engineering Conference held successfully under the theme "Accelerating Sustainable Infrastructure Development in Africa Together" at the Science Museum, Addis Ababa, Ethiopia, from 7 to 11 November 2022, with over 600 engineering participants from 21 countries of Africa. The opening ceremony was graced by the President of the Democratic Republic of Ethiopia, Her Excellency, Sahle Work Zewde and subsequent events were attended by notable serving Ministers of the country, such as:
Dr Abreham Belay, Minister of Defense; Muferiat Kamil, Minister of Works and Skills;
Eng. Aysha Mohammed, Minister of Irrigation and Low lands;
Assegid Getachew, State Minister of Labor and Skills;
Dr Samuel Kifle State Minister of Education and
Eng. Khalid Abdurahman State Minister of Infrastructure at the Prime Minister's Office.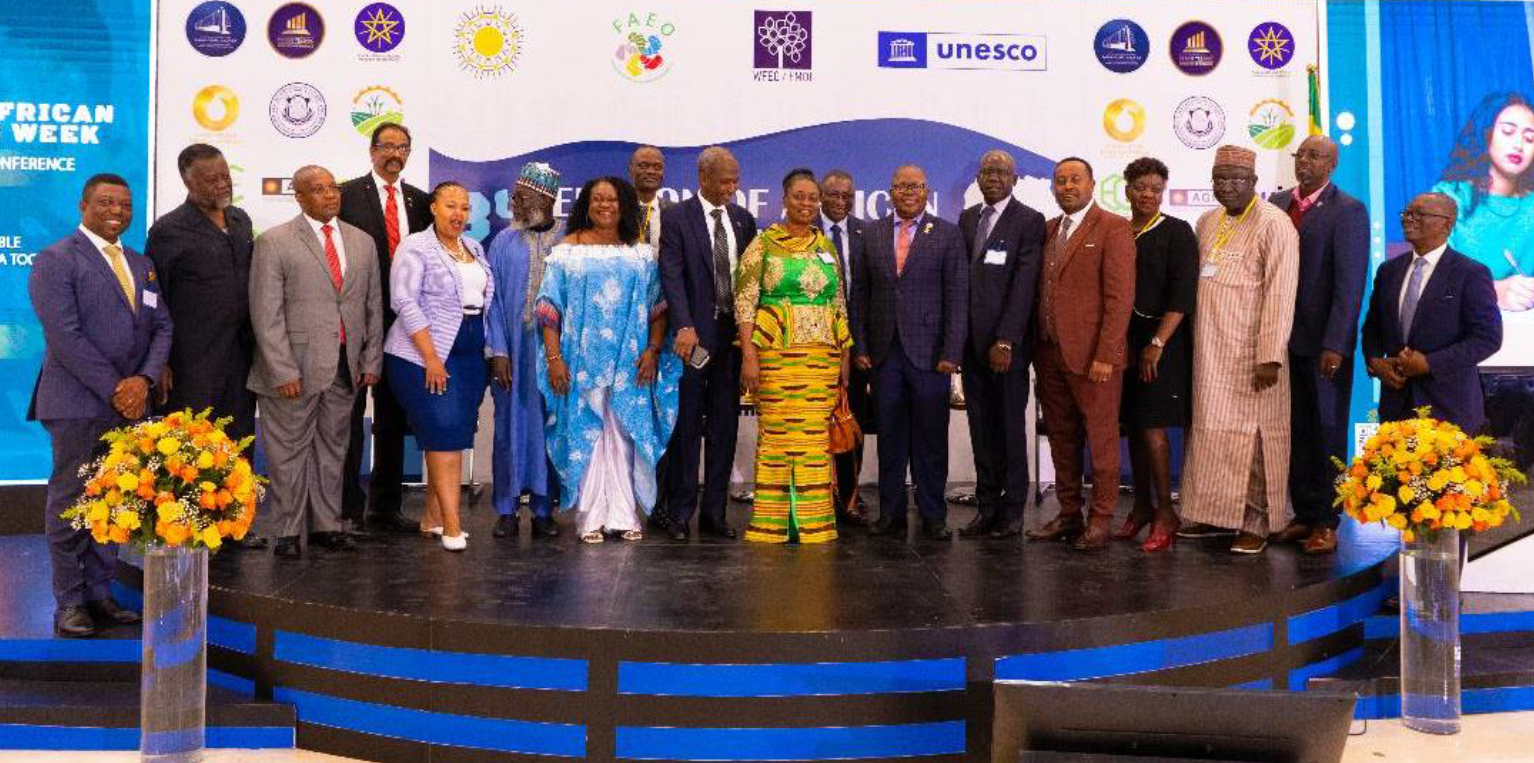 Cross Section of Presidents of Professional Engineering Institutions & Organizations

Activities of the conference included the official opening ceremony, exhibition, technical presentations, plenary sessions, round table discussions, business-to-business networking platform, young engineer's forum, women in engineering forum, biennial general assembly, election of new President-Elect and treasurer, award ceremony, closing ceremony/dinner and industrial tour of Addis Ababa.
Top functionaries present at the event were:
Eng. Mustafa Shehu, WFEO President-Elect
Dr Rita Bissoonauth Director, UNESCO LO to AUC UNECA, and UNESCO Representative to Ethiopia
Eng. (Mrs.) Carlien Bou-Chedid, FAEO President
Eng. Martin Manuhwa, FAEO Immediate Past President and Chair of Conference Planning Committee
Eng. Collins Juma President of Eastern African Federation of Engineering Organisations (EAFEO)
Eng. Alex Ayeh President of West African Federation of Engineering Organisations (WAFEO)
Eng. Linda Moseki President of Southern African Federation of Engineering Organisations (SAFEO)
Eng. Tasiu Wudil President of Nigerian Society of Engineers (NSE)
Eng. Trudy Morgan, President of Sierra Leone Institution of Engineers (SLIE)
Eng. Sayed Rizwan Qadri, President of Institution of Engineers Tanzania (IET)
Eng. Prof Charles Adams, President of Ghana Institution of Engineering (GhIE)
Eng. Eric Ohaga President of Institution of Engineers, Kenya (IEK)
Eng. Refilwe Buthelezi, President of the Engineering Council of South Africa (ECSA)
Eng. Maxime Somda, President of Ordre de Ingénieurs en Génie Civil du Burkina Faso (OIGC)
Eng. Augusto Baltazar de Almeida, Vice Presidente Ordem dos Engenheiros de Angola (OEA), and
Eng. Yonas Ayalew President of Ethiopian Association of Civil Engineers (EACE), the host.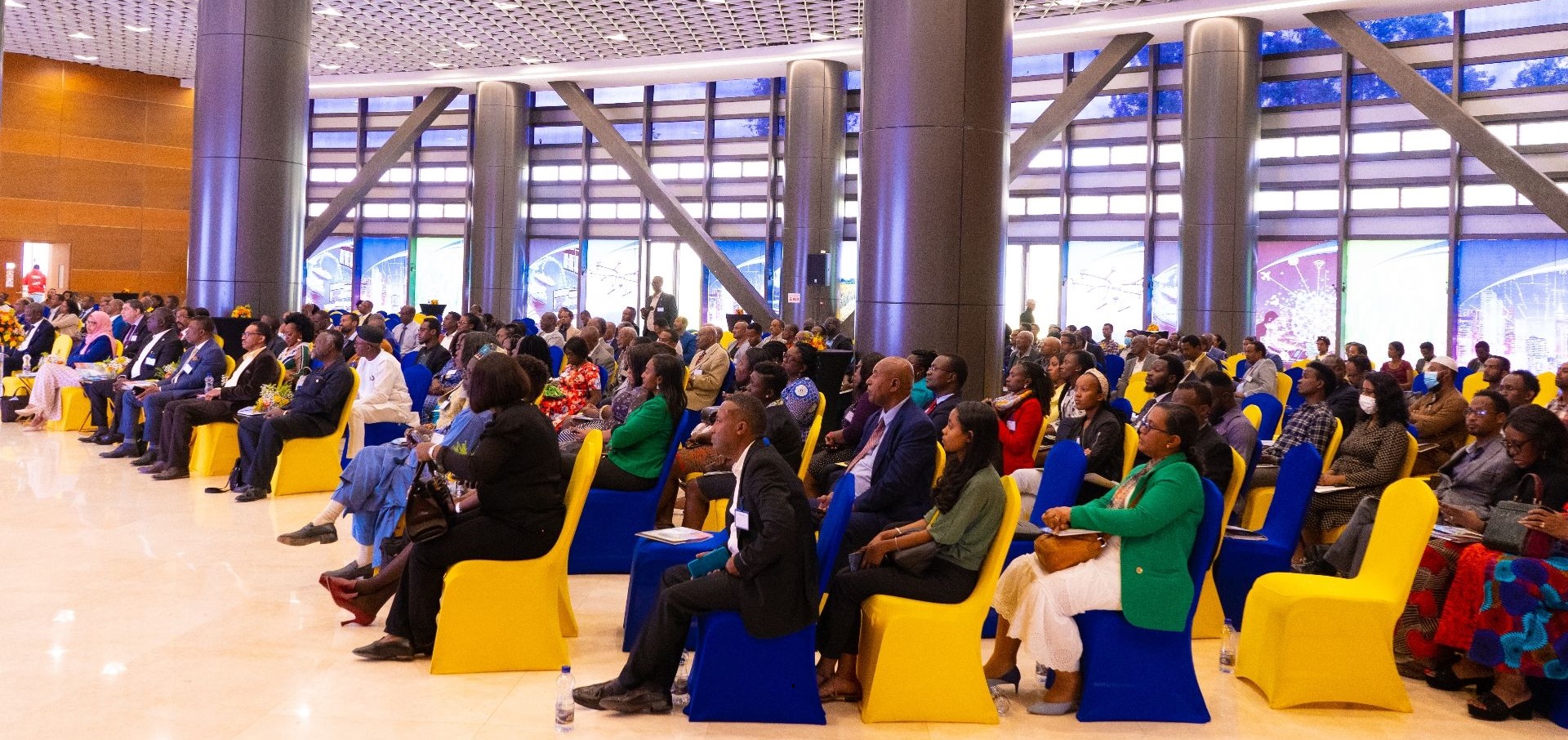 Other dignitaries present from the engineering regulatory bodies in Africa were Eng. Israel Rwodzi, Chairperson of Engineering Council of Zimbabwe, Eng. Ali Rabiu, President of Council for the Regulation of Engineering in Nigeria (COREN) and Eng. Dr Kwame Boakye, Chairman of Engineering Council of Ghana (EDG). CEOs of some notable African Companies were also present at this great engineering event in Addis Ababa
Discussions during the conference covered sub-themes on Energy, Construction, Information and Communication Technology, Transportation, Water and Sanitation and Partnerships and Financing.
While some speakers stressed the importance of ensuring the participation of African Engineers in Infrastructure Development on the continent, others emphasized the need for development and harmonization of Engineering education, skills standards and engineering standards in Africa inline with international benchmarks, to address local needs and promote mobility of engineering services and natural persons and ensure uniform standards of safety and reliability in the delivery of sustainable infrastructure on the continent. In her opening remarks, the President of FAEO announced a pilot scheme that could go some way to address the problem of harmonisation of engineering standards. This was a project leading to the formation of the West African Engineering Professionals Harmonisation and Accreditation Council (WAEPHAC), which she said could be replicated across Africa if successful.
On the area of diversity and Inclusion, some of the speakers called on African Governments to monitor the participation of females in the engineering sector by ensuring that relevant institutions maintain the necessary gender disaggregated data, while other speakers who identified with the students and graduate engineers noted that engineering capacity building should have a focus on both students and graduates in multi-disciplinary areas by engaging them in career bootcamps at every conference.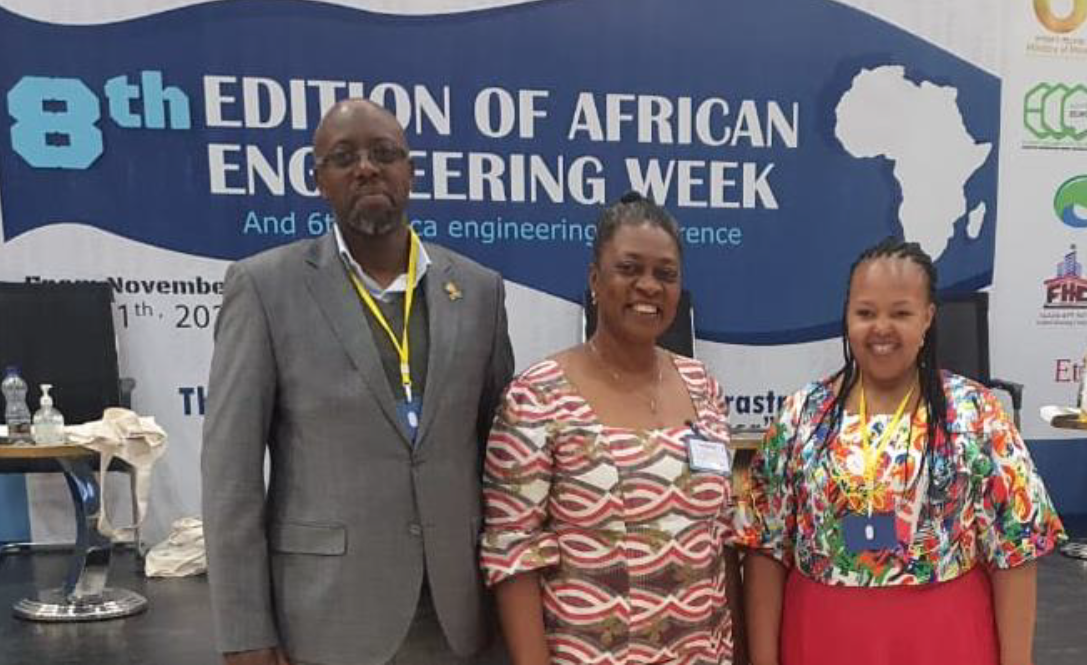 From Left to Right: Eng. Papias Kazawadi, FAEO President-Elect; Ing. (Mrs.) Carlien Bou Chedid, FAEO President; Eng. Refilwe Buthelezi, newly elected FAEO President Elect for 2023/2024

All Professional Engineering Organisations were encouraged to establish and strengthen partnerships with society, governments, industry, and academia to bridge the industry-academia gap.
Delegates were generally impressed with the way the Ethiopian government had made a conscious effort to use Ethiopian Engineers for their infrastructural development and for this reason FAEO recognized the efforts of the government by presenting an Award to the Prime Minister of the Federal Democratic Republic of Ethiopia, H.E. Dr. Abiy Ahmed, "for his impressive role in the promotion of Local Content and Professionals in Engineering and Science in the Development of Infrastructure in Ethiopia", a model we want Africa to follow !
The award presentation was made by the Hon. Muferiat Kamil, Minister of Works and Skills, during the Conference Dinner.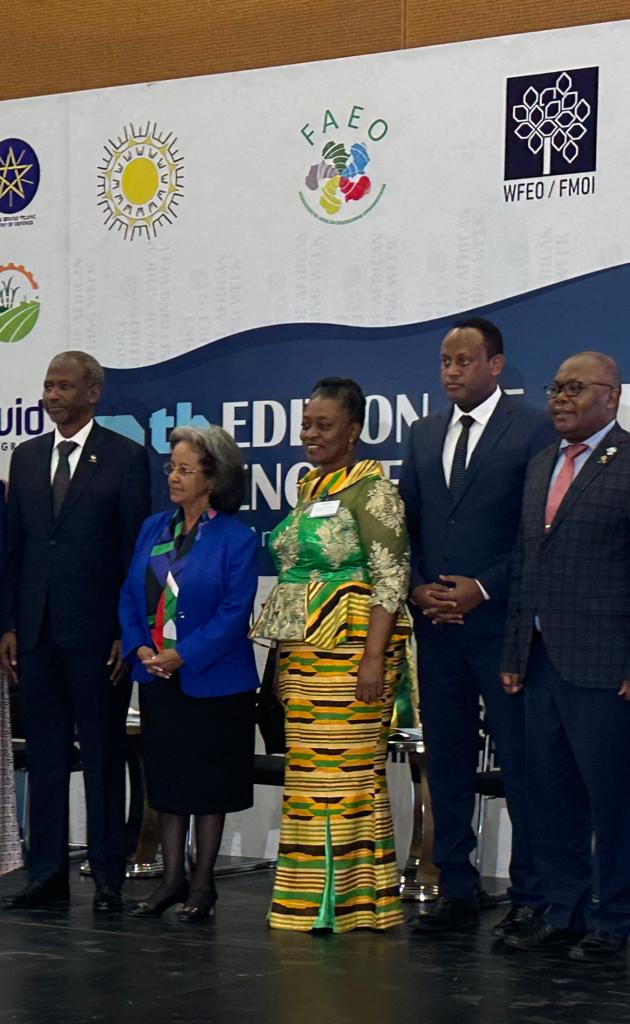 From Left to Right, WFEO President-Elect Engr. Mustafa Shehu, President of the Democratic Federal Republic of Ethiopia H.E Sahle-Work Zewde, FAEO President Ing. Carlien Bou-Chedid, Minister of Defense Ethiopia Dr. Abraham Belay and Eng. Martin Manuhwa, the FAEO IPP and the Africa Engineering Week Chairman at the official opening.

At the climax of the 5-day event, during the biennial General Assembly, the delegates unanimously elected Eng. Refilwe Buthelezi as the FAEO President-Elect for 2023-2024 and approved the Board nomination of Eng. Alex Ayeh as the Treasurer for the same period.
The Executive Board announced that the next host for the 9th African Engineering Week and 7th African Engineering Conference in 2023 will be the Engineering Council of South Africa (ECSA), while another International Conference is scheduled to be hold in Angola by November 2023.
In a related development, members were informed that the investiture of Eng Papias Kazawadi as the 6 th President of FAEO would take place in Kigali, Rwanda, from 26 to 27 January 2023 and would be preceded by a conference. Delegates from all African engineering organisations/institutions/firms are encouraged to attend in order to demonstrate support for the in-coming President.
Live recordings are available in this page.

Report by Engr Ovens F Ehimatie, FAEO Executive Director