The second United Nations Global Sustainable Transport Conference, themed on "Sustainable Transport, Sustainable Development", has been successfully held from 14-16 October 2021, Beijing, China, consisting of an opening and closing ceremony, three plenary meetings, three forums (Ministers' forum, The Forum on Science, Technology and Innovation for Sustainable Transport and the Forum on the Role of Business in Advancing Sustainable Transport) and six thematic sessions.
The Conference examined how transportation can contribute to climate response, economic growth and sustainable development. Government leaders, industry experts, and civil society groups from around the world joined the meeting onsite or online to chart the way forward to a more sustainable future for the sector, and greater climate action overall.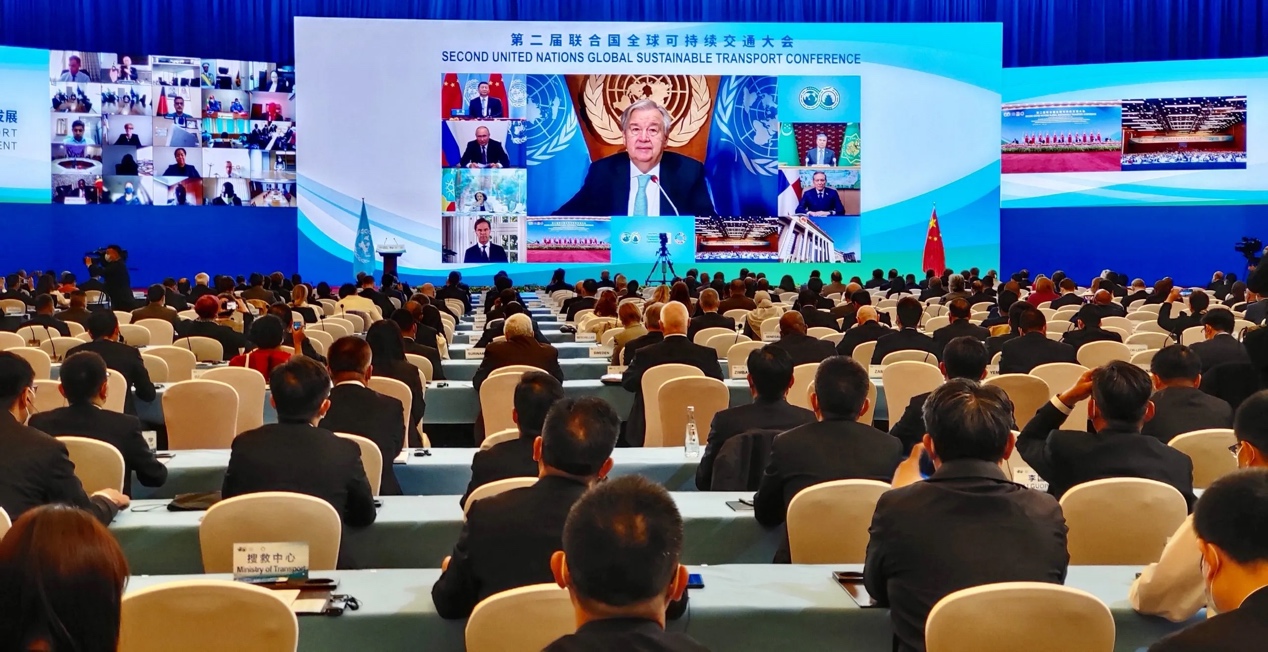 At the opening ceremony on 14th October, UN Secretary-General António Guterres stressed that "The next nine years must see a global shift towards renewable energy. Sustainable transport is central to that transformation" (full remarks available in this page).
President Xi Jinping of China delivered a keynote speech titled "Staying Connected with the World and Abreast with the Times, and Making Big Strides on the Path of Sustainable Development" and stressed that let us stick together on the promising path of connectivity and mutual benefit, jointly build an open, inclusive, clean and beautiful world that enjoys lasting peace, universal security and common prosperity, and promote the building of a community with a shared future for mankind (full text available in this document).
Russian President Vladimir Putin, Turkmen President Gurbanguly Berdymukhamedov, Ethiopian President Sahle-Work Zewde, Panamanian President Laurentino Cortizo, Dutch Prime Minister Mark Rutte and other leaders delivered speeches via video link upon invitation. Representatives from 171 countries attended the opening ceremony.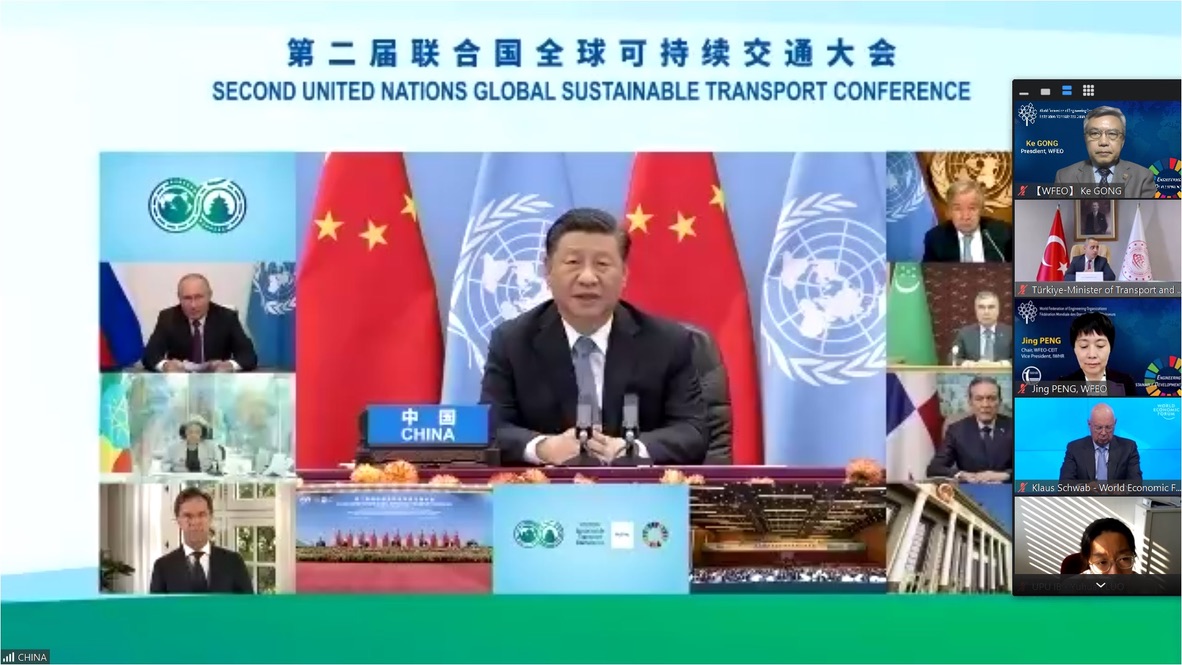 Prof. Gong Ke, President of WFEO and Dr. Peng Jing Chair of WFEO-CEIT representing WFEO attended the opening ceremony of the conference on 14th October.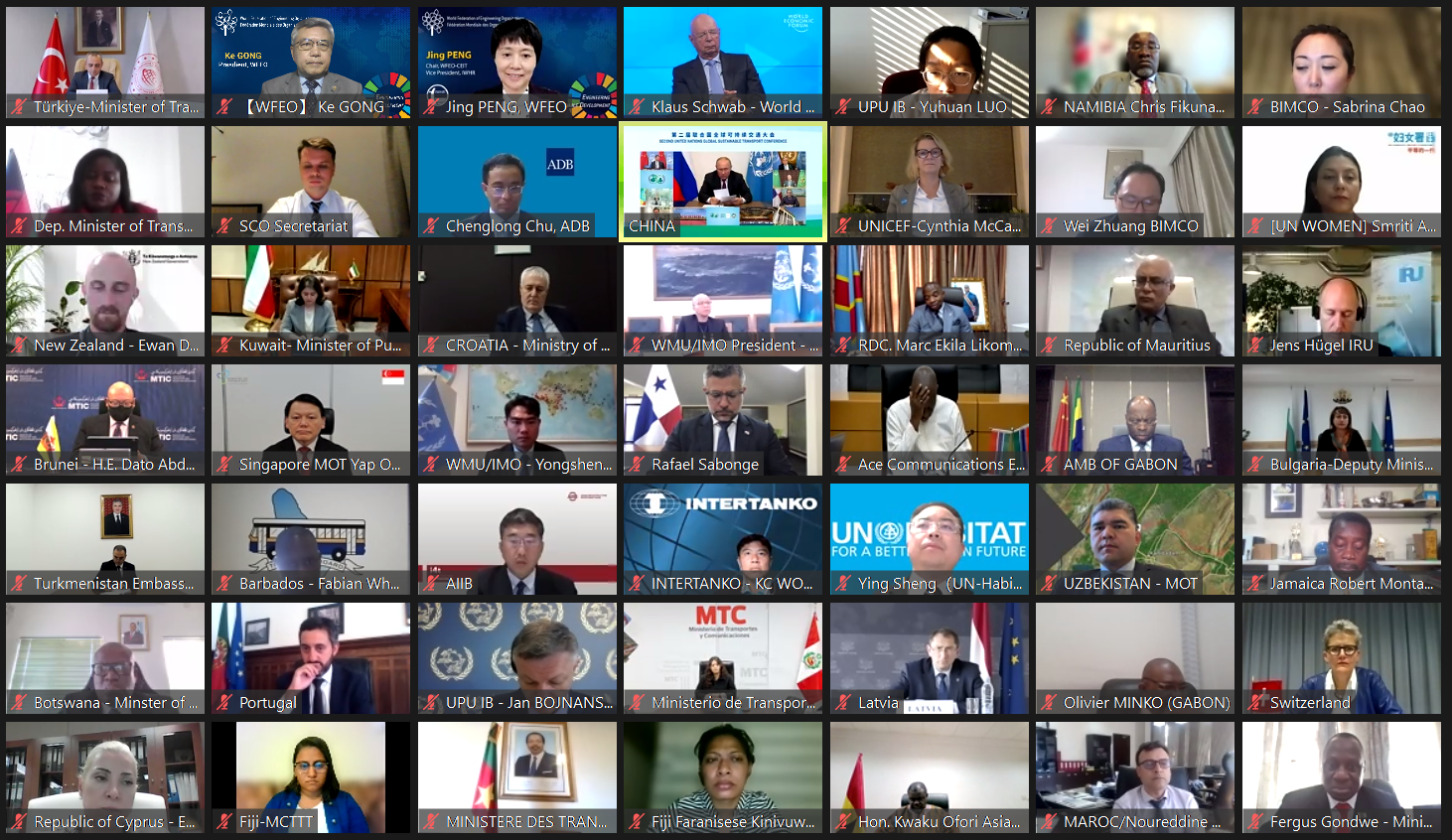 ---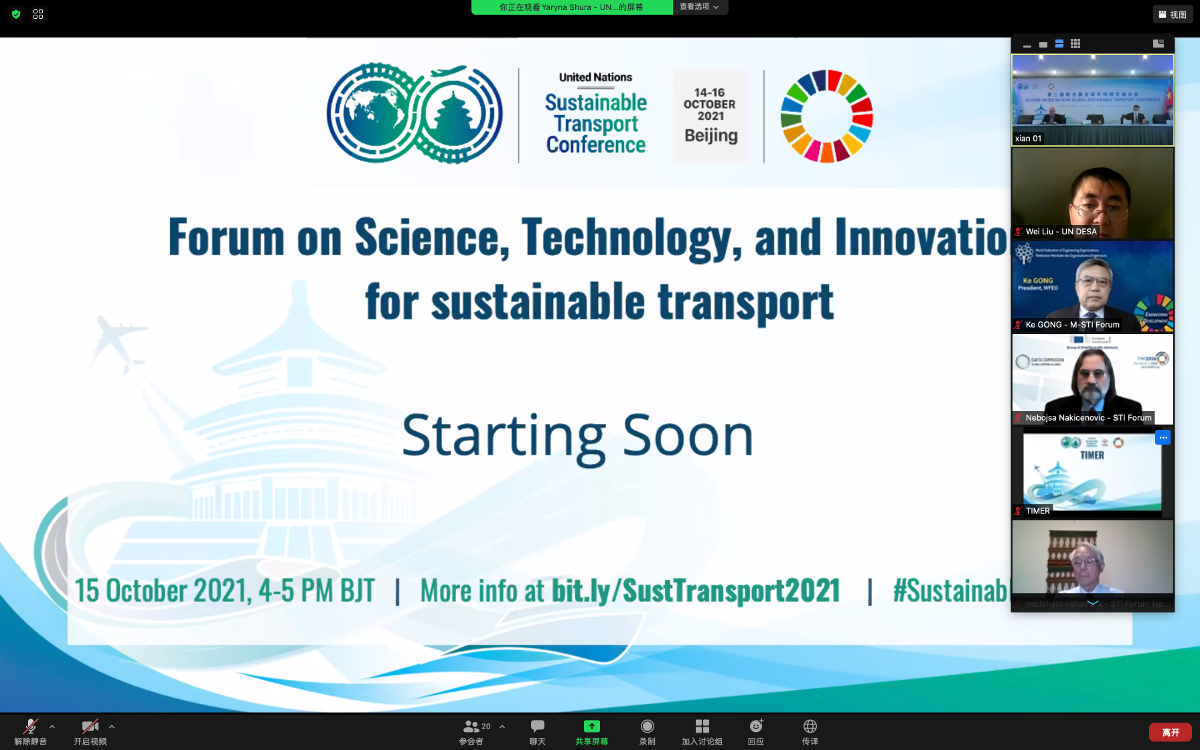 Forum on Science, Technology and Innovation (STI) for Sustainable Transport, hosted by UN Department of Economic and Social Affairs and the Ministry of Transport of China, in collaboration with WFEO, ISC, IAP, etc., was held on Friday, 15 October 2021.
Prof. Gong Ke, President of WFEO, moderated the Forum, and stressed "By technology alone could not achieve sustainable transport, governance with relevant policies and regulatory reform, investment and proper financial tools, public understanding and engagement/involvement are important parts of the transition, together with science and technology and engineering" in the closing remarks.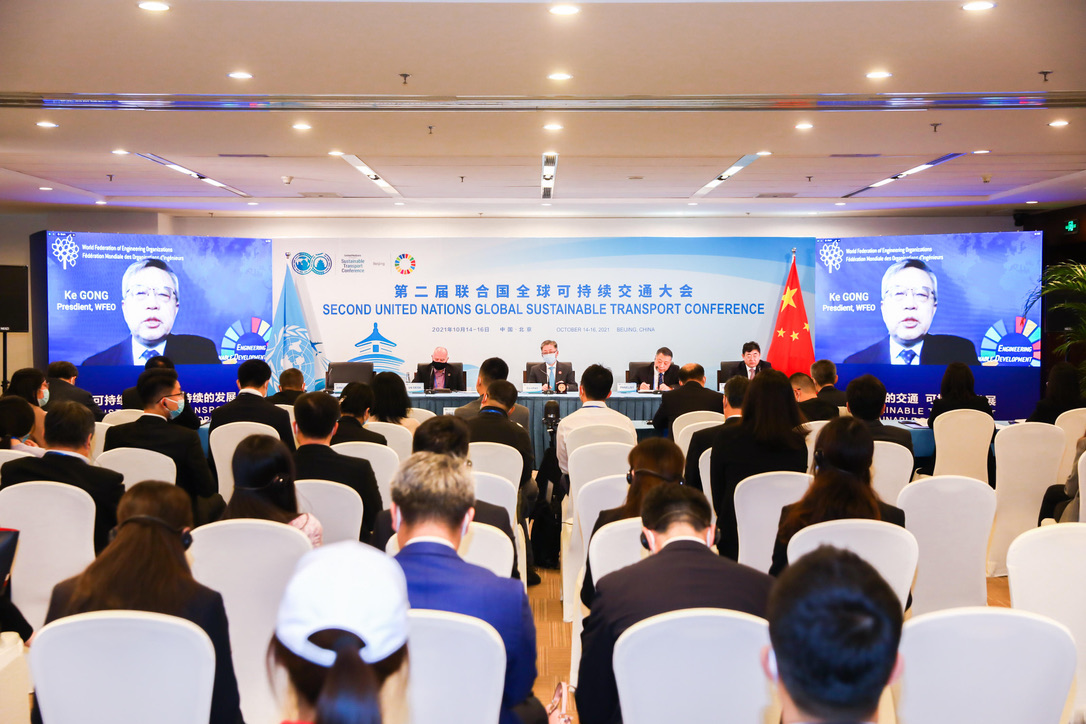 H.E. Mr. Wang Zhiqing, Vice Minister of Transport, China and Ms. Maria-Francesca Spatolisano, Assistant Secretary-General for Policy Coordination and Inter-Agency Affairs, United Nations Department of Economic and Social Affairs, and Officer-in-Charge, United Nations Office of the Secretary-General's Envoy on Technology, co-chaired the forum.
Mr. Peter Newman, Professor of Sustainability, Curtin University, Ms. Jennifer Holmgren, Chief Executive Officer, LanzaTech, Mr. Nebojsa Nakicenovic, Deputy Chair, Group of Chief Scientific Advisors to the European Commission, Mr. Ryan Janzen, CTO and Co-Founder, TransPod Inc., Mr. Guo Shougang, Deputy Director-General, Ministry of Industry and Information Technology of China, Mr. Michiharu Nakamura, Counselor to the President, Japan Science and Technology Agency, and Mr. Sun Ziyu, Vice President of China Communications Construction Company Ltd, presented innovative solutions to sustainable transport-related challenges and identified areas where additional efforts are necessary.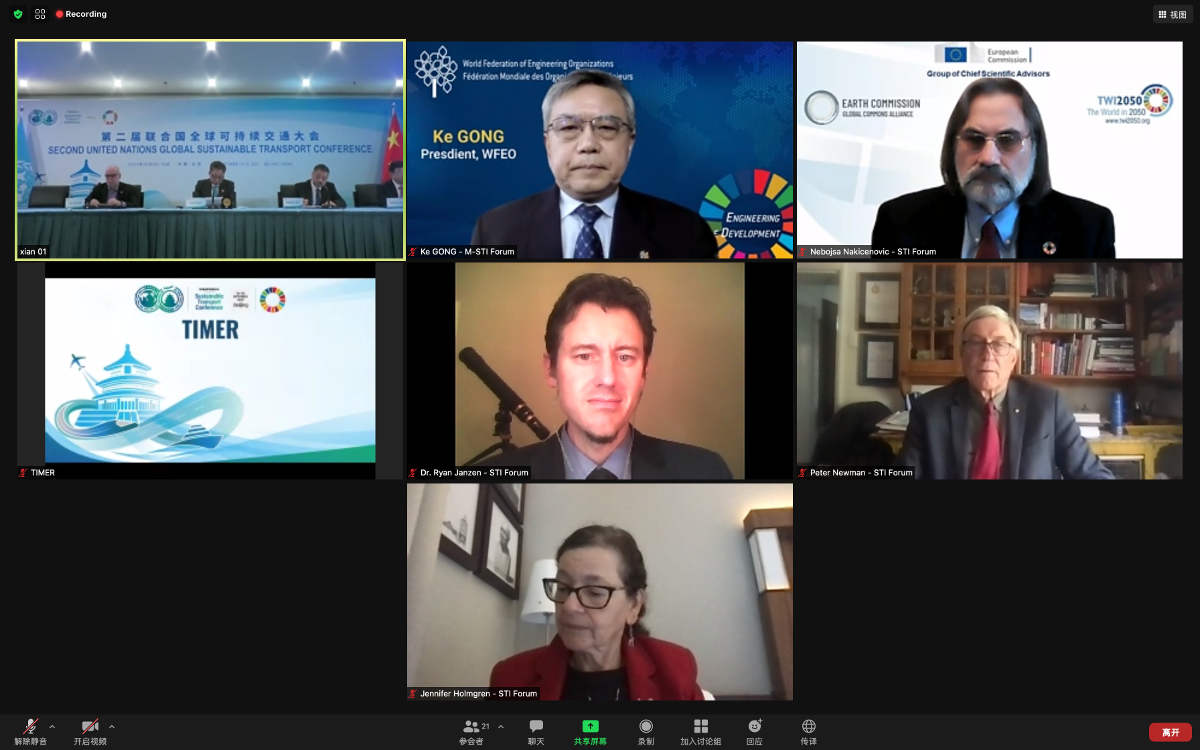 The Conference concluded with the Beijing Statement released as an outcome document.

For more information:
Beijing Statement of the Second United Nations Global Sustainable Transport Conference
"Sustainable transport key to green energy shift: UN Secretary-General" – UN News