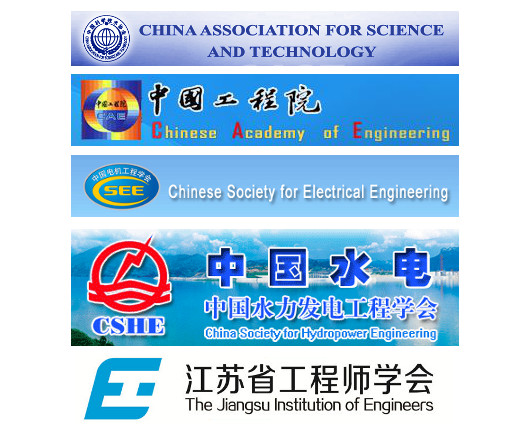 In April 2016, WFEO President Mr.Jorge Spitalnik visited China. During his 11-days stay in China, Jorge participated in the 20th Pacific nuclear meeting, visited and met with the Chinese academy of engineering (CAE), China association for science and technology (CAST), China Society for Hydropower Engineering (CSHE), Chinese Society for Electrical Engineering (CSEE), WFEO-CEIT Beijing office, Jiangsu Institution of Engineers (JIE). He has been also invited to Tsinghua University, Hohai University to deliver the reports, visited Goldwind Science and Technology Co. The in-depth communications have improved mutual understanding. The influence of WFEO has been successfully promoted through the visit.
This report catalogues the main activities of president Jorge Spitalnik in China, during 5~16/April, 2016.
1. Attending PBNC2016 conference, April 5-7, 2016
As an executive member, Jorge Spitalnik joined the American Nuclear Society (ANS) council meeting in the morning of April 5.
On April 6, he also attended the opening ceremony of the 20th Pacific Basin Nuclear Conference, 2016 (PBNC 2016) and made a keynote speech titled "Nuclear Energy in the Context of the COP – 21 Climate Change Agreement".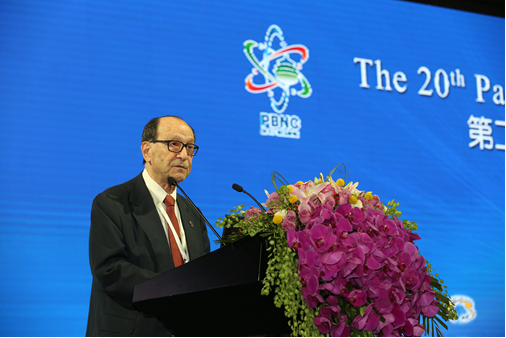 Jorge Spitalnik makes a keynote speech on PBNC 06/04/2016
2. Meeting with Vice Chairman of CAST, April 5, 2016
On April 5, President Jorge Spitalnik had a meeting with Mr. Zhang Qin, vice chairman of CAST. Mr. Zhang Qin welcomed Jorge's visit to China. He appreciated the continuous support to CAST from WFEO. Taking the opportunity of hosting WFEO Committee of Engineering for Innovative Technology (WFEO-CEIT), CAST will further strengthen its cooperation with WFEO, and play a more active role within WFEO.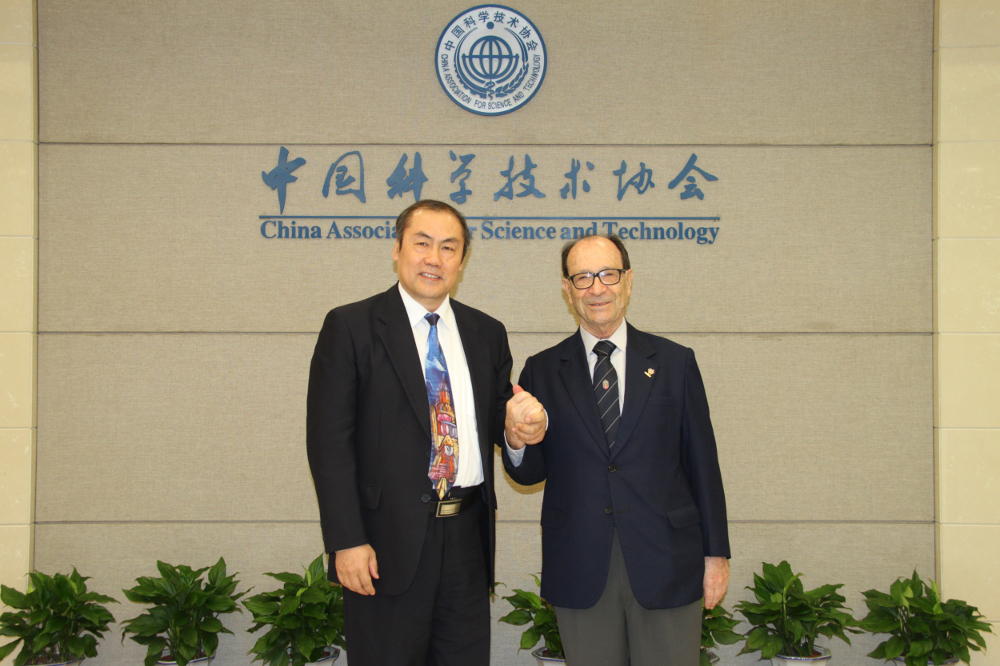 Zhang Qin from CAST welcoming Jorge Spitalnik
Jorge Spitalnik appreciated the important contributions of CAST to WFEO. He trusted that this collaboration will constantly improve WFEO international influence. WFEO also supports CAST in its effort with Washington Accord.
Attendance at the meeting included: Zhang Jiansheng, Director of International Dept of CAST, Li Ruomei, National member of WFEO Executive Council and Vice Chair of WFEO Committee on Energy. Xie Ming-liang, Vice President and Secretary General of CSEE, and representatives from CIE, International Carnahan Conference on Security Technology (ICCST), etc.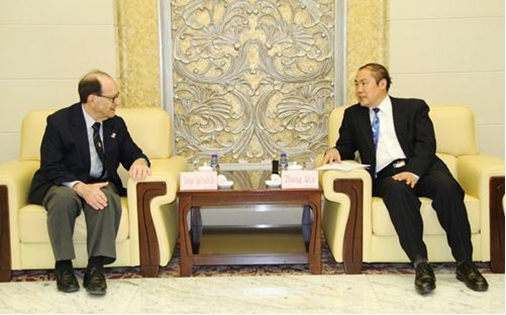 Jorge Spitalnik with Zhang Qin
3. Meeting with President of CAE (April 5, 2016)
April 5 President Jorge Spitalnik visited China Academy of Engineering (CAE), and met with CAE President, prof Zhou Ji, Mr. Gong Ke, President of Nankai University, Vice President and Chairman of WFEO-CEIT, WFEO Executive Council member and Dr Li Ruomei, vice chair of WFEO Committee on Energy, and representatives from CAE, joined the meeting. Both exchanged views on cooperation issues, with focus on UNESCO project of engineering education and UNESCO's follow up of the engineering report.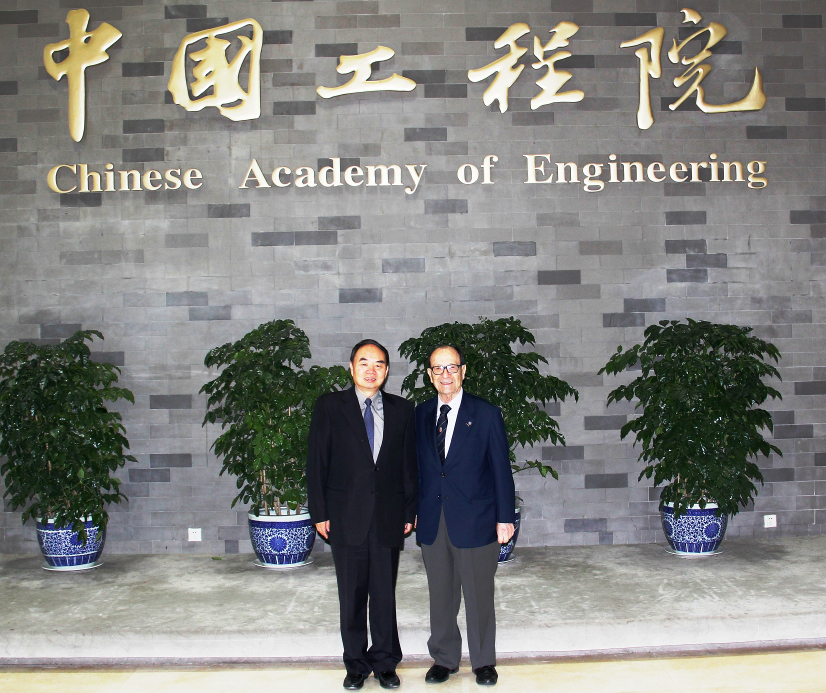 Jorge Spitalnik with Zhou Ji from CAE
President Zhou Ji said that international work needs extensive participation and contribution. WFEO is recognized as an influential international engineering organization, with a wealth of global specialist resource, especially in the field of engineering education. CAE hopes to have a good cooperation with CAST.
President Spitalnik appreciated CAE's recognition of WFEO and expected that the partnership between WFEO and CAE for specific work could be further clarified and confirmed. The discussion included the available and effective ways of collaboration.
Both expressed their confidence in the future prospects. Attendance at the meeting included: Wu Guokai, deputy secretary-general of the CAE; Kang Jincheng, director of International Cooperation Dept, CAE; Sun Yu king, professor at Tsinghua university; Liu Wei, Deputy director of the office of education; Tian QI, manager of Div-1 of International Cooperation Dept, CAE.
The meeting ended with a dinner in CAE.
4. Meeting with Honorary President of CSHE (April 6, 2016)
On April 6, 2016, president Jorge Spitalnik met with Lu Youmei, Honorary President of CSHE and academician of CAE with whom he had cordial and friendly talks.
Mr. Lu Youmei warmly welcomed Jorge Spitalnik's visit on behalf of CSHE, congratulated him to start the term of being new president of WFEO. Mr. Lu pointed out that WFEO is a world leading engineering organization providing engineers around the world a platform for exchange and cooperation.
Last year, WFEO awarded "Medal of Engineering Excellence" and "Hassib J. Sabbagh Award for Engineering Construction Excellence" to the members of CSHE, fully recognized the excellence of Chinese hydropower in the world. Mr. Lu expressed thanks to Mr. Jorge Spitalnik and WFEO for their support to China's engineering and hydropower industry.
Mr. Spitalnik thanked Mr. Lu's warm reception and introduced the established background, organization structure and main roles of WFEO. He emphasized the development of WFEO cannot leave out the joint efforts and support from engineers and relevant organizations around the world.
Mr. Jorge Spitalnik believes that China, as a major engineering and hydropower development power, will play a more important role in WFEO. He expects CSHE to actively recommend hydropower specialists to participate in the WFEO academic activities, constantly expand the influence of the Chinese hydropower in the international hydropower industry, promote global carbon dioxide emission reduction and other greenhouse gases, and effectively curb climate warming in a concerted effort.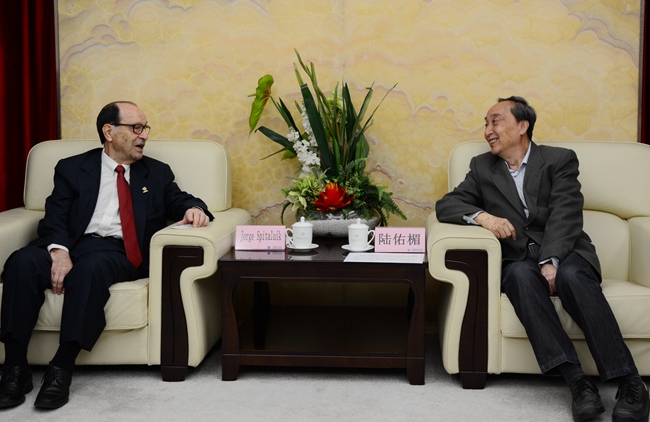 CSHE president Lu Youmei talking with WFEO president Jorge Spitalnik
5. Meeting with President of CSEE
April 8, Mr Zheng Baosen, President of CSEE, met with the visiting WFEO President Jorge Spitalnik accompanied by Xie Mingliang, Vice President and Secretary General of CSEE, and Li Ruomei, former Secretary General of CSEE and Member of WFEO's Executive Council.
President Zheng Baosen welcomed the visit of Jorge Spitalnik, saying that CSEE and WFEO, have a common mission to serve engineering society and promote the development of engineering technology. There are broad prospects for bilateral cooperation. CSEE will continue its participation in WFEO and will enhance its support to WFEO activities in China, so as to make contributions to promote communications of engineers at home and abroad.
President Jorge Spitalnik extended thanks to CSEE for its constant support and important contributions to the World Engineers Convention 2004 (WEC2004), World Engineers Convention 2011 (WEC2011), and Engineering for Sustainable Energy in Developing Countries 2013 (ESEDC2013). WFEO couldn't make such achievements without the common efforts and help from Chinese engineers and relevant organizations. Jorge Spitalnik pointed out that the WFEO CEIT is now hosted by CAST. CSEE is expected to make contributions in related technical fields, e.g. long-distance large-capacity power transmission. The meeting was closed in a friendly atmosphere.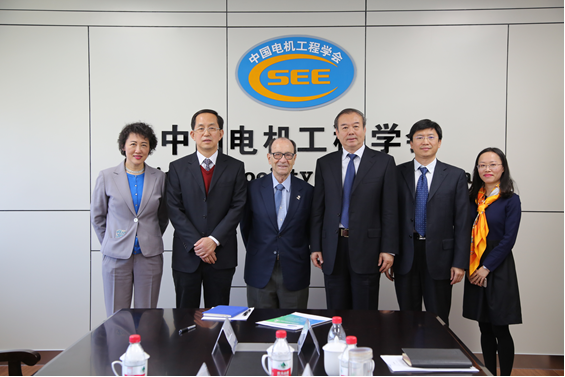 Group photo with CSEE
6. Attending the International Symposium on Engineering Education Accreditation
On April 11, Jorge Spitalnik attended the international symposium on engineering education accreditation, and delivered a speech at the conference.
7. Visiting Goldwind Science and Technology Co. (April 13, 2016)
April 13, Jorge Spitalnik visited the Goldwind Science and Technology Company headquarters in Beijing. Executive vice president, Mr WU Kai, received the guests from WFEO. Jorge Spitalnik listened to a report on "Smart Microgrid and Smart Intelligent Energy Internet in GoldWind Park".
He then visited the Smart Microgrid demonstration project. President Spitalnik congratulated China's leading company for wind power technology and equipment, for its achievements in China and on the international market. Participants at the meeting included Chief Engineer Zheng Dehua, WFEO Executive Council member LI Ruomei, State Grid Corporation of China (SGCC) officers Pang Hui and An Ting from the Global Internet Research Institute, and Ma Shicong from the China Electric Power Research Institute.
8. Visiting THU-EIRI
April 13, 2016, WFEO President Jorge Spitalnik visited Energy Internet Research Institute, Tsinghua University (THU-EIRI).
This is also the 6th academic salon of THU-EIRI. The host of this event includes Prof. Feng Gao, deputy director of THU-EIRI. Prof. Rong Zeng, the director of THU-EIRI and Department of electrical engineering, Tsinghua University and Dr. Ruomei Li, former secretary general of Chinese Society for Electrical Engineering (CSEE) also attended this meeting.
Professor Jorge Spitalnik delivered a speech on "Engineers contribution for implementing the Sustainable Development Goals".
In this presentation, President Spitalnik introduced the engineering contributions and actions of WFEO to help achieve the "17 Sustainable Development Goals (SDGs)" of the UN.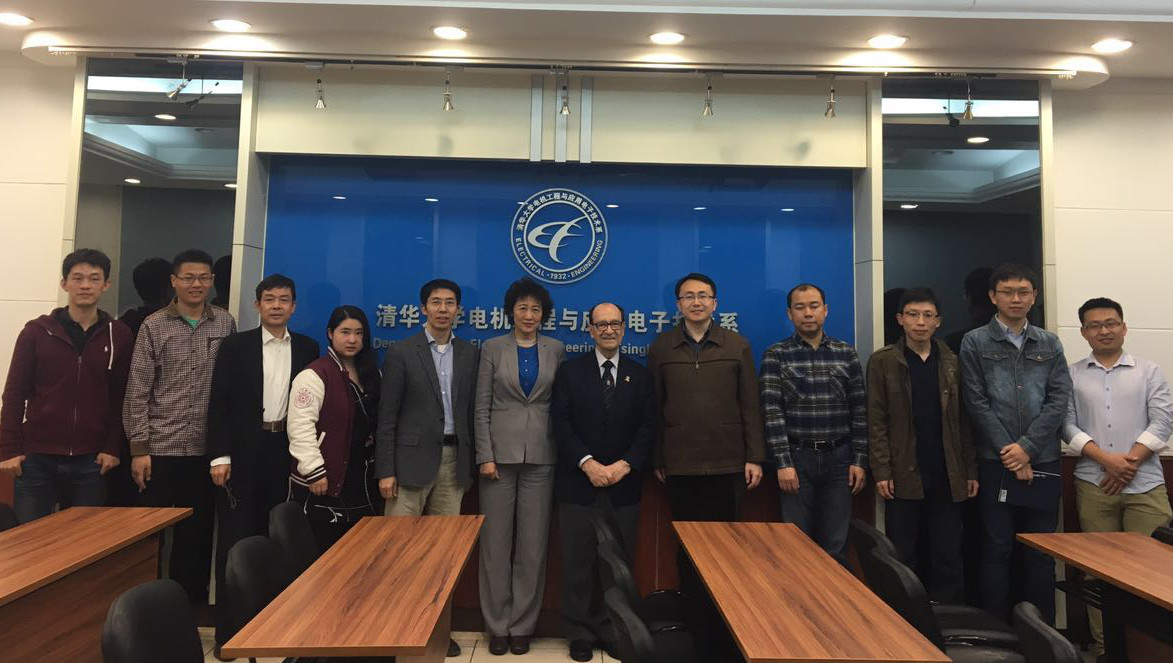 The group photo of WFEO president with young scholars in THU-EIRI, from left: Yi-Feng Zhu, Yang-Lin Zhou, Luo-Ping Zhang, Dr. Xuan Zhang, Prof. Rong Zeng, Prof. Ruomei Li, Prof. Jorge Spitalnik, Prof. Feng Gao, Dr. Chao Yang, Dr. Lu Qu, Qing Cheng and Tian Xia
After the presentation, Prof. Feng Gao introduced the basic activities of THU-EIRI and further discussed with President Jorge Spitalnik such issues as the Chinese energy industry, the carbon emission reduction mission, the challenge on climate change and other.
The audience was impressed by the fascinating speech of President Jorge Spitalnik, and both sides (WFEO and THU-EIRI) agreed to enhance their communications and cooperation in future.
9. Evening gathering in honor of WFEO President
In the evening of April 13, Prof Qian Yi, former WFEO vice President (1997-2005), former chair of WFEO-China, hosted a gathering party for Jorge Spitalnik. The attendees were:
Prof Gong Ke, WFEO vice-president and WFEO-CEIT chair, WFEO-China chair; 2009
Prof Zhong Yixin, former WFEO vice president and WFEO-CEIT chair, WFEO-China, 2007-2009;
Dr Li Ruomei, WFEO Executive Council member (2015), vice chair of WFEO Committee on Energy (2012~),
Prof ZENG Rong, director of Dept E.E, Tsinghua University,
Dr GAO Feng, deputy director of the energy research institute.
Prof Qian Yi is the winner of the WFEO outstanding engineering Education Award in 2009. The gathering has been very pleasant and brought back their memories in WFEO since last century, 1990's.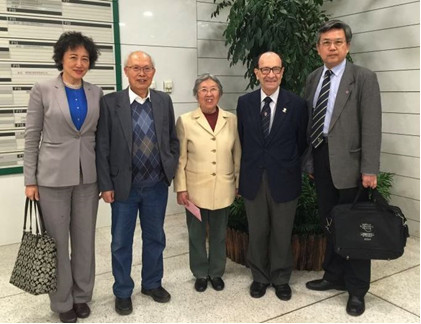 Group photo-2 (from left: LI Ruomei, ZHONG Yixin, QIAN Yi, Jorge Spitalnik, GONG Ke)
10. Meeting with WFEO-CEIT office (14 April 2016)
April 14, Jorge Spitalnik joined a discussion at the office of WFEO Committee on Engineering Innovation and Technology (WFEO-CEIT), located within the headquarters of the Chinese Institute of Electronics (CIE) in Beijing. Dr Lin Runhua, secretary-general of WFEO-CEIT, reported firstly on the plan and current work of CEIT, including artificial intelligence, cloud computing, sensors, internet of things, etc. The pioneering study is to be started soon.
Jorge Spitalnik advised that, in addition to the present topics, the Committee can explore research related to human health in the future. He also suggested that the Committee gets as much support and participation as possible within China, a country that is undertaking the largest industrial modernization activities in the world.
Attendees of the meeting were: the director of the China International Science and Technology Conference Center, Ms YUAN Yue, assistant secretary of CEIT, Ms JIAO YuHua, etc.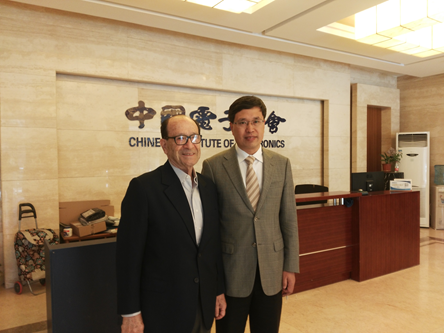 With Mr LIN Runhua, secretary of WFEO-CEIT
Group photo at WFEO-CEIT's office. From left: JIAO Yuhua, LI Ruomei, Jorge Spitalnik, LIN Runhua, LIAN Wenting.
11. Visiting Hohai University
On April 15, President Jorge Spitalnik visited Hohai University accompanied by Dr Ruomei LI, WFEO Executive Council member and vice chair of WFEO Committee on Energy.
Hohai University President XU Hui, together with vice presidents, Mr JuPing and Ms CHEN Xing-ying received the guests. During the meeting, the hosts and guest exchanged their views on China's major water conservancy projects. The economic and social benefits and environmental impact of the Three Gorges project were also discussed. They both agreed to strengthen cooperation and exchanges between Hohai University and WFEO, especially in engineers training, engineering education and international accreditation. Cooperation in the field of energy was emphasized.
Prior to the meeting, President Spitalnik made a presentation to teachers and students in Hohai University under the topic "WFEO Engineers contributions to Sustainable Development Goals and objectives". Dr LI Ruomei also made a speech titled "energy revolution, what should we pay attention to?"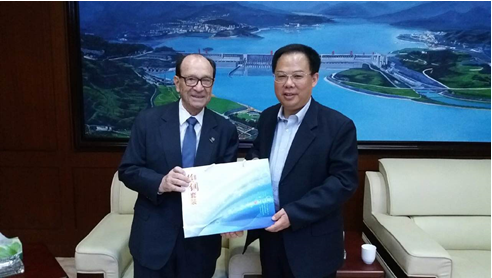 President XU Hui (Hohai Univ) and Jorge Spitalnik
Jorge Spitalnik in his speech at Hohai University
12. Visiting Jiangsu Institution of Engineers (JIE)
On April 16, 2016, President Jorge Spitalnik visited Jiangsu Institute of Engineering and Jiangsu Industrial Innovation Research Institute.
President Spitalnik and Ms Ruomei Li visited the Jiangsu Institute of Industrial Innovation understanding of the recent achievement of Jiangsu province in technology innovation. The work covers numerous fields such as new generation of information technology, smart grid, new energy, new material, new medicine and biotechnology, energy conservation, environmental protection and high-end equipment, in areas such as advanced technology of industrial innovation and results.
President Spitalnik focused on new energy, new medicine and biotechnology, energy conservation and environmental protection. He stood by the stands of the products, asking technical questions and details.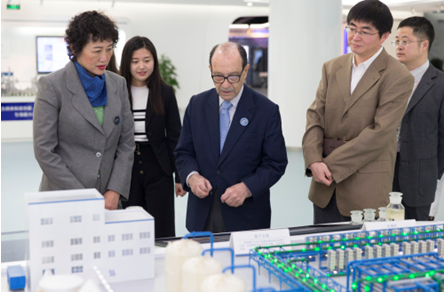 Jorge Spitalnik and Ruomei Li visiting Jiangsu industrial innovation research institute (JIE)
President of JIE, Prof. Ouyang Pingkai had a meeting with president Jorge Spitalni. The discussions are around the cooperation on the promotion of the advanced technology in Jiangsu and the issues of engineering organization development.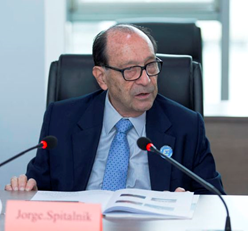 Presentation by Jorge Spitalnik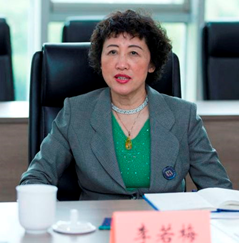 Speech of Ruomei Li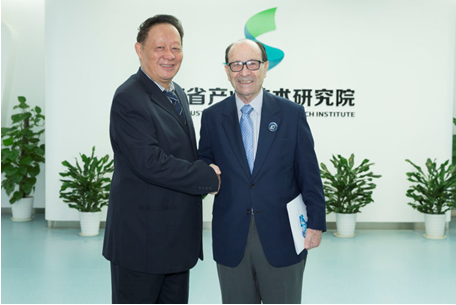 JIE President with WFEO president
At the JIE meeting, President Ouyang welcomed the visit of President Jorge Spitalnik and Ruomei LI. He expressed thanks for their concern and support to JIE, a young provincial engineering organization. He pointed out that JIE is moving toward "becoming a science and technology innovation center with global influence and an international competitive manufacturer". For this goal, the level of industrial technology innovative talents are key to success. It is important to further enhance engineers' professional skills and expand their international vision.
President Ouyang wanted to increase the international exchanges and cooperation between JIE and WFEO, to help pushing forward the industrial transformation of Jiangsu. He expected the support and assistance from WFEO. "We will work together to create a better environment for the engineering organizations", he concluded.
The discussion issues included organizing international conferences / forums / exhibitions and promoting the international accreditation of engineer qualifications. President Jorge Spitalnik appreciated the focus on WFEO by JIE. He thought this meeting is a good opportunity to understand the successes in the engineering technical fields of Jiangsu, China. "WFEO has always respected the Chinese engineers' achievements. As China has the largest number of engineers in the world, the weight factor of China will keep on increasing".
WFEO is glad to enhance contacts with JIE to help its international participations. Since WFEO-CEIT is hosted by CAST, President Spitalnik suggested that JIE keeps close contact with CEIT and CAST to inform them of their new contributions. Contact with WFEO committees on Engineering in Education and Young Engineers, would be also helpful.
President Spitalnik said: "If want to hold a WFEO international conference or organize an activity, JSIE should determine the subject areas such as new energy, environment, medicine & biotechnology and other subject areas closely related to the sustainability and development of human beings. It should also design the programs and invite the relevant people 2 years in advance."
Prof. Ouyang Pingkai expressed that JSIE will spare no effort to support WFEO, CAST and WFEO Committee on Innovative Technologies. JIE would like to get contact with other WFEO Committees.
Participants from Jiangsu Industrial Innovation Research Institute (JIIRI) included: Liu Qing, Hu Yidong, Wang Jian, Sun Chengxv, EC-Panda: Liang Shengyuan, JIE: Lv Jiayong and Wang Yan.
Report by Prof. Ruomei Li.
For more information:

China association for science and technology (CAST) Website

Chinese academy of engineering (CAE) Website

China Society for Electrical Engineering (CSEE) Website

China Society for Hydropower Engineering (CSHE) Website

WFEO Committee on Engineering for Innovative Technologies Website

Tsinghua University Website

Hohai University Website

20th Pacific nuclear meeting Website