First ever international benchmark for good governance, ISO 37000:2021 Governance of Organizations – Guidance was published on 14 September 2021.
ISO 37000:2021 Governance of organizations – Guidance was developed by the ISO technical committee ISO/TC 309. WFEO is a category A Liaison representative to this Technical Committee. WFEO Immediate Past President Dr Marlene Kanga was a member of the Working Group since 2018, that drafted the international; standard.
ISO 37000:2021 Governance of organizations – Guidance provides organizations and their governing bodies with the tools they need to govern well, enabling them to perform effectively while behaving ethically and responsibly.
Developed by experts and trusted voices from a wide range of organizations in over 70 countries around the world, ISO 37000 provides a² single, globally accepted, reference for all kinds of organization, regardless of size, type or location.
Good governance not only fosters an environment of trust, transparency and accountability, it also helps in aligning an organization's purpose with the interests of society, building strong stakeholder relationships while effectively managing and maintaining its resources. In this way, good governance lays the foundation for long term success of organizations and ensures they contribute to the protection and restoration of social, economic and natural environmental systems.
The organization's purpose and values, aligned with the sustainable wellbeing of current and future generations should be on the top of governing bodies' mind.
ISO 37000 provides comprehensive guidance for boards by distilling governance into 11 principles which are the bedrock of successful organizations by helping ensure they are well governed, well managed, and socially responsible.
At the heart of all organizations is purpose, i.e. a meaningful reason to exist. Values inform both the purpose and the way the purpose is achieved. ISO 37000 sets out guidance to help governing bodies clarify the purpose and values, ensure that strategy is aligned with this intent and ensure value is generated for all relevant stakeholders to strategically achieve purpose in line with the values. The standard outlines how this requires a carefully considered approach to stakeholder engagement, and a systemic, long-term and proactive view of appropriate risk so that the organization remains viable over time.
ISO 37000 also reinforces the critical need for effective oversight, in particular through a clear-cut internal control system and reliable assurance processes.
Accountability at all levels is another principle at the heart of good governance: neither the members of the governing body nor those to whom power has been delegated stand above the law. The governing body is ultimately accountable for the actions and omissions of the organization, hence governing bodies need to ensure they define roles and responsibilities and have a well-functioning reporting and accountability system in place.
ISO 37000 further stresses that leaders set the tone for an ethical organizational culture, need to ensure the strategic and responsible use of data and ensure that decisions are transparent and aligned with broader societal expectations.
Importantly the model supports implementation in all types of organisations, large and small and in developed and developing countries. The publication of this important foundation document will support the development of string and capable organisations and the advancement of UN Sustainable Development Goal #16.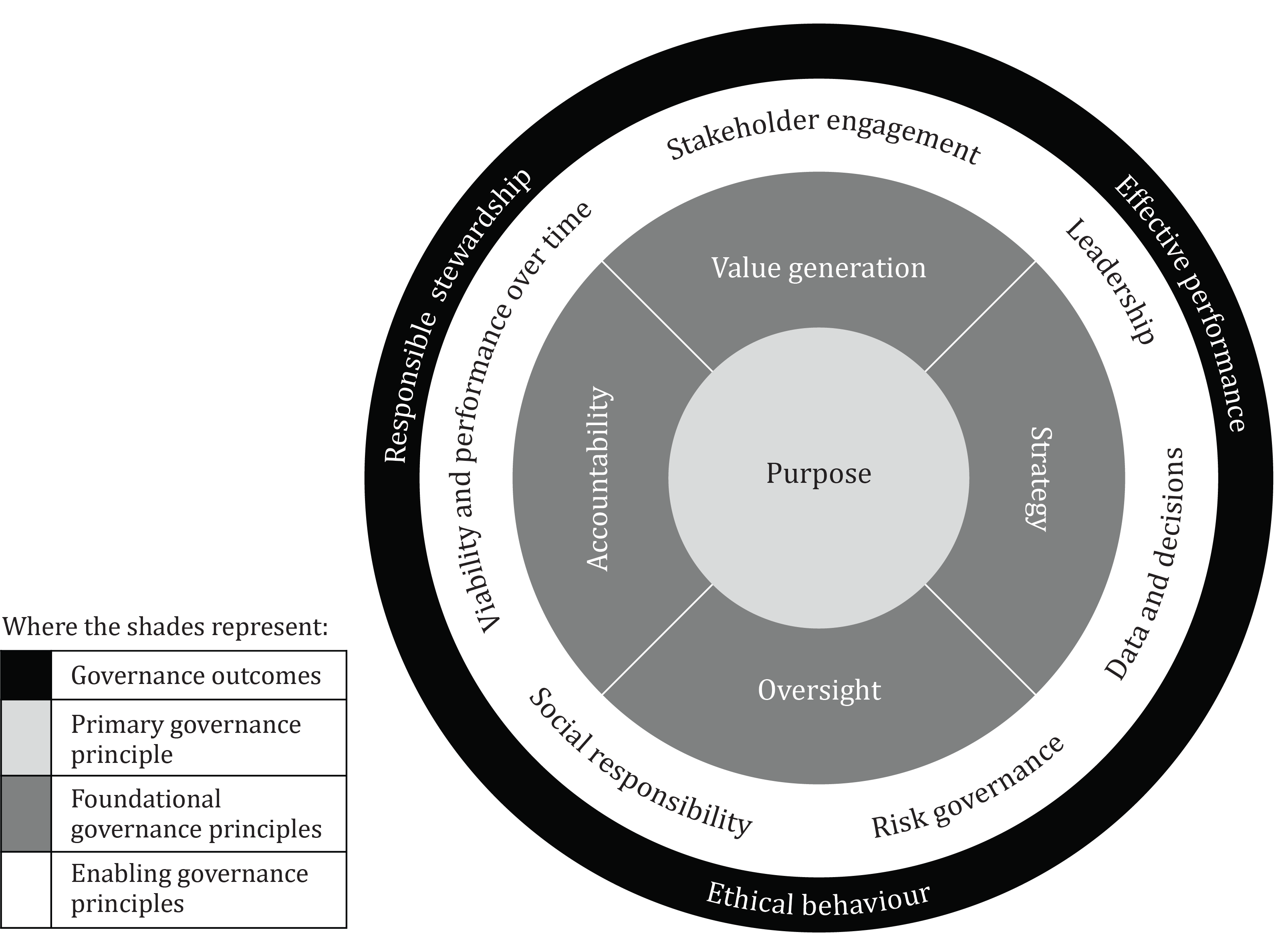 ISO37000 Model of Good Governance
For more information:
ISO 37000 – the first ever international benchmark for good governance