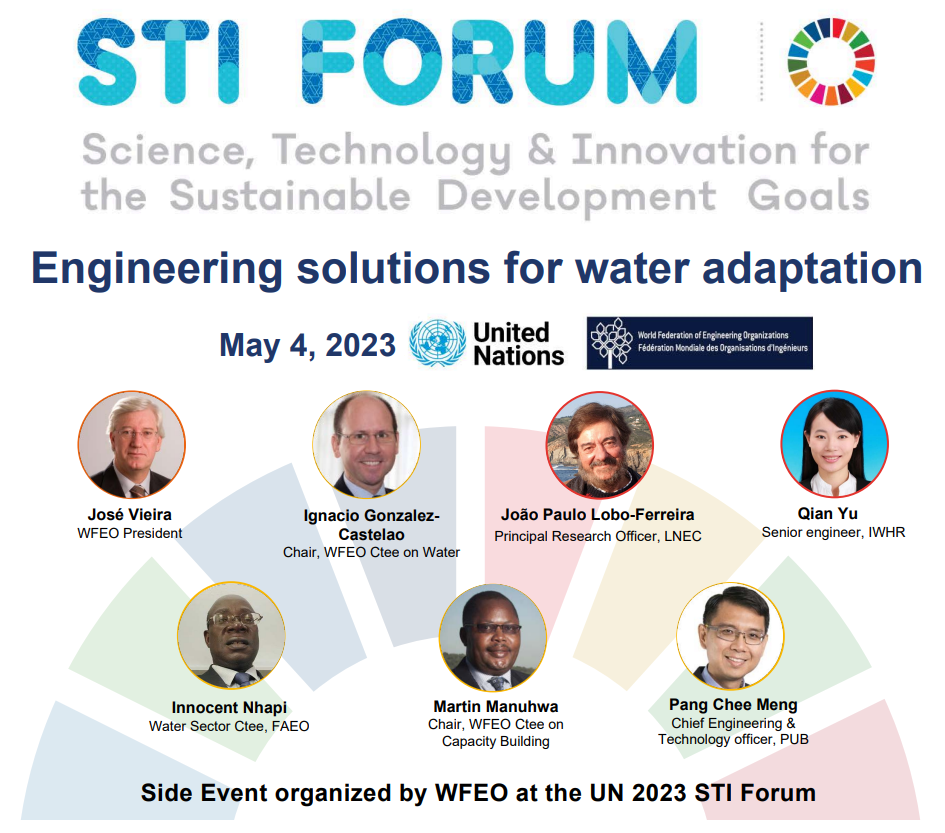 The World Federation of Engineering Organizations (WFEO) organized the side-event Engineering solutions for water adaptation on 4 May, within the UN STI Forum 2023 that took place at UN Headquarters in New York, on 3 and 4 May 2023.
---
Climate change and the consumption patterns of today's society have increased the pressure on all natural resources, especially water. Not only have global water demands grown exponentially in recent years, but a very high percentage of wastewater returns to ecosystems without being treated or reused, polluting our rivers, environment and biodiversity.
Droughts and floods are also increasingly perceived by society as the visible face of climate change. Faced with this situation, humanity must adapt to these new scenarios. In this side event we will present different examples of engineering that allow for greater sustainability, circularity and resilience of this resource.
Speakers on the side-event:

The recording of the side-event: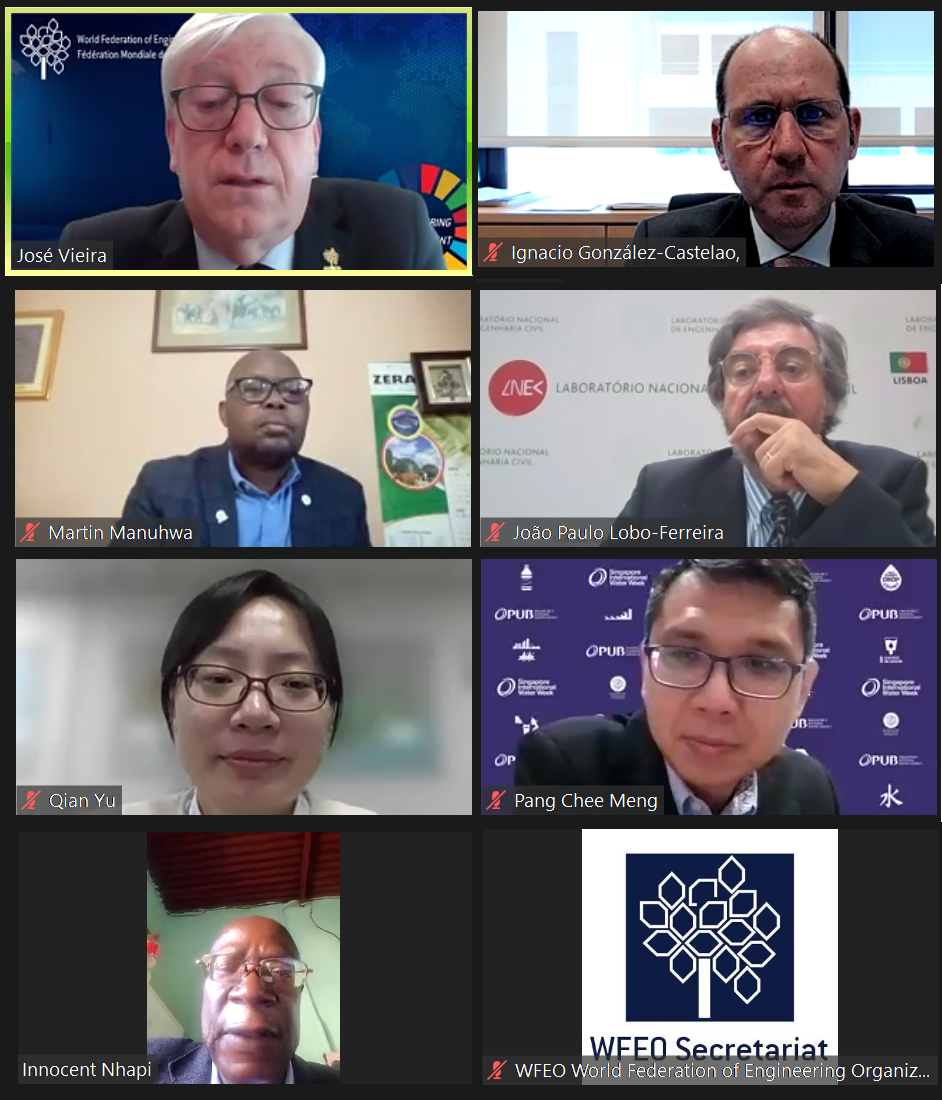 For more information:
"Groundwater in the new EU water management plans – Example from Portugal" presentation by Dr. João Paulo Lobo-Ferreira
"White book on MAR modelling: Selected results from MARSOL PROJECT" by Dr. João Paulo Lobo-Ferreira and more authors
"Capacity Building in Water Infrastructure Development and Maintenance in Africa – A Robust Response to Covid-19 and beyond" presentation by Prof. Innocent Nhapi
"Acceleration of the Achievement of SDG6 through Use of Disruptive Technologies Applicable to the Water Sector in Africa" presentation by Eng. Martin Manuhwa

---
Speakers' short biographies
José Vieira is a civil engineer with extensive experience in engineering education, research and management. He is Full Professor at University of Minho, Portugal, where he served as Pro Rector (1990-1998) and Vice Rector (1998-2002). He has coordinated large number of graduation and post-graduation study programmes in civil engineering, and develops his research activities in the fields of water resources planning, hydrodynamics in estuaries and coastal zones, and drinking water and public health.
José Vieira was President of the European Federation of National Engineering Associations (FEANI) from 2014 to 2020. Under his leadership, strategic initiatives were launched to enhance the visibility of the value of engineers to society, stressing the relevance of promoting the UN Sustainable Development Goals in future engineering education and practice.
José Vieira was the National Vice President of the Portuguese Association of Engineers from 2010 to 2016, responsible for effective international cooperation in mutual recognition of engineering education and capacity building standards in the Portuguese speaking countries.
He has been involved in WFEO activities since 2015 as a member of the Executive Council and chair of the Strategic Planning Committee. He was elected President-Elect of WFEO at the General Assembly in Melbourne in November 2019 and became President of WFEO at the General Assembly in San José, Costa Rica in March 2022.

Eng. Ignacio González-Castelao
Ignacio González-Castelao Martínez-Peñuela is a dedicated Master Civil Engineer skilled in the water cycle and environmental issues. He has worked in different private and public Spanish engineering organizations, both within the water sector and in the infrastructure of roads and railways. He is also certified as an internal auditor by the international professional association of the Institute of Internal Auditors.
Ignacio has held various positions at Aguas de las Cuencas Mediterráneas S.M.E., S.A., since August 2002. Currently, he is Deputy to CEO.
He is committed to internalization and collaboration with technical communities, multilateral banks, and international organizations to share knowledge and learning. Ignacio has been a member of the Board of Directors of the Civil Engineers Association of Spain, and member of various committees of the Engineering Institute of Spain (IES), such as the Committee on Energy and Natural Resources, Committee on Engineering and Sustainable Development, and the International Commission.
He is also the representative of the IES at the Pan-American Union of Associations of Engineers. He has served as Chair of the Standing Group on Water of the World Council of Civil Engineers and is currently the Chair of the Standing Technical Committee on Water of the World Federation of Engineering Organizations. These efforts to disseminate knowledge and learning have led him to be selected by the Department of State of the United States of America as an International Leadership Visitor and later Secretary-General of the VIA Jefferson Circle Association.

Dr. João Paulo Lobo-Ferreira is Doktor-Ingenieur in Civil Engineering at the Technische Universität Berlin, Germany. Principal Research Officer with Habilitation Degree at the Laboratório Nacional de Engenharia Civil (LNEC), Lisbon, Portugal.
Head of the Groundwater Division of LNEC (1990-2013). President of Portuguese Water Resources Association APRH (1992-1994). First Prize for "Research Works in the Environmental Field" of the Portuguese Secretary of State for Environment and Natural Resources (1986).

Dr. Qian Yu is a senior engineer at the China Institute of Water Resources and Hydropower Research (IWHR). Currently, she is the IAHR Council Member (2021-2023) as the YPN Regional Representative.
She received her B.Sc. degree in Harbor Waterway and Coastal Engineering from Hohai University (2006-2010) and Ph.D. degree in Hydraulic Engineering from Tsinghua University (2010-2015). She also worked at the Delft University of Technology as a visiting PhD (2013-2014). She joined IWHR in 2015. Her research interests include flood risk management and impact assessment, flood resilience, green infrastructure and environmental hydraulics.
Dr. Qian Yu has published more than 50 peer-reviewed papers in journals and conferences. She has co-authored one Chinese monograph and one English chapter, and participated in writing two Chinese monographs. In addition, she has been participating in more than 30 scientific projects and international cooperation projects. She served as the permanent secretariat of the International Conference on Flood Management (ICFM) from 2018-2020.

Prof. Innocent Nhapi is a freelance consultant in sanitary and environmental engineering, institutional development, integrated water resources management, and water and climate development.
He holds an MSc from University of Technology Sydney (Australia) and PhD from UNESCO-IHE Institute for Water Education (Netherlands). His work experience includes 10 years municipal engineering and 20 years in the academic and capacity development sector. He was a SADC-WaterNet Professorial Chair in IWRM 2009-2013 before joining Chinhoyi University of Technology 2014-2020.
He has done consultancy work for many international organisations and has written many journal and book articles, edited journal series, and has reviewed several papers and research reports.

Martin Manuhwa is an electrical and energy consultant engineer and is currently the Managing Director of Zimbabwe Africa Infrastructure Development Group (ZAIDG) a company that specializes in Engineering Procurement and Construction Management (EPCM). His engineering practice is in energy, construction projects, work-site project implementation and management.
Martin teaches part time Engineering graduate students at the Zimbabwe National Defense University and has taught MBAs and MBLs at the University of Zimbabwe and Bindura University of Science Education respectively.
His research interest is in the use of Management Information Systems in construction and project management and he is currently a Doctoral Associate at the University of Cape Town where he is researching on the link of ICTs in the Industrial 4.0 Revolution and Productivity in Engineering Projects.
He sits in the advisory Council of the London based Global Infrastructure Anti-Corruption Centre (GIACC). Martin has previously worked for ZESA and Lon-Rho in various capacities in his engineering career. He is the Past President of the Southern African Federation of Engineering Organisations (SAFEO), and also the Zimbabwe Institution of Engineers (ZIE). He is the immediate past President of the Federation of African Engineering Organisations.

Dr Pang Chee Meng is currently the Chief Engineering and Technology Officer of PUB, administer its R&D program for the development and application of new water technologies in the entire water cycle.
Prior to his current role, Chee Meng was the Director of the Industry and Technology Collaboration Department. He led a team to formulate and implement strategies to grow the Singapore water industry and facilitate the commercialisation of new water technologies.
Chee Meng has experience in used water treatment and water-policy development, having served as the General Manager of the Jurong Water Reclamation Plant and at the Ministry of Sustainability and the Environment. He was also actively involved in the development of water-related standards in Singapore and in various international subcommittees that developed new ISO standards for water reuse.
He was the Convenor of the Working Group on Industrial Water Reuse, which prepared Singapore Standard 627 to encourage water reuse in oil refineries, petrochemical, chemical and utility plants.
Chee Meng holds a PhD in Environmental Technology and a Bachelor of Engineering (Honours) in Civil Engineering from the National University of Singapore. He also attended the Stanford Executive Programme at Stanford University.