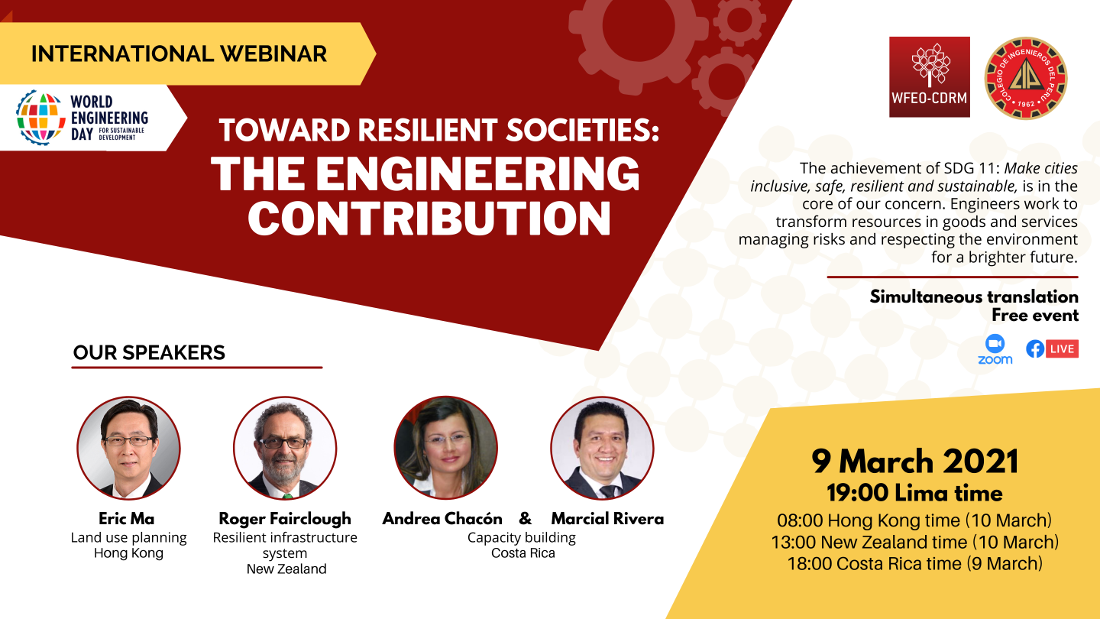 The WFEO Committee for Disaster Risk Management (CDRM) and the Peruvian Engineers Association (CIP) hosted the webinar "Towards Resilient Societies, the Engineering Contribution", as part of the celebrations for World Engineering Day 2021.
Prof Gong Ke, WFEO President and Dr Marlene Kanga WFEO Immediate Past President made opening remarks on the importance of engineering for disaster resilience and for sustainable development.
Speakers were experts from around the world and included:
Mr Eric Ma on Land Use Planning in Hong Kong
Mr Roger Fairclough on Resilient Infrastructure Systems in New Zealand
Ms Andrea Chacon and Mr Marcial Rivera on Capacity Building in Costa Rica.
All presentations demonstrated the importance of engineering in contributing to sustainable, inclusive, safe and resilient cities, and in transforming resources while managing risks for a brighter future for all.
The recording of the event is available in this page.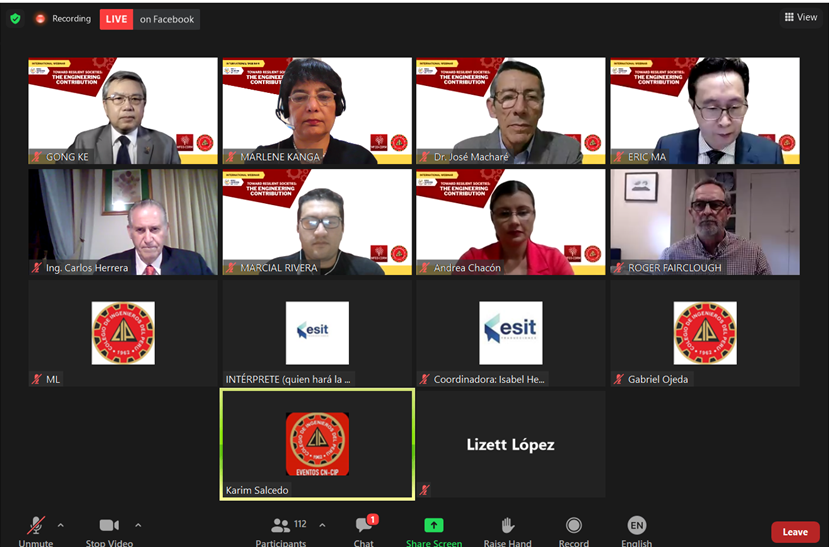 Screenshot of opening session on Towards Resilient Societies – The Engineering Contribution. Prof Gong Ke, WFEO President, top left row, WFEO Immediate Past President top row second from left, Chair WFEO Committee for Disaster Risk Management top row third from left, President College of Engineers Peru (CIP) Eng Carlos Herrera Descalzi, Second Row, first left.
For more information:
WFEO Committee for Disaster Risk Management (CDRM) webpage
Peruvian Engineers Association (CIP) website