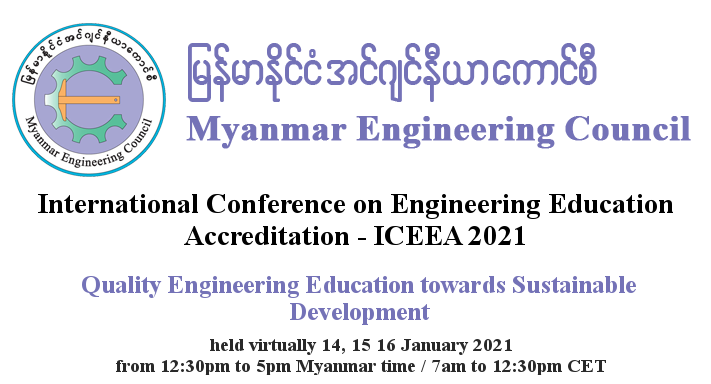 The Myanmar Engineering Council (MEngC) hosted the International Conference on Engineering Education Accreditation, ICEEA 2021 between 14 and 16 January 2021 and intended to bring academia from the Asia Pacific region and internationally to share and exchange their experience and insights from their engineering education and accreditation practice perspectives.
ICEEA 2021 provided information on the development of practices for quality assurance systems, accreditation systems, and best practice in international and local engineering education.
ICEEA 2021 Plenary Speakers included :
The Conference was chaired by Prof. Dr Charlie Than, President of Myanmar Engineering Council and Chair of the WFEO Committee on Education in Engineering (CEIE).
Keynote speakers included Prof Gong Ke, WFEO President, Dr Marlene Kanga WFEO Immediate Past President and Em. Prof. Elizabeth Taylor, Chair of the International Engineering Alliance Washington Accord.
Recordings of the conference are available in the following pages: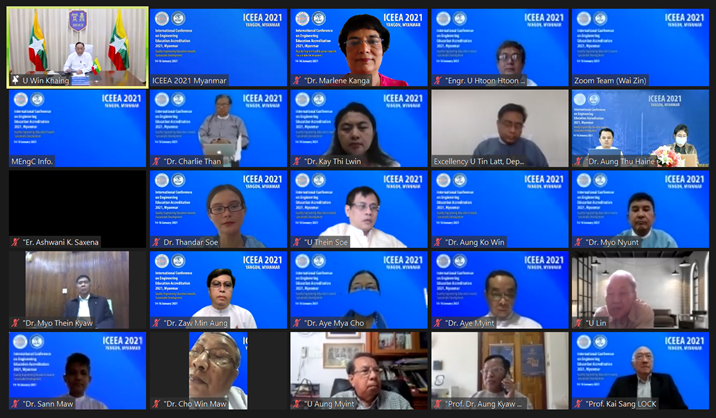 Speakers at the virtual conference ICEEA 2021.