WFEO webinar "A Sustainable Future: Young Engineers and 4IR"
September 18, 2020 @ 3:00 pm

-

5:00 pm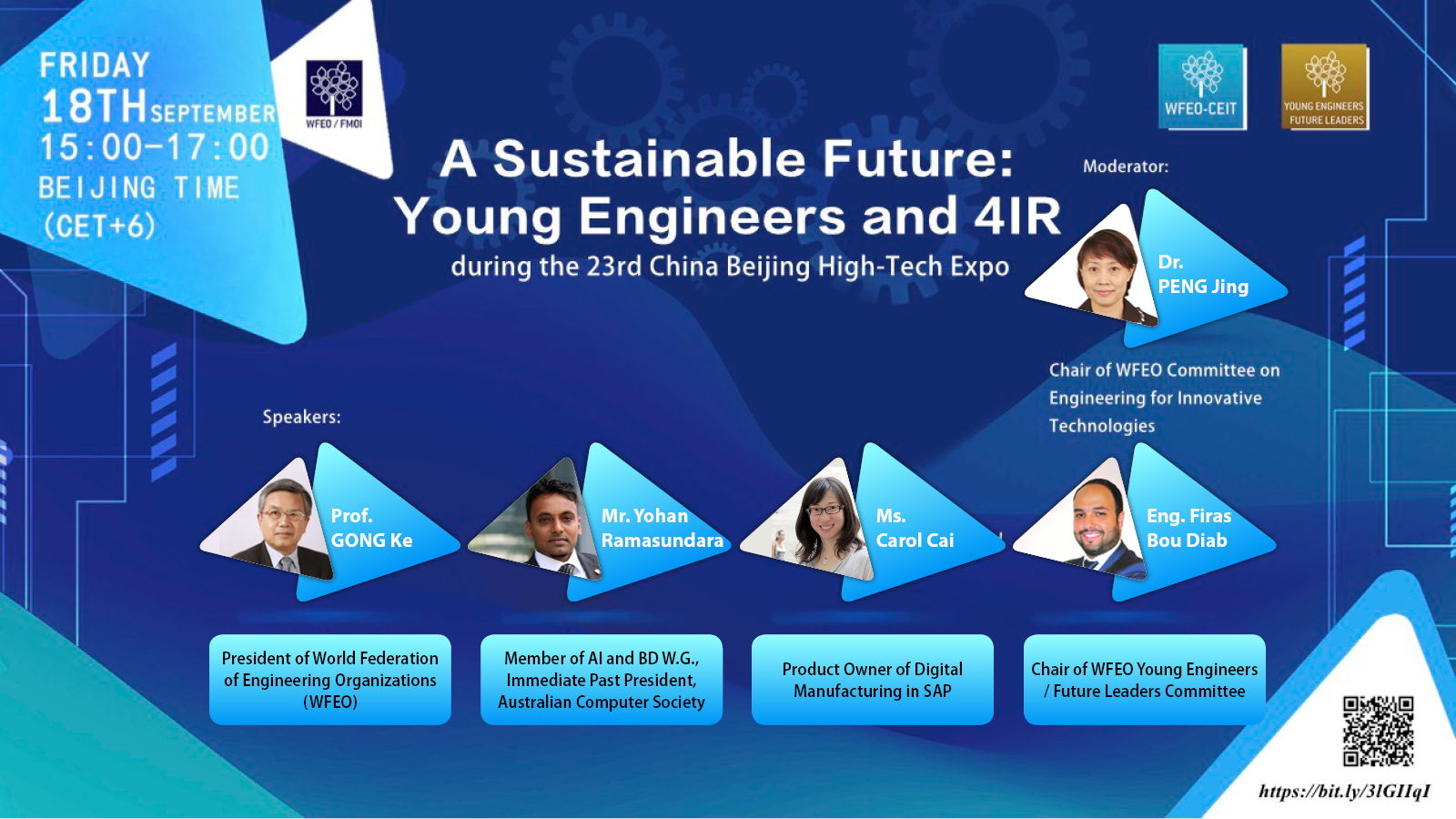 Description
The WFEO Engineering for Innovative Technologies Committee and the Young Engineers / Future Leaders Committee are pleased to invite you to the webinar entitled "A Sustainable Future: Young Engineers and the Fourth Industrial Revolution (4IR)" on the 18th September 2020, during the 23rd China Beijing International High-Tech Expo (CHITEC).
Young Engineers have ambition and desire for changing the world and are always contributing in proposing innovative technological solutions, driving the emerging 4IR. They are mobilizing to advance the Sustainable Development Goals (#SDGS) to improve the lives of people and the health of the planet.
Provided with the necessary skills and opportunities needed to reach their potential, young engineers with sustainable development awareness and ethical social responsibility, are capable to lead the new industrial revolution, without harming the environment or increasing inequality.
CHITEC, or, China Beijing International High-tech Expo, is a major annual technology expo held in Beijing sponsored by a number of national government agencies. The aim of the event is to promote the commercialization, market-oriented operation and internationalization of the technology industry.
Over the past decade, CHITEC has grown into one of the key technologies & trade events that are highly specialized and international for China to showcase state-of-the-art technologies, spread cutting-edge ideas, release industrial policies, and promote international economic & technical cooperation.
The webinar will highlight on the below:
1. Technological Innovations done by Young Engineers to promote sustainable development goals
2. Necessary knowledge and skills for young engineers in the context of 4IR and in pursuit of SDGs.
3. COVID-19 impact: How are Young Engineers around the world are making a difference?
Webinar details
Date and Time: 15:00 – 17:00 Friday, 18 September 2020 (Beijing Time)
Moderator: Dr. Jing Peng, Chair of the WFEO Engineering for Innovative Technologies Committee
Speakers:
Register in this page.
After registering, you will receive a confirmation email containing information about joining the webinar via Zoom.
For more information:
Prof. GONG Ke, President of WFEO
The China Beijing International High-Tech Expo (CHITEC) presentation