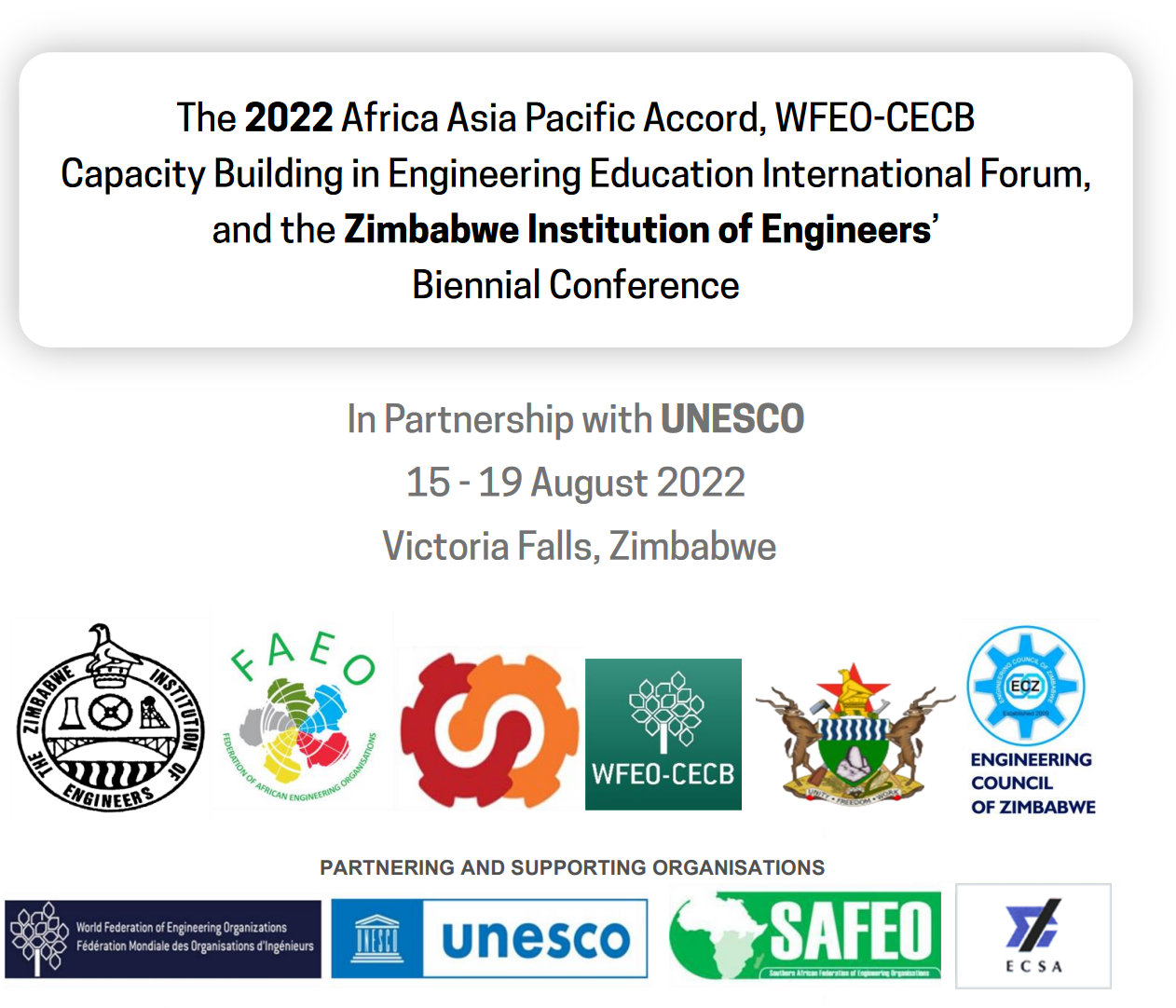 The WFEO Committee on Engineering Capacity Building (WFEO-CECB), the Zimbabwe Institution of Engineering (ZIE), the Engineering Council of Zimbabwe (ECZ) the Federation of African Engineering Organisations (FAEO), and Federation of Engineering Institutions of Asia and Pacific (FEIAP) organized the "WFEO Committee on Engineering and Capacity Building Education Forum, the 2022 Africa Asia Pacific Accord International meeting and the Zimbabwe Institution of Engineering Biennial Conference" from 15 to 19 August 2022 in Victoria Falls, Zimbabwe at the Elephant Hills Resort Conference Center.
The Conference theme was "Engineering the Future through Quality Engineering Education, Partnerships, Capacity Building and Innovative Infrastructure" and was attended by about 400 Delegates from more than 10 countries.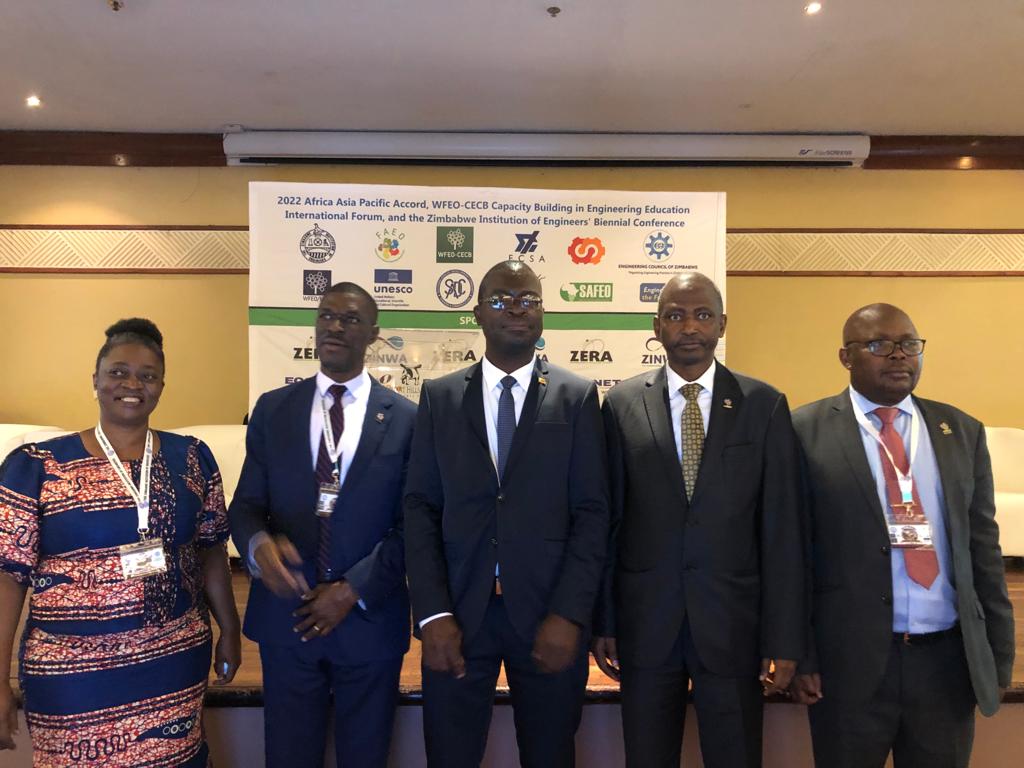 From Left to right: Eng. Carlien Bou-Chedid, FAEO President; Eng. Nathaniel Malanga, WFEO Executive council Member; Hon Prof Murwira, Minister of Higher and Tertiary Education, Innovation, Science and Technology Development; Eng. Mustafa Shehu, WFEO President Elect and Eng. Martin Manuhwa, WFEO Committee on Engineering Capacity Building (WFEO-CECB) Chair.

WFEO-CECB promoted two critical preconference events namely "Capacity building training on water and sanitation infrastructure assets maintenance to local authorities management and engineering practitioners in Southern African Development Community (SADC)" and "Robotics and Artificial intelligence Worksop and Bootcamp for school children", both supported by SADC, UNESCO and the South African Department of Science and Innovation (DSI). We believe that engineering capacity building is a lever for economic, social, and sustainable development, and is recognized as a priority in the success of every country. The event featured a comprehensive technical programmes and social programmes.
Other activities held during the conference included but not limited to the following:
An official address by the Honourable Minister of Higher and Tertiary Education, Innovation, Science and Technology Development, Professor dr. Amon Murwira.
A WFEO goodwill message from the WFEO President delivered on his behalf by Engr. Mustafa Shehu, the WFEO President Elect;
Capacity Building in Engineering Education Keynote addresses delivered by our the FAEO President and AAP Accord partners from Malaysia, China, South Africa, Nigeria and Zimbabwe
Engineering EXPO at Displays at the Elephant Hills Resort.
This August international forum and conference provided a befitting opportunity for the interactions among the professionals, experts, policy makers and the public from around the world with the aim of advancing engineering capacity building, innovative infrastructure, quality and relevant engineering education and professional practice that delivers the quality of life we want.
The conference speakers who shared innovative ideas regarding engineering the future to accelerate the achievement of the Sustainable Development Goals (SDGs), the Africa Union Agenda 2063 (The Africa We Want!), National Development Strategies and Policies, Vision 2030, and other developmental aspirations – None of which will be achieved without Engineering.
The meeting produced a declaration and a set of resolutions that will be soon available on this website. Among the major resolutions were that engineering professionals are the custodians of infrastructure who facilitates and enhance not only their own knowledge, but also assist decision makers from all levels of society to ensure a sustainable world for all and, therefore, Engineers are needed in increased numbers and right quality for the growth and development of essential infrastructure such as airports, roads, railways bridges, dams and for improved outcomes on water, energy, climate change adaptation and mitigation, smart and sustainable cities, natural disaster resilience and the quality of life in general. To achieve this we need robust engineering standards, ethics and professionalism.

Report by Eng. Martin Manuhwa – WFEO-CECB Chair

For more information:
WFEO Committee on Engineering Capacity Building (WFEO-CECB) website
Zimbabwe Institution of Engineering (ZIE) website
Engineering Council of Zimbabwe (ECZ) website
Federation of African Engineering Organisations (FAEO) website
Federation of Engineering Institutions of Asia and Pacific (FEIAP) website