WFEO WIE webinar on Intersectionality of Gender, Climate Change and Engineering – Series 2/2
October 15, 2021 @ 5:00 pm

-

7:00 pm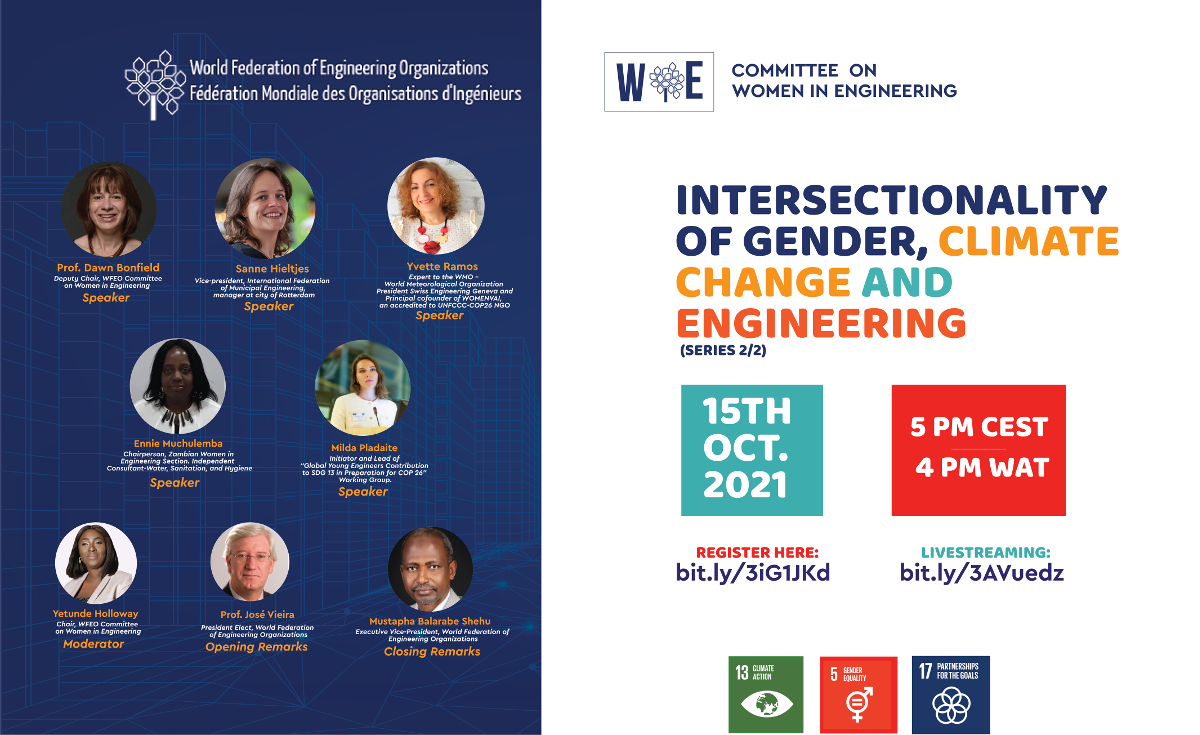 The WFEO Committee on Women in Engineering in collaboration with the International Science Council (ISC), the International Network of Women Engineers and Scientists (INWES) and the United Nations University are pleased to invite you to the second webinar "Intersectionality of Gender, Climate Change and Engineering" that will be held on 15 October 2021, at 5 pm CEST (Central European Summer Time) / 4 pm WAT (West Africa Time).
The presentation of the first part of this webinar, held on 15 October, is available in this page.
The women and children primarily and the economically vulnerable in developing countries, are expected to be disproportionately affected and consequently, they're in the greatest need of adaptation strategies in the face of climate variability and change. The UNESCO Engineering Report (2021) recognizes that solutions to the problems reside predominantly in engineering ingenuity and innovations. As an engineering body, WFEO raises awareness about the climate crisis and the urgent need for action among National Member Engineering Organizations and stakeholders.
The Committee of Women in Engineering is keenly aware that the poorest members of society will experience the most severe impacts of this crisis and seeks to contribute solutions in collaboration with other world engineering and scientific bodies, as well as high level government representatives. The Committee realizes that it is vital that the female voice is represented in the conception, planning and design of future infrastructure and climate resilient solutions and the webinars create a platform to stimulate discussions around this.
The intended outcomes:
Examining the nexus between Gender, Climate Change and Technology
Harnessing the strength of our diversity and inclusion with the power of technology, to proffer solutions which will effectively tackle the climate emergency in a sustainable manner Output from the webinars will be used to present a position paper, on behalf of WFEO-WIE, at COP26 in Glasgow in November 2021.
Moderator
Yetunde Holloway, WFEO Women in Engineering Committee Chair
Opening Remarks
Prof. José Vieira, WFEO President-Elect
Speakers
Prof. Dawn Bonfield, Deputy Chair, WFEO Committee on Women in Engineering
Sanne Hieltjes, Vice-president, International Federation of Municipal Engineering, manager at city of Rotterdam
Yvette Ramos, Expert to the WMO – World Meteorological Organization President Swiss Engineering Geneva
Ennie Muchulemba, Chairperson, Zambian Women in Engineering Section. Independent Consultant-Water, Sanitation, and Hygiene
Milda Pladaitė, Initiator and Lead of "Global Young Engineers Contribution to SDG 13 in Preparation for COP 26" Working Group.
Closing Remarks
Mustafa Shehu, WFEO Executive Vice-President