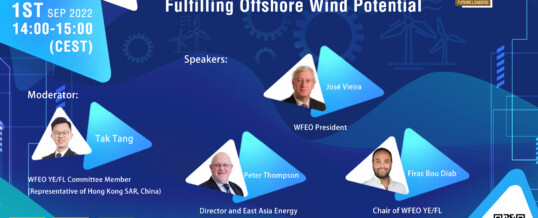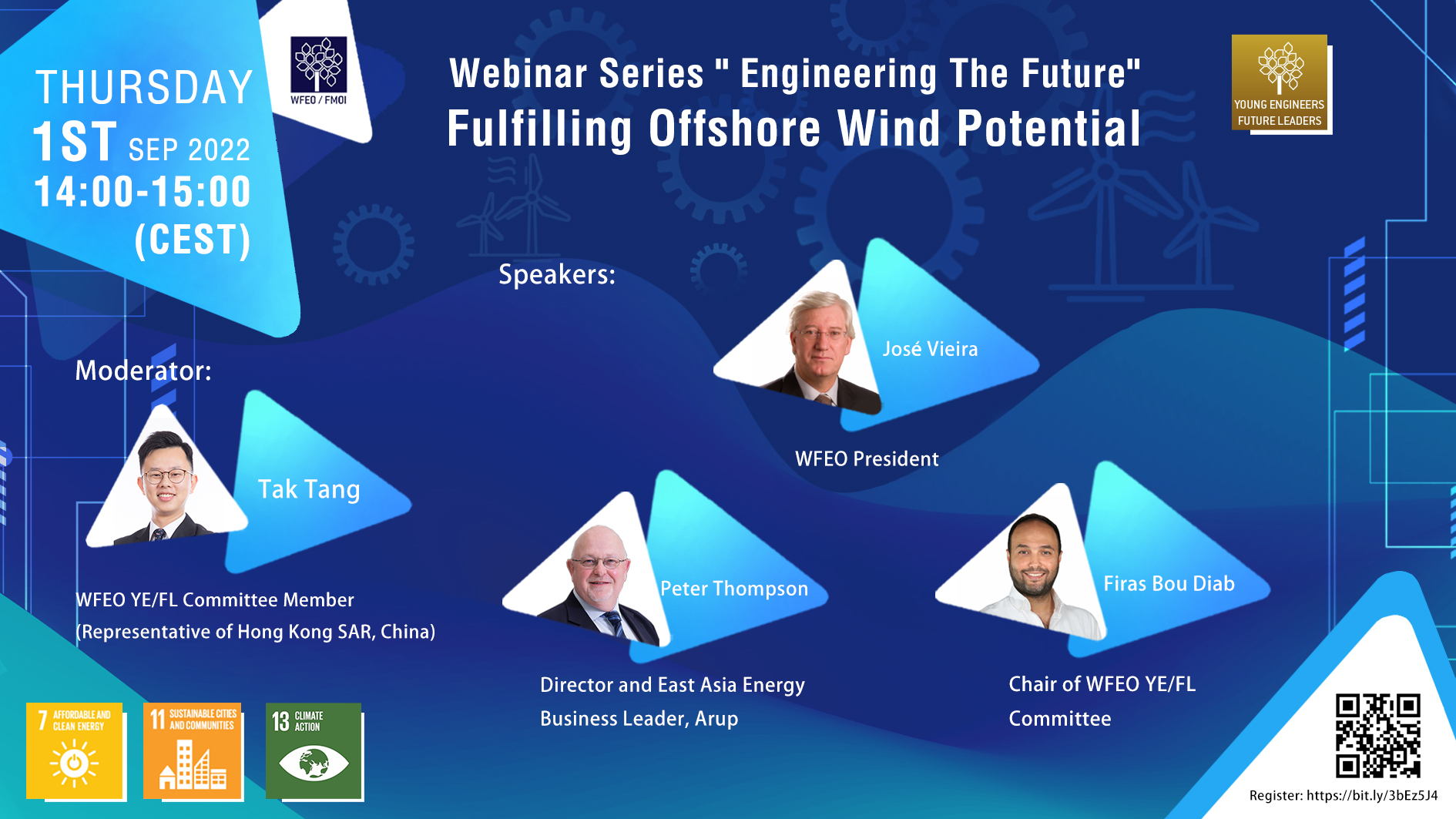 The WFEO Committee on Young Engineers / Future Leaders organized the webinar series "Engineering the Future – Fulfilling Offshore Wind Potential" on 1st September 2022.
Today, governments around the world are developing huge stimulus packages, to relieve the shock of the pandemic and inject a new sense of direction into their economies. There is an appetite for new solutions and the parallel threat of climate change is setting the context for much of the debate. Investing in green infrastructure plays a significant role and it is clear that the need for sustainable, reliable and affordable energy has never been greater.
There is clearly much potential for offshore wind, and some exciting opportunities to help fulfil this potential. If developers and investors can take full advantage, countries will soon be reaping the rewards in the form of abundant, affordable low-carbon energy.

Moderator:
Speakers:

The recording is available by clicking on the below image.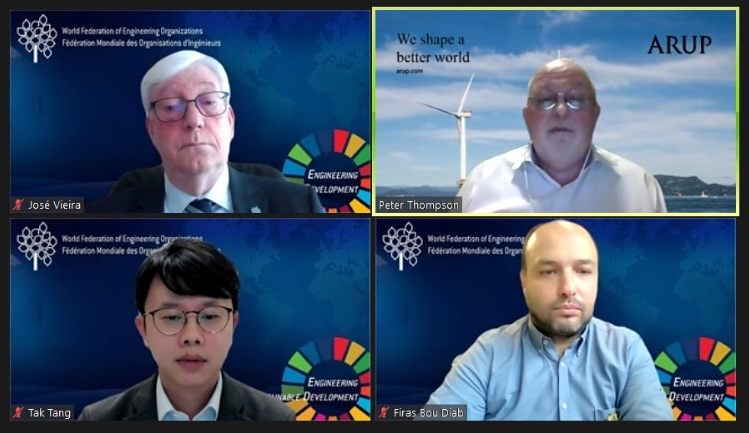 For more information:
WFEO Committee on Young Engineers / Future Leaders website

Speakers Biographies
Tak Tang has worked in various works departments in the Hong Kong, SAR of China, Government for over 12 years on a range of infrastructure projects. He is the Project Manager of the Chinese Temples Committee in charge of managing the trust fund and heads the project section. To cater the stakeholders' needs, he has practical experience in effective civic engagement for smooth project implementations.
Tak also takes up numerous roles to serve the Hong Kong Institution of Engineers (HKIE) and society at large. He is committed to making meaningful impact with focus on the affairs of young engineers and students, and fostering international relationships. He is currently an Elected Council Member and was the Young Members Committee Chairman (2018/19) of HKIE. He has been a lead sponsor and a reviewer for Institution of Civil Engineers Professional Reviews.

Peter Thompson
Peter Thompson is a Director and East Asia Energy Business Leader for Arup based in Hong Kong, SAR of China. He has more than 34 years of experience in the management of the design and implementation of major energy and infrastructure works projects across a wide variety of overseas countries. In line with the firm's strategy to facilitate the development of sustainable future outcomes, he has a focus on works that lead to positive climate impacts, improved resilience and net-zero solutions based on commercially sound projects that achieve these aims.
As a professional engineer he has particular knowledge and expertise for the design and implementation of renewable energy systems including onshore and offshore wind farms as well as solar and hydrogen facilities and is currently involved with advisory services and the detailed design works for a number of projects currently being undertaken in Hong Kong, SAR of China, Japan, Korea and Chinese Taipei.

Prof. Dr. José Vieira
Biography is available in this link.

Firas Bou Diab
Biography is available in this link.