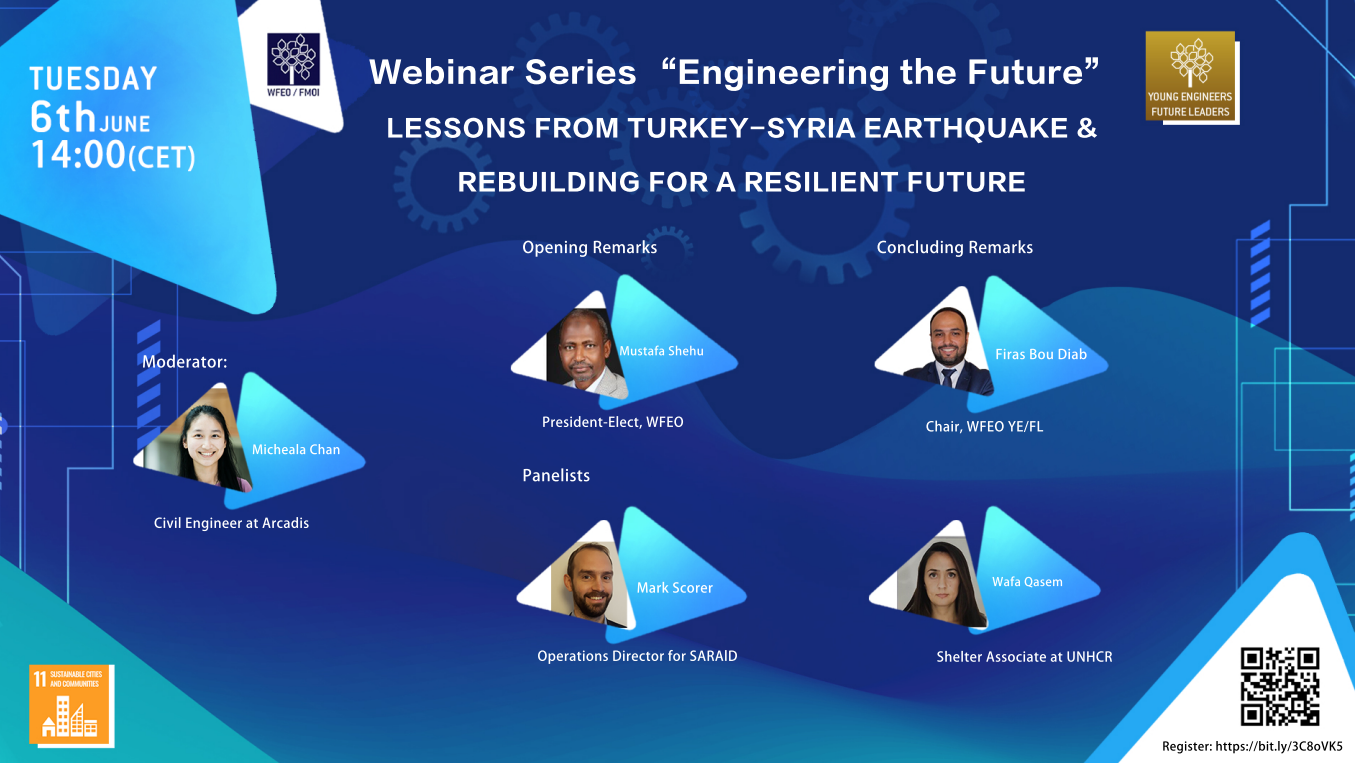 The WFEO Committee on Young Engineers / Future Leaders organized the webinar "Lessons From Turkey-Syria Earthquake & Rebuilding For A Resilient Future" on 6 June 2023.
The video recording is available in this page.
On February 6, 2023, at 4:17 a.m. local time, a 7.8 magnitude earthquake rocked southeast Turkey, and the Syrian region nearby. After the first quake, aftershocks numbering in the thousands rumbled across the region, according to the United Nations Office for the Coordination of Humanitarian Affairs (OCHA). More than 50,000 people lost their lives in the region as buildings collapsed. Over 850,000 children remain displaced in Turkey and Syria, with over 1.9 million people seeking shelter in tents and temporary shelters in Turkey and 500,000 homeless in Syria.
In the wake of the disaster, there has been global scrutiny of building regulations and construction practices in Turkey, with criticism of previous construction amnesties given to up to 75,000 buildings across the affected earthquake zone in southern Turkey. This webinar aims to bring together technical specialists and those that experienced the disaster firsthand in conversation to dissect the situation and share the lessons learned from the lead up to and in the aftermath of the disaster.
Moderator:
Opening Remarks:
Panelists:
Concluding remarks:
For more information:
WFEO Committee on Young Engineers / Future Leaders website

Speakers Biographies
Micheala Chan

Micheala Chan is a UK-based civil engineer specializing in water and resilience. She has worked on a diverse range of projects, including water and sanitation projects in Tanzania to water supply resilience schemes in London.
Driven by a strong belief in the importance of meaningful youth engagement, Micheala served as a UK Youth Delegate to the G20 Indonesia 2022, advocating for policies to ensure a sustainable and liveable planet. Currently, she leads the National Policy workstream for the Engineering Organization's Future Leaders/Young Engineers Working Group on Climate Action. The objective is to empower young engineers in climate action, building their capacity and influence.

Mustafa Shehu
Mustafa B. Shehu was President of the Nigerian Society of Engineers 2012-2013 and is Past President of the Federation of African Engineering Organizations (FAEO). He studied electrical engineering in Nigeria and started his career with the 1,320MW Lagos Thermal Station Egbin. He was appointed to the Kano State Rural Electricity Board as a Senior Engineer, where he rose to the position of Assistant Director in 1998, following which he established with colleagues, MBS Engineering Limited. The company has expertise in electrical and mechanical engineering services, power engineering as well as Oil and Gas engineering.
Mustafa participates actively in the activities of professional and business associations. He is a fellow of the Nigerian Society of Engineers as well as Fellow of the Solar Energy Society of Nigeria. Mustafa was elected to the position of President-Elect at the Federation's General Assembly in San José, Costa Rica in March 2022.

Mark Scorer
Mark Scorer is Chief Engineer specializing in earthquake engineering and seismic design for the consultancy Atkins. In parallel with this, he has been a member of the UK Charity SARAID (Search and Rescue Assistance in Disasters) since 2012 who specialize in Urban Search and Rescue (USAR) post disasters. He has deployed with the team following earthquakes to Nepal, Albania and most recently Turkey and also with the UK government as part of their engineering assessment team after the Ecuador earthquake in 2016. In addition to these deployments, he was part of the exercise control at the Achilles exercise in Geneva, participated in a tabletop earthquake response exercise in Istanbul and delivered engineering training in Moldova.
Mark is also trained in the EU Civil Protection Mechanism and now delivers training on their Operational Management course and is co-chair of the UN Flexible Response Working Group focusing on drafting the guidelines for the Damage Assessment Coordination Centre (DACC).

Wafa Qasem
Wafa Qasem is a civil engineer graduated form Damascus University in 2004, specialized in Management and Construction Engineering with 17 years' experience in site engineering, construction management, and shelter projects. Wafa worked with UNHCR in a high-risk conflict area which recently experienced a natural disaster and consequently the need for shelter became more critical and challenging.

Firas Bou Diab
The bio of Firas Bou Diab is available in this page.