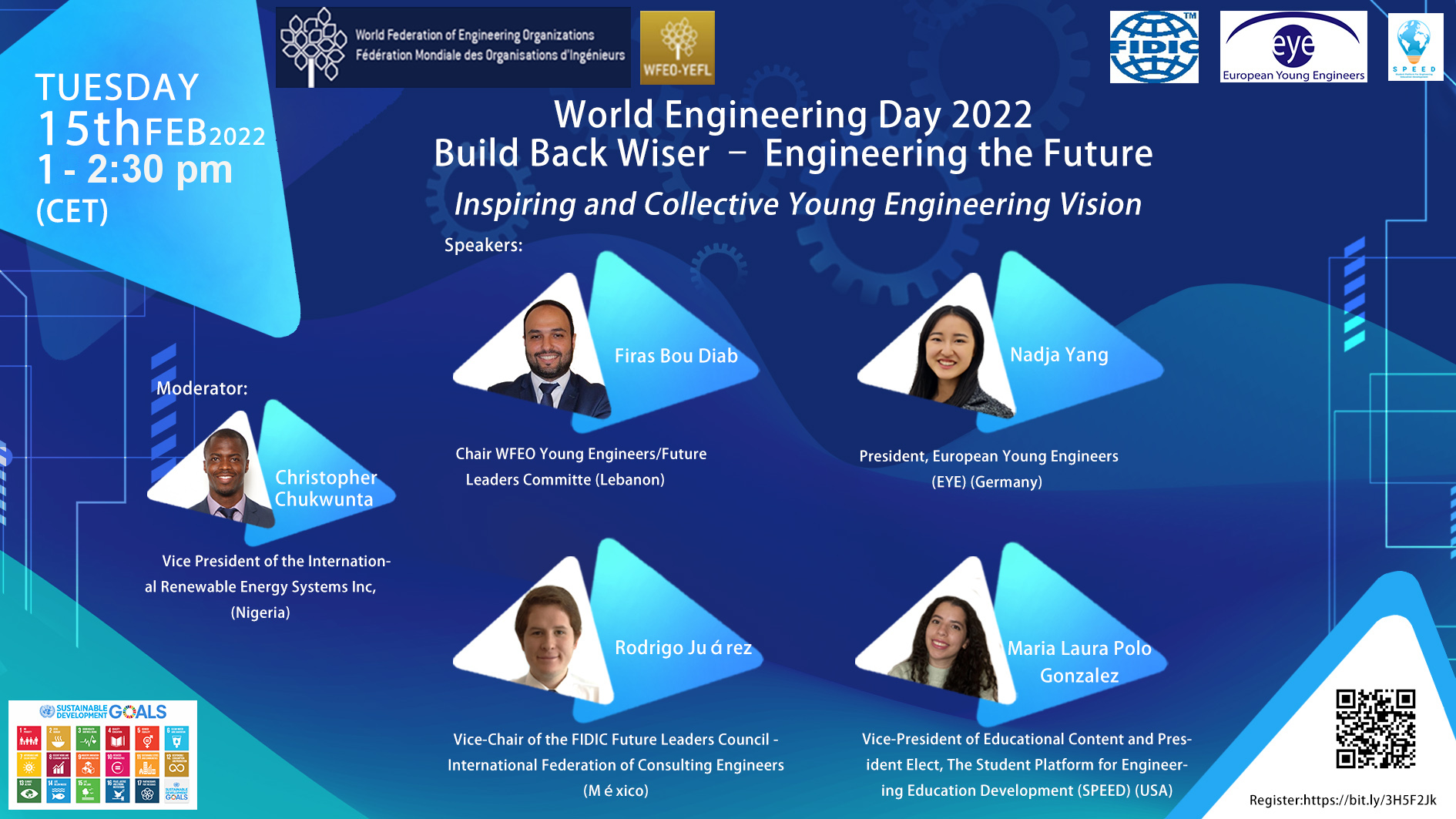 The WFEO Committee on Young Engineers / Future Leaders organized the webinar series Build Back Wiser – Engineering the Future: An Inspiring and Collective Young Engineering Vision last 15 February 2022.
The World Engineering Day for Sustainable Development was proclaimed by UNESCO at its 40th General Conference in 2019. It is celebrated worldwide on 4th March of each year since 2020 as a UNESCO international day of celebration of Engineers and Engineering.
The day offers an opportunity to highlight Engineers and Engineering's achievements in our modern world and improve public understanding of how engineering and technology are central to modern life and for sustainable development.
Aligned with 2022 Theme: "Build Back Wiser – Engineering the Future" and as part of the World Engineering Day Celebrations, the young engineers' panel was held on the 15th of February 2022 entitled "An Inspiring and Collective Young Engineering Vision".
Panelists were from different geographical regions of the world, forming a gender diverse group of outstanding leaders, nominated by WFEO, Federation of International Consulting Associations (FIDIC) Future Leaders Council, European Young Engineers (EYE), the Student Platform for Engineering Education Development (SPEED). The objective of the panel was to present their perspectives and give an inspiring and shared vision of the role of young engineers in Engineering a Sustainable Future.
Moderator:
Speakers:

The recording is available by clicking on the below image.

For more information:
WFEO Committee on Young Engineers / Future Leaders website
Chris is the Vice President of the International Renewable Energy Systems Inc.. An executive with experience in a multinational energy company and in engineering consultancy.
Chris holds a master's degree in systems engineering from Imperial College London and a bachelor's degree in civil engineering. He is convinced that achieving a sustainable future for our world requires urgent, significant changes to how we access and utilise energy today.
Chris is a United Nations Affiliated Technical Reviewer, a national delegate at the World Federation of Engineering Organizations (WFEO) Young Engineers Future Leaders, a facilitator of the Global Stakeholders Engagement for Youth Integration in Industry in the Middle East (Kuwait), Asia Pacific (Japan), South America (Peru), Europe (Rome) and the United Kingdom.
Chris served as an Appointed Trustee at the Imperial College Union Trustee Board, Member of the Trustee Board Governance Committee, amongst others. He continues to mentor youths and young professionals through the Imperial College Alumni mentorship programme, University of Alberta Career Exploratory Interviews, Rotary Club Innovation and Mentorship hub, Alberta Mentoring Partnership, and Youth development at the United Nations Framework Convention for Climate Change.
Firas Bou Diab is a Project Manager and a Senior Transportation Engineer at a world-leading planning, design, management and supervision consultancy trusted by more than 850 clients, consistently ranked among the world's top 10 engineering and architectural global consultancies for over 25 years. He has a considerable and diversified experience in many areas of transportation and infrastructure with a wide spectrum of design aspects in the Middle East, Africa, the Arab Gulf region. He is responsible for planning, design and coordination activities, preparation of engineering reports, presentation of design reviews to clients, and preparation of technical and financial proposals and presentations for various potential infrastructure projects in the Middle East and Africa.
Firas Bou Diab was elected as a Board Member in the Order of Engineers and Architects (OEA), Beirut-Lebanon in April 2018; specifically working on establishing the "Young Engineers Form" that aims to create an interactive relationship between OEA and young engineers by facilitating their integration in the OEA and providing them with a range of services that can help them transition smoothly into the labour market with a target of developing an ecosystem that nurtures and enables innovation in the engineering field.
Firas Bou Diab is the Chair of the WFEO Committee on Young Engineers / Future Leaders (YE/FL), a motivated team of young engineers that work voluntarily to make (YE/FL) acknowledged and celebrated as the global leader for the young voices of the Engineering profession. The work of the (YE/FL) is aimed at enabling a sustainable ecosystem that provides support, resources and a platform for young engineers in the WFEO community, highlighting the role of young engineers worldwide in achieving the UN Sustainable Development Goals.
Firas Bou Diab holds a Master of Engineering (Civil Engineering) from the American University of Beirut (AUB) and a Diploma in Civil Engineering from the Lebanese University.
Nadja is the President of the European Young Engineers (EYE), an NGO that represents about 500,000 members, and supports young engineers across Europe to get engaged and broaden their horizons in the fields of energy, water, circular economy, STEM in policy, diversity within STEM, future of work, and more. She is pursuing a PhD in Systems Engineering at Oxford, where she conducts research on the Urban Bioeconomy, a concept to help cities become more sustainable and productive in terms of its biological resources.
A Forbes 30 Under 30 DACH listmaker, German Rhodes Scholar and One Young World Ambassador, she previously studied chemical engineering at the Technical University of Munich. She researched on Resource Efficiency Policies at Tsinghua University Beijing and on Change Management and Circular Economy at the University of São Paulo. Additionally, she obtained work experience in industry, policy and consulting at Siemens, SYSTEMIQ, BASF, Linde and the German Federal Ministry for Economic Affairs and Energy.
Rodrigo is a Civil Engineer from the Monterrey Institute of Technology and Higher Studies (ITESM) in Mexico. He holds a Master´s degree in Construction Management & Engineering from the University of Leeds. In addition, he is pursuing a PhD in Project Management at the Faculty of Civil Engineering, also at the University of Leeds, in the United Kingdom. In addition, he has completed FIDIC´s Young Professionals Management Training Programme (YPMTP), now FLMC, and is currently participating in the Major Projects Association (MPA) Rising Stars 2022 Programme.
As for his professional experience, he has worked with the Texas Transportation Institute (TTI) in Mexico City, the PMO for the Mexico City New International Airport (NAIM) with Parsons Corporation – FOA Consulting, and currently works as a consultant for FOA Consulting, the first Mexican company certified in ISO37001:2016 in Anti-Bribery Management Systems and First Global Consulting Company certified in Business Integrity. In addition, he works as an external consultant for the Inter-American Development Bank (IADB), exploring best practices and lessons learned for rail transport and metro systems megaprojects in Latin America.
Rodrigo is also the current Vice-Chair of the FIDIC Future Leaders Council, Vice-Chair of the Young Professionals Group of the Mexican Chamber of Consulting Companies (CNEC) Mexico and ECR Networking Officer for the Project Experiences SIG in the British Academy of Management (BAM Prex).
Maria Laura Polo González is the president elect for 2022 at the Student Platform for Engineering Education Development (SPEED). She currently serves as SPEED's vice president of Educational Content, where she leads diverse activities with students all around the world. Maria Laura is an Environmental Engineer from Universidad de Los Andes, Colombia. She is fascinated with nature, biological systems and anthropological processes.
Yet, all those interests stem from an underlying true passion for education. Maria Laura has been working towards promoting a cooperative network and experiences that generate a positive effect of engineering on society and the environment, and the participation of students in the decision-making process since 2017, when she became a member of SPEED. She is presently pursuing further studies in New York City, where she lives with her family and their unruly kitten, Azula.