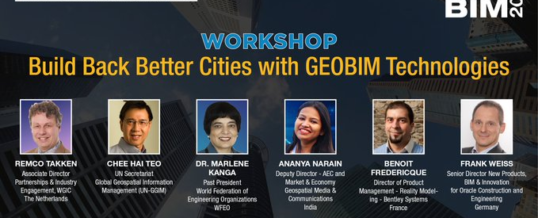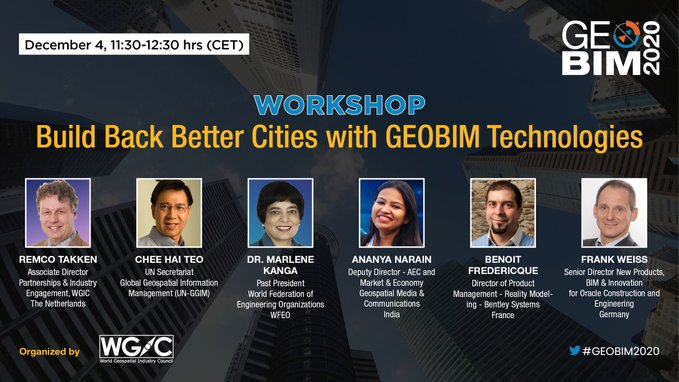 In a workshop that was part of GEO-BIM 2020 Conference last 4 December, WFEO and its associate, the World Geospatial Industry Council (WGIC) came together with United Nations Expert Committee on Global Geospatial Information Management (UN-GGIM), to discuss how cities can use geospatial technologies and Building Information modelling to "build Back better" for sustainable development.
The workshop highlighted the importance of advanced technologies in addressing many problems that cities currently face including the need to address housing, infrastructure transport climate change impacts and mitigate natural disaster risks. Speakers included representatives from industry, WFEO, WGIC and UN-GGIM.
The workshop discussed the case studies in the White Paper that was launched in July 2020 at the UN High Level Political Forum in July 2020 by WFEO, WGIC and UN-GGIM, as good examples of successful projects in smart cities.
Workshop participants also discussed various aspects of the use of geo-spatial and building information modelling technologies and the elements for successful implementation of these technologies for sustainable cities.
Speakers at this important forum included:
Mr. Remco Takken, Associate Director: Partnerships & Industry Engagement, WGIC, The work of WGIC on AEC and Smart Cities
Dr Marlene Kanga, Immediate Past President, WFEO, WFEO and the collaboration with UN-GGIM and WGIC for Capacity Building in Geospatial technologies and BIM
Mr. Chee Hai Teo, UN Secretariat, UN-GGIM, Resilient cities and the relevance of geospatial technologies
Ms Ananya Narain, Deputy Director AEC and Market & Economy, WGIC, Integrated GeoBIM for resilient infrastructure (with a focus on cities)
Mr. Benoit Fredericque, Bentley Systems France, Data-driven building processes/ Connecting GeoBIM data
Mr. Frank Weiss, Oracle Construction and Engineering, Data-driven building processes/ Connecting GeoBIM data
The recording of the presentation by Dr Marlene Kanga is available in this page.

For more information:
"Build Back Better Cities with implementation of Geospatial and Building Information Modelling Technologies" presentation by WFEO Past President Dr Marlene Kanga
GEO-BIM 2020 Conference speakers
GEO-BIM 2020 Conference website
WFEO WGIC UN-GGIM White Paper on Geospatial technologies and BIM