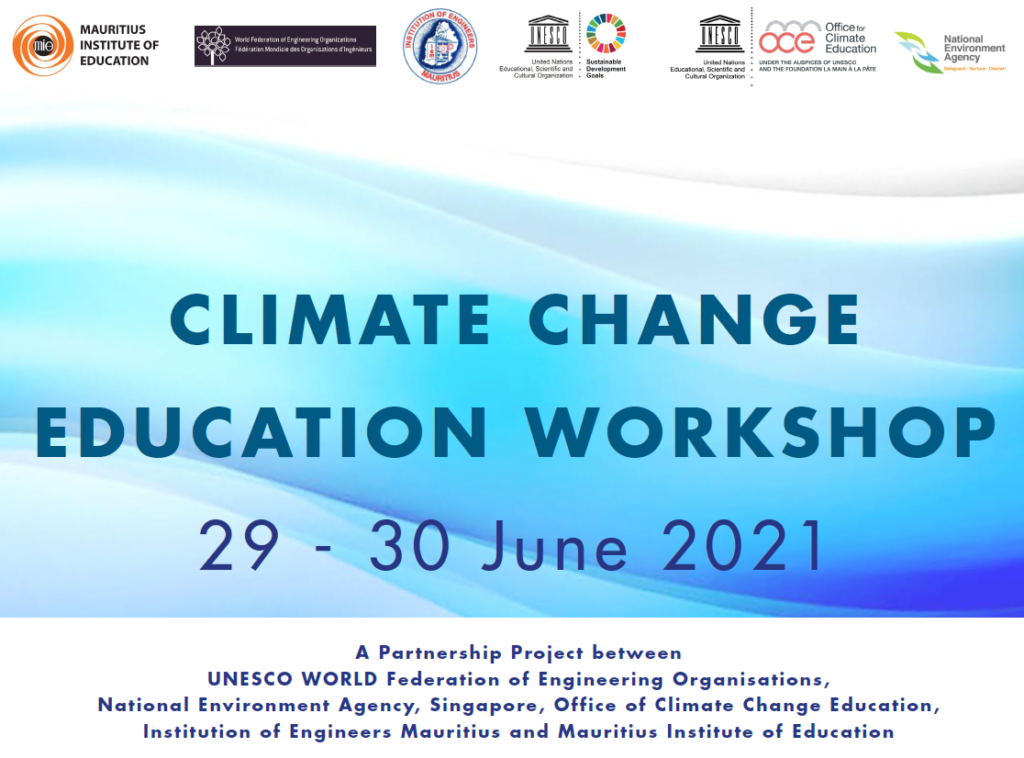 Mauritius hosts world class climate change education for primary and secondary schools
A Partnership Project between UNESCO, WFEO, NEA, OCE, MIE and IEM
UNESCO, the World Federation of Engineering Organisations (WFEO), the Office of Climate Change Education (OCE), the National Environment Agency Singapore (NEA), the Mauritius Institute of Education (MIE) and the Institution of Engineers Mauritius came together in a join project for teacher training for world class climate change education for primary and secondary schools in Mauritius.
The first session of the program was held virtually on 29-30 June 2021. A second session will be held in person in Mauritius and will include hands-on learning.
The program recognises that climate change is a truly global challenge. It will impact all ecosystems and human societies, but in different ways and to different degrees. Addressing climate change requires involvement and action at the local, regional and global level, and education plays a central role in understanding, mitigating and adapting to climate change.
The program assists participating teachers to understand and address the impacts of global warming today, while encouraging positive changes in attitudes and behaviour needed to put our world on a more sustainable path in the future. Teacher training and tools were provided for use in schools for climate change education and awareness. Such training is expected to increase the understanding of the community, especially young people, of climate change, the threats to their nation and actions that can be taken to mitigate these.
The program comprises the following sessions for science educators in Mauritius at the Primary and Secondary School level as well as for curriculum experts:
A two half-day training workshop on 29-30 June 2021, delivered virtually by OCE (Office for Climate Education) educators based in Paris. Teachers from Rodrigues attended virtually.
A five day on site training workshop with educators from OCE travelling to Mauritius, and teachers from Mauritius and Rodrigues attending in person, scheduled for November 2021.
The program is generously funded by the National Environment Agency of Singapore.
The first online 2-half-day workshop was designed to introduce the participants to Climate Change Education and to share the Mauritius experience. It set the foundation for the in person workshop.
The second 5-day workshop in Mauritius, will have practical activities and workshops on curriculum development for long term benefit to climate change education in Mauritius.
Around 75 teachers and educators attended the first session which had an enthusiastic response. All delegates participated actively and remained until the end of the session. It is clear that they will be looking forward to the second session with enthusiasm,
The program is a pilot which UNESCO, WFEO, OCE and other partners hope to deliver in other Small Island Developing States and sensitive ecological areas in Asia and Africa.
The ambitious way forward resulting from the workshop is below: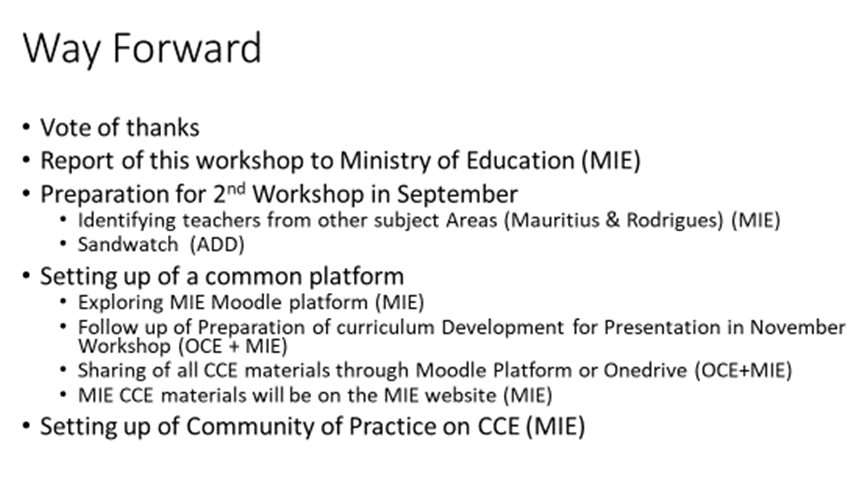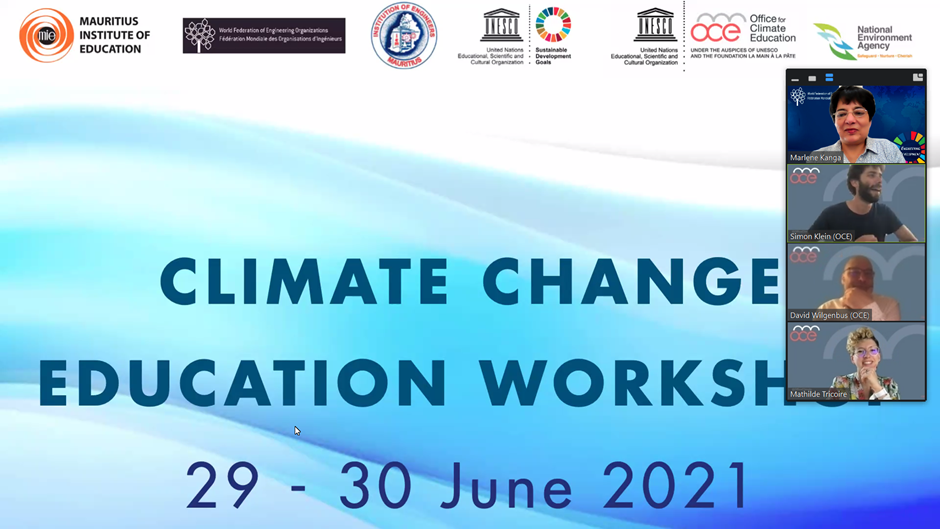 Opening of the Climate Change Workshop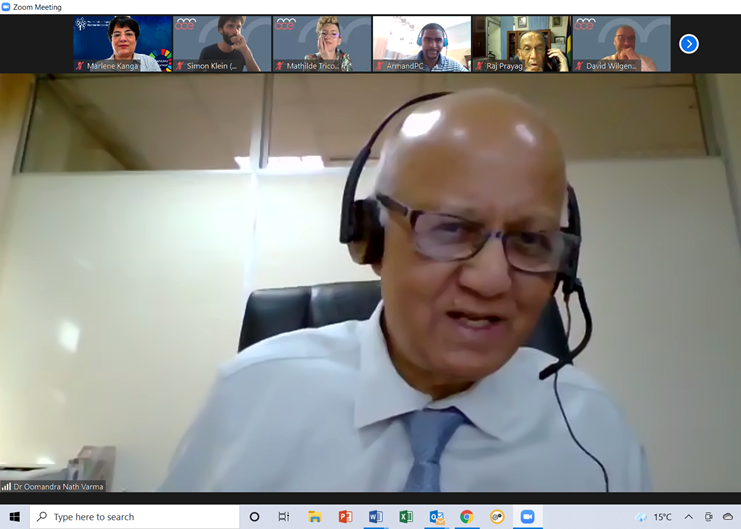 Director, Mauritius Institute of Education welcomes delegates at the opening of the Climate Change Education Workshop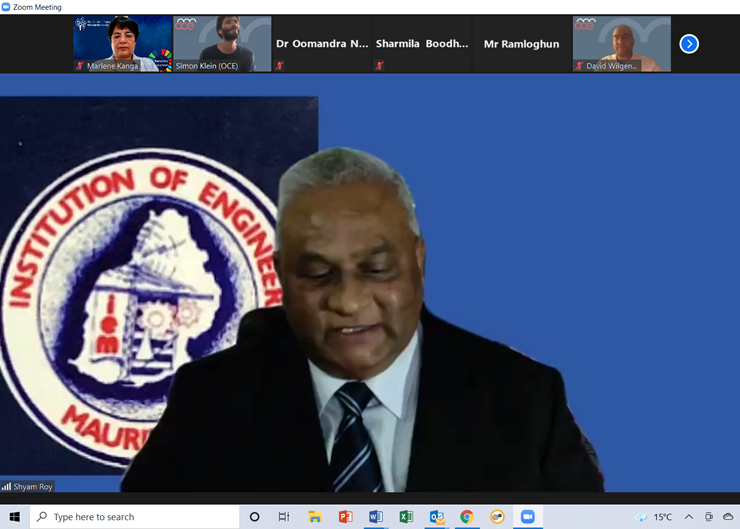 Mr Shyam Roy, President of the Institution of Engineers Mauritius, welcomes delegates at the opening of the Climate Change Education Workshop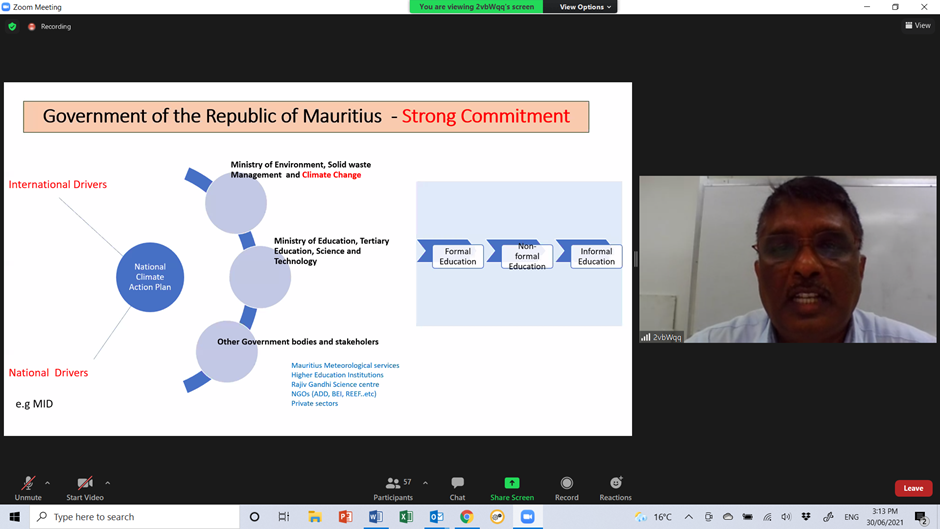 Associate Prof. Dr Ravee Bholah, Associate Professor Head, Science Education Department Mauritius Institute of Education presents on the strong commitment of the Government of Mauritius to addressing climate Change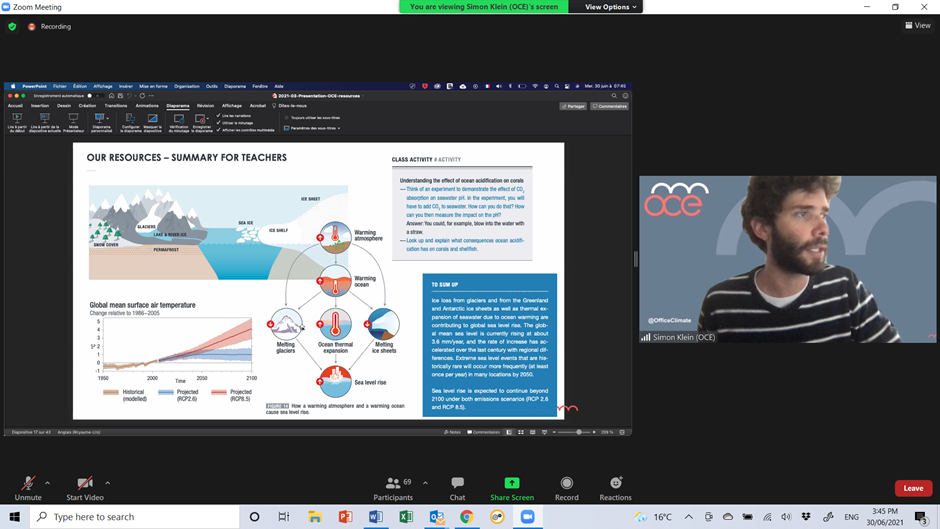 Dr Simon Klein presents information from the Office of Climate Change Education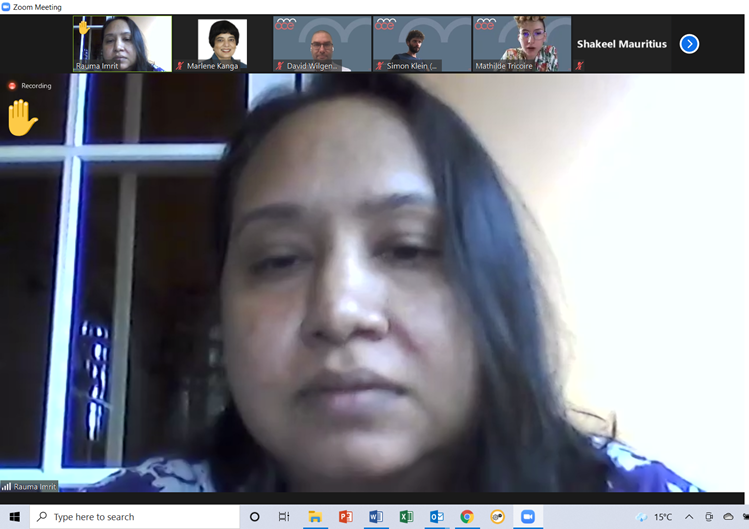 Interactive session with teachers from Mauritius, Ms Rauma Imrit asks a question

For more information: