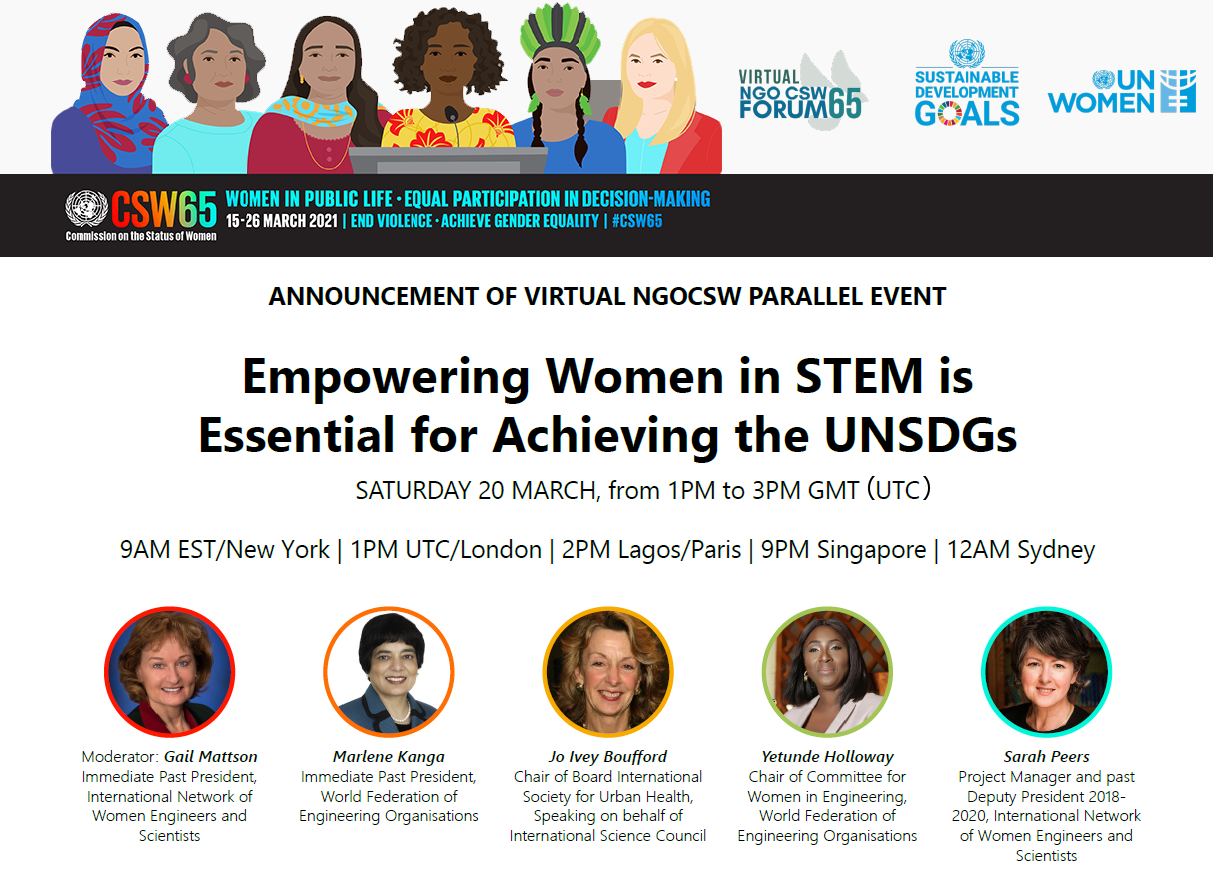 WFEO, the International Network of Women in Engineering and Sciences (INWES) and the
International Science Council (ISC) are leading international organisations in science, technology and engineering, representing women in STEM from more than 100 nations.
Leaders from these organisations came together on 20 March 2021 at the United Nations Commission on the Status of Women (CSW65) to present in a Webinar the work being done to increase the participation of women for the achievement of the UN Sustainable Development Goals. Efforts range from outreach programs to girls, leadership development for STEM women, to challenging corporations and government entities to address gender equity through support of research and highlighting innovative projects
The panel included women leaders in STEM from all five major continents (Nigeria, Australia/India, USA, United Kingdom/Spain).
Moderator:
Ms Gail Mattson, Immediate Past President, International Network for Women Engineers and Scientists – Empowering Women in STEM is Essential for Achieving the UNSDGs.
Speakers:
The speakers presented examples of how women scientists and engineers play vital roles in research, developing innovative technologies, and managing ground-breaking projects towards achieving the UN SDGs with regards to public health, environmental restoration and climate change. They described the various programs in their organisations that are encouraging more women to pursue STEM careers, and outline how governments and others could support the empowerment of women in STEM.
The formal statement made by WFEO and INWES to the UN Women is available in this page.
The recording of the event is available in this page.
The screenshot of the event: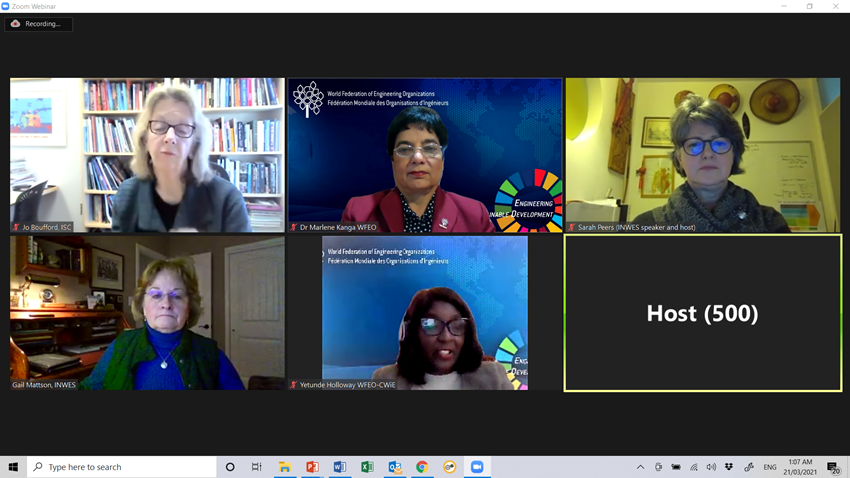 Leading women engineers from WFEO, ISC and INWES present at the UN Commission on the Status of Women, 20 March 2021
L to R top rows: Dr Jo Ivey Boufford, ISC, Dr Marlene Kanga, WFEO, Dr Sarah Peers INWES
L to R Bottom Row: Ms Gail Mattson INWES, Ms. Yetunde Holloway, WFEO
For more information:
Dr Jo Ivey Bouffors presentation
Ms Yetunde Holloway presentation