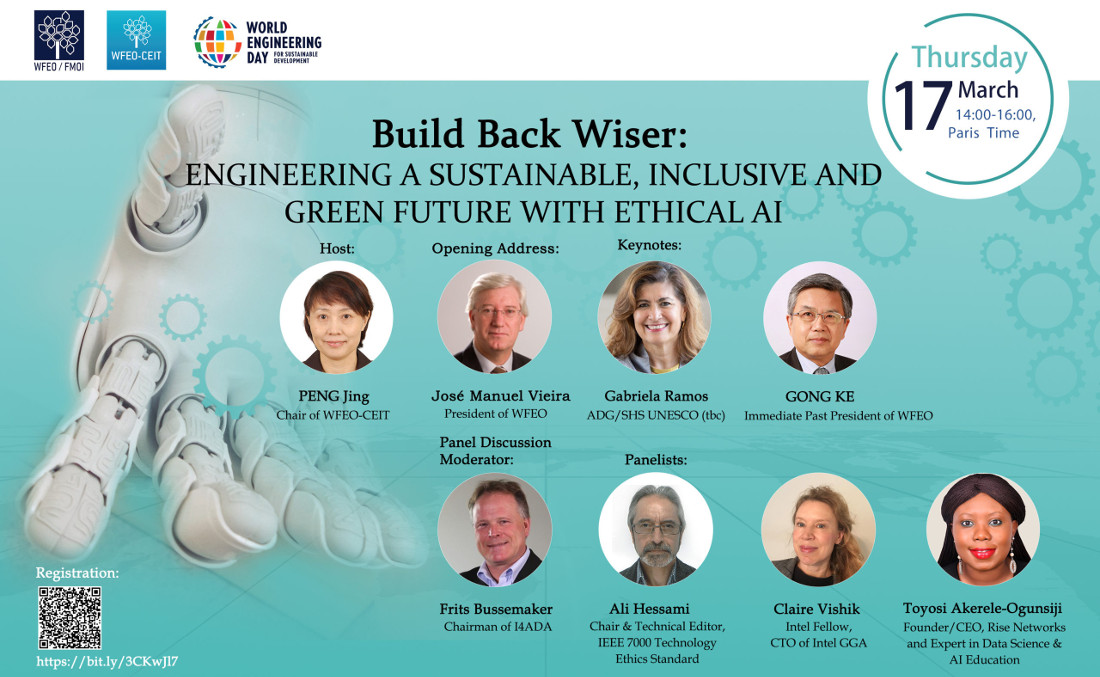 The WFEO Committee on Engineering for Innovative Technologies (CEIT) organized a webinar on "Build Back Wiser: Engineering a Sustainable, Inclusive and Green Future with Ethical AI" on Thursday, 17 March 2022.
On 24 November 2021, the Recommendation on the Ethics of Artificial Intelligence was adopted by UNESCO's General Conference at its 41st session. It defines the common values and principles which will guide the construction of the necessary legal infrastructure to ensure the healthy development of AI.
"The world needs rules for artificial intelligence to benefit humanity. The Recommendation on the ethics of AI is a major answer. It sets the first global normative framework while giving States the responsibility to apply it at their level."
——Audrey Azoulay, UNESCO Director-General
On the Inaugural World Engineering Day for Sustainable Development Celebration in 2020, World Federation of Engineering Organizations (WFEO) released the Big Data and AI Principles in Engineering to promote responsible conduct of Big Data and AI innovation and application in Engineering.
In the past two years, the pandemic has not only shaken the world, but also accelerated technology adoption and invoked us to reflect on the role of technology, especially disruptive technologies like AI. AI technologies hold great promise for empowering people, raising the quality of people's lives, fostering economic and social development, addressing critical global challenges such as climate change, food, inequality, health, and education, and promoting the achievement of United Nations Sustainable Development Goals.
They can also raise fundamental ethical concerns and deepen existing divides and inequalities in the world. Engineers and the engineering community, as one of the key AI actors and practitioners of AI innovation and application, should raise awareness of AI ethics, promote the implementation of the Recommendations and the Principles with responsibility.
To celebrate the World Engineering Day for Sustainable Development 2022 themed on "Build Back Wiser: Engineering the Future", this webinar convened engineers, policymakers, researchers, educators to discuss the roles and responsibilities of engineers while conducting AI innovations and applications, how to implement the Recommendation in engineering community in order to better serve the delivery of UN Sustainable Development Goals, and the potential issues and challenges; to showcase model examples of ethical AI innovation and applications contributing to building back wiser and delivering SDGs; to raise the awareness of ethics among engineering community.
Host:
Dr. Peng Jing, Chair of WFEO-CEIT
Keynote 1: Ethics in Engineering and Engineers' Responsibilities
Prof. Gong Ke, Immediate Past President, World Federation of Engineering Organizations
Keynote 2: UNESCO Recommendation on the Ethics of AI
Mr Maksim Karliuk, Program Specialist, Social and Human Sciences, UNESCO
Panel Discussion and Q&A:
Moderator: Mr Frits Bussemaker, Chairman, Institute for Accountability in the Digital Age; member of Big Data and AI Working Group, WFEO-CEIT
Prof. Ali Hessami, Chair & Technical Editor, IEEE 7000 Technology Ethics Standard Vice Chair and Process Architect, IEEE Ethics Certification Program for Autonomous and Intelligent Systems
Dr Claire Vishik, Intel Fellow, CTO of Intel Global Government Affairs
Ms Toyosi Akerele-Ogunsiji, Founder/CEO, Rise Networks and Expert in Data Science & AI Education
Closing Remark


For more information:
WFEO Committee on Engineering for Innovative Technologies (CEIT) website