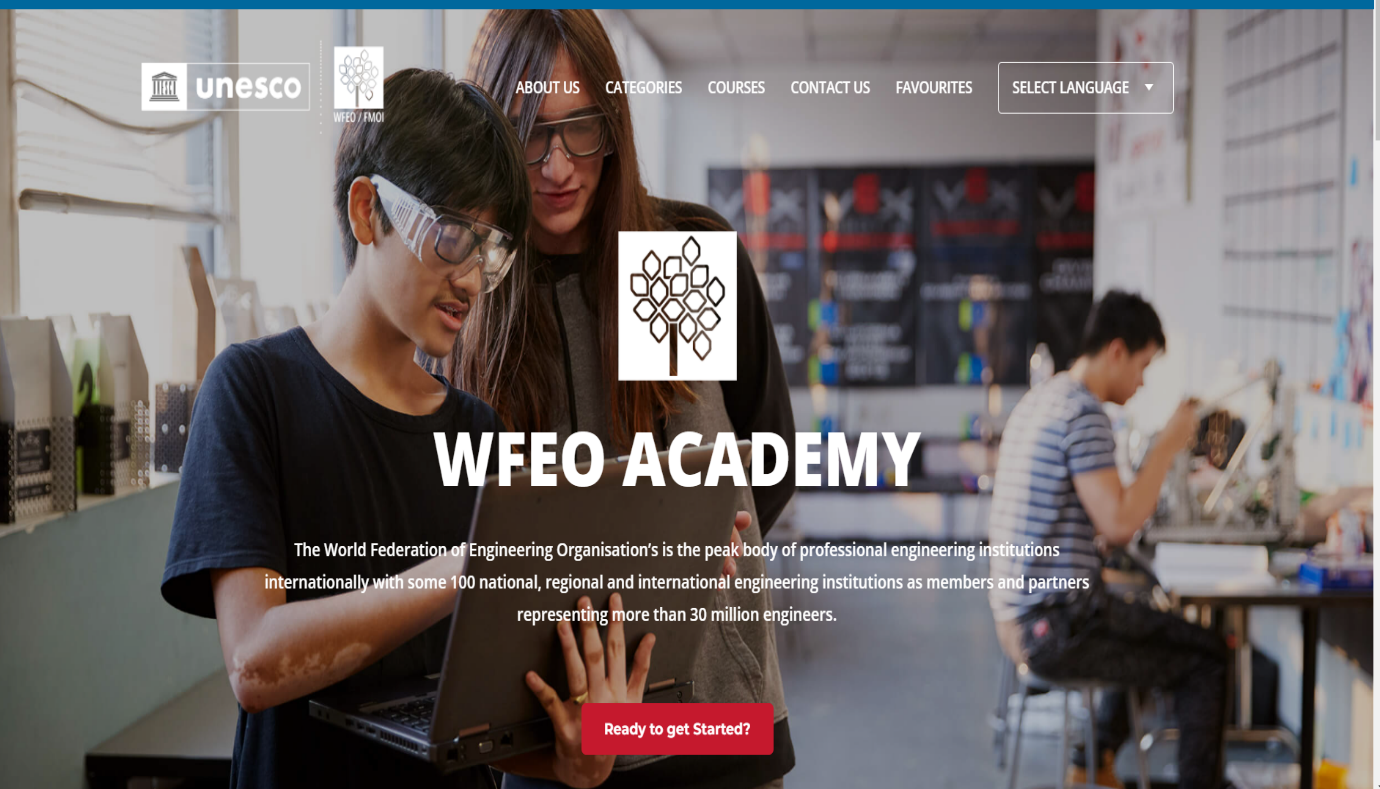 The World Federation of Engineering Organizations proudly launched the WFEO ACADEMY training portal on World Engineering Day, on 4 March 2022, with UNESCO and its partners, the International Engineering Alliance (IEA), the International Federation of Engineering Education Societies (IFEES) and the Global Engineering Deans Council (GEDC).
Education for engineers has been a core objective for the Federation since it was founded in 1968 and of the WFEO Engineering 2030 Plan. The training portal will deliver on this objective under the auspices of the Federations' Committee for Education in Engineering.
The project was led by Dr Marlene Kanga WFEO President 2017-2019, under the auspices of the WFEO Committee on Education in Engineering. UNESCO has recognized the importance of the project as it progresses some key objectives of the UNESCO second Engineering Report (in particular to train more engineers with the right skills), as well as the objectives of the UNESCO Open Science Recommendations. A message of support has been provided by the UNESCO Assistant Director Natural Sciences Sector General Shamila Nair-Bedouelle and is available on the website.
This website will provide training and build capacity for accreditation bodies and professional engineering institutions, enabling them to achieve international standards and the requirements of signatory status of the International Engineering Alliance. It will also provide training for engineering educators to develop the curriculum and pedagogies for outcomes based education that are also a key requirement to achieve these international benchmarks. A third component is training for qualified engineers, technologists and technicians for essential skills in areas such as safety, risk, project management, ethics and leadership that are required across all disciplines and are essential for competent and responsible practice.
The training materials will draw on the existing webinar resources of the members, affiliates and partners of the Federation. These webinars will thus gain a wider audience and greater utilization. This is a sustainable approach, using the knowledge and good well of hundreds of experts that have given their time willingly for the webinars and will build knowledge and skills in the spirit of the UNESCO Open Science Recommendations. The training will be available on demand, at any time and any place around the world, in more than 100 languages. The content is available at no cost to individuals that are members and affiliates of the Federation.
This project is a world first. It uses innovation and advanced technology to make content available inclusively to all. Individuals will be encouraged to register and take up the courses in their own time and pace and will be issued with certificates of completion with additional bronze, silver and gold awards to encourage the uptake of multiple courses.
WFEO looks forward to the utilization of the WFEO ACADEMY and to increasing the circle of partnership and support from all members and partners of the Federation for a sustainable future and a better world for all.
Article Contributed by Dr Marlene Kanga, WFEO President 2017-2019, March 2022

For more information: