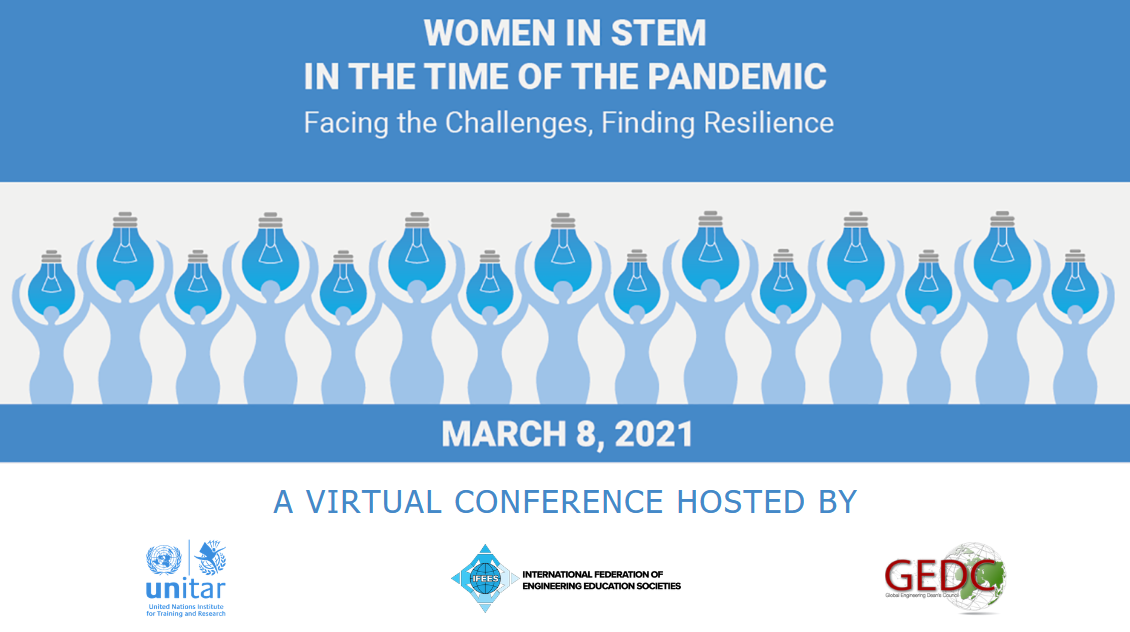 The United Nations Institute for Training and Research (UNITAR), the International Federation of Engineering Education Societies (IFEES), and the Global Engineering Deans Council (GEDC) jointly hosted a virtual conference on "Women in STEM in Time of the Pandemic – Facing Challenges, Finding Resilience.", as part of the celebrations of International Women's Day, 8th March 2021.
The conference highlighted the challenges and opportunities for women in STEM as a result of the pandemic. It showed how COVID-19 has affected gender equality and women's empowerment in both positive and negative ways.
Separate sessions were held with speakers from different regions of the world, on COVID-19 and women in STEM – exploring challenges and opportunities in Asia and the Pacific, Latin America, North America, Europe, Middle East, North Africa and Africa.
WFEO Immediate Past President Dr Marlene Kanga was a panellist for the Asia Pacific region and spoke on a number of topics including:
How COVID-19 has affected women in STEM in their workplace and measures taken to overcome the challenges faced
The impact of the closure of schools and nurseries on women's work, especially if working remotely
The impact of COVID-19 on women's STEM research or projects
Missed opportunities in working in STEM because of remote working
Additional learning opportunities for women to learn more about STEM during lockdown through online learning
Impacts of the pandemic by slowing women's skills/capacity building in STEM and possible future effect on their careers in the future
Innovative implementations and guidance that has been offered in response to the pandemic
Benefits of diversity in STEM and barriers to a better gender balance in technology especially brought by the pandemic
How leaders are rethinking their approach to support inclusivity and foster female talent in STEM
How leaders can ensure that women are offered positions in technology once they have the skills.
The conference was a unique platform for leaders and changemakers from diverse backgrounds – women and men, senior and youth, diverse nationalities – in STEM who came together to share their experiences and perspectives on the pandemic and its impact on women working in STEM, to help shape the future of this critical field.
A recording of the event is available in the GEDC webinar page.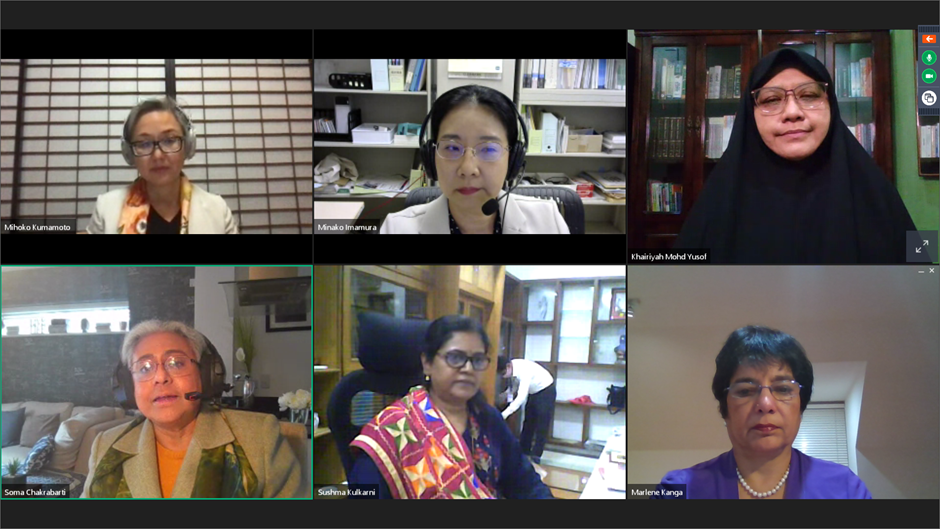 Screenshot of panel discussion on COVID-19 and women in STEM – with delegates from Asia and the Pacific.
Moderator Dr Soma Chakrabarti, Vice President IFEES at bottom left, Panellist Dr Marlene Kanga, Immediate Past president WFEO, bottom right.
For more information:
United Nations Institute for Training and Research (UNITAR) website
International Federation of Engineering Education Societies (IFEES) website
Global Engineering Deans Council (GEDC) website