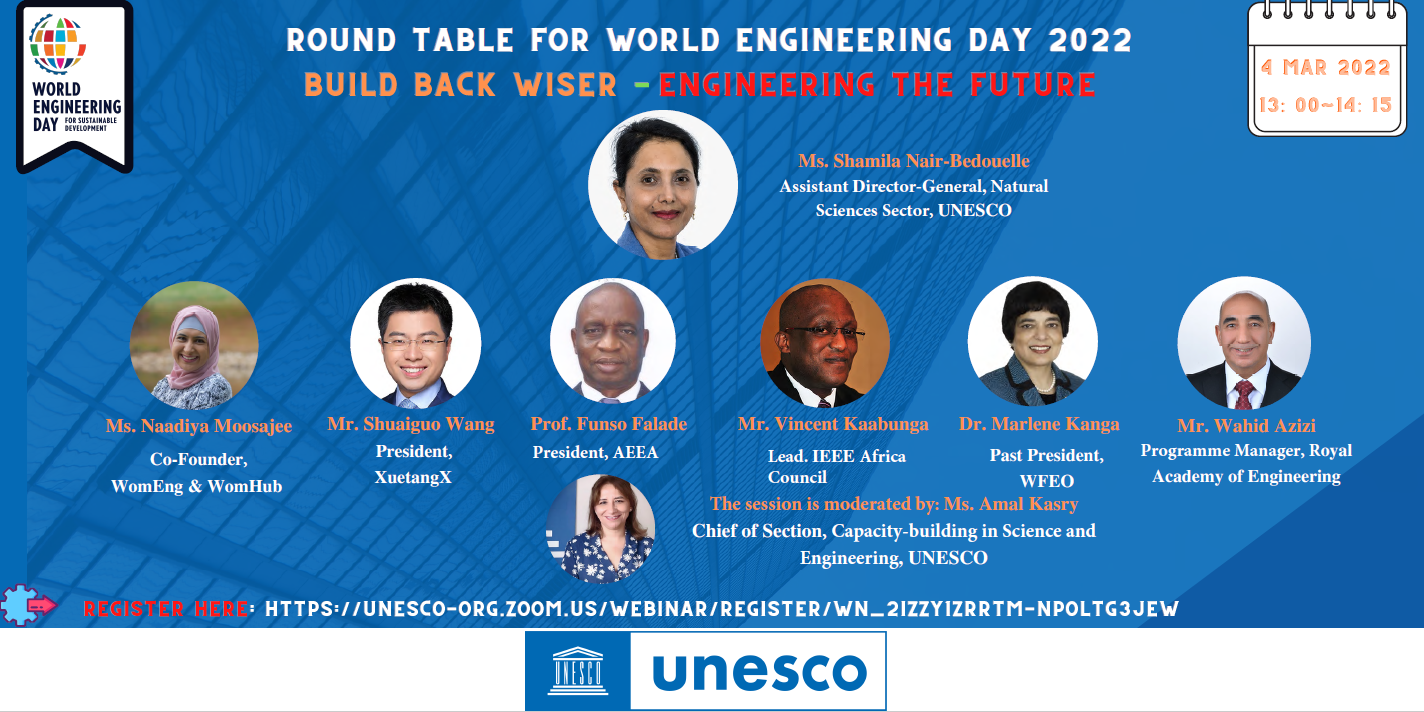 The UNESCO Natural Sciences Sector hosted on 4 March 2022 an international roundtable to celebrate World Engineering Day for Sustainable development 2022. The Theme of the Round table was aligned with the theme of the 2022 celebrations: "Build Back Wiser – Engineering the Future" and asked the important question: "What can we do to Engineer the Future towards the Sustainable Development Goals? What tools are available?"
Mr Ghaith Fariz, Director of Division, Science Policy and Capacity Building, UNESCO Natural Sciences Sector, opened the session.
Speakers at the Round table included:
Dr Marlene Kanga, WFEO President 2017-2019, who spoke on the "WFEO Academy and training of engineers"
Mr Funso Falade – President, African Engineering Education Association (AEEA) on "Engineering Education for now and Beyond"
Mr Vincent Kabunga, Lead of IEEE Africa Council, "Hands-on learning for STEM education – getting our new engineers on-board"
Ms Naadiya Moosajee, Cofounder of WomEng & WomHub, "Invigorating our Young Women in Africa – what is in store?"
Mr Wang Shuaiguo, President of Xuetangx, "MOOCs and online learning platforms in Engineering"
Mr Wahidullah Azizi, Royal Academy of Engineering, "Engineering Skills – Where are they most needed for now and in the Future?"
The discussion was moderated by Dr Amal Kasry, Chief of Section, Capacity-Building Division, UNESCO Natural Sciences Sector.
Dr Kanga spoke about the WFEO Academy project and its importance in activating the UNESCO Open Science Recommendations with an inclusive and innovative approach to capacity building in engineering. This is essential for sustainable development so that no one is left behind.
The WFEO Academy website was launched on 4th March 2022, World Engineering Day for Sustainable development and provides on-line, on-demand training for engineering educators, assessors and accreditors of engineering education programs and qualified engineers, enabling them to develop their skills and work competencies.
The recording is available by clicking on the below image.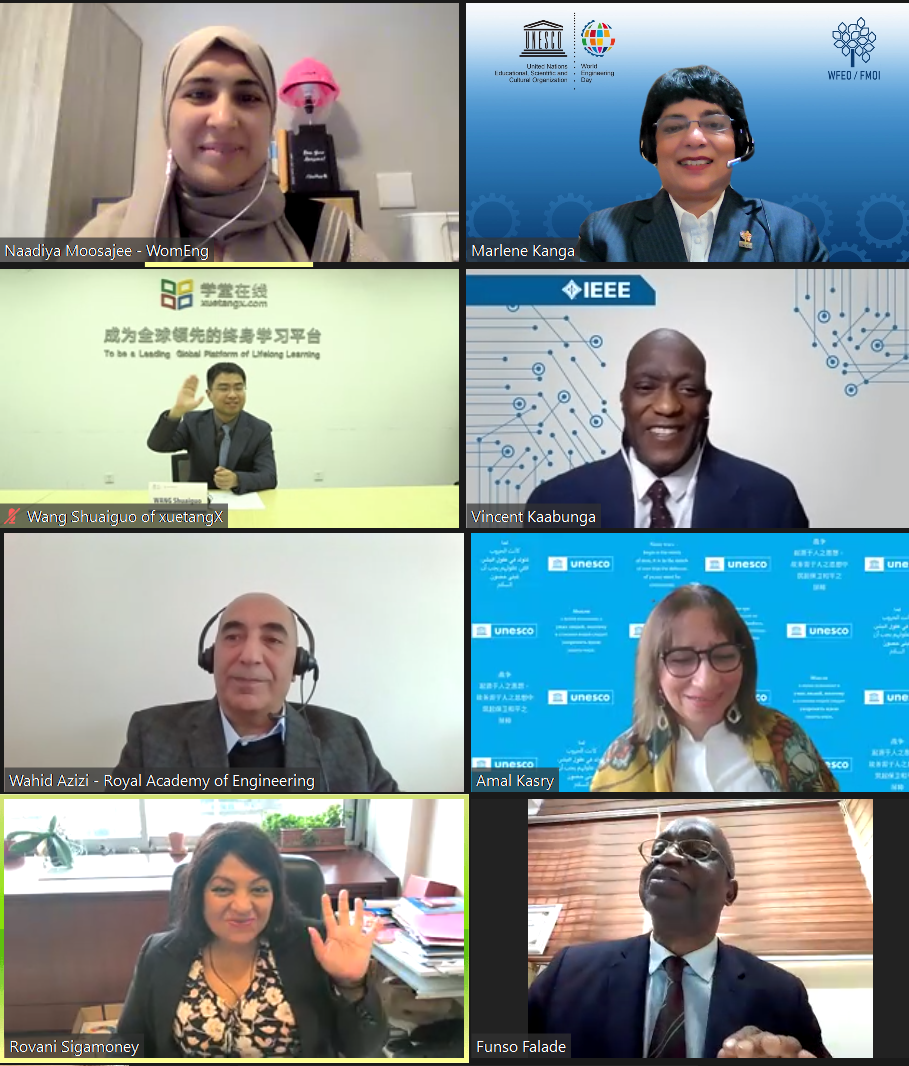 Panellists at the Round table hosted by UNESCO on World Engineering Day 2022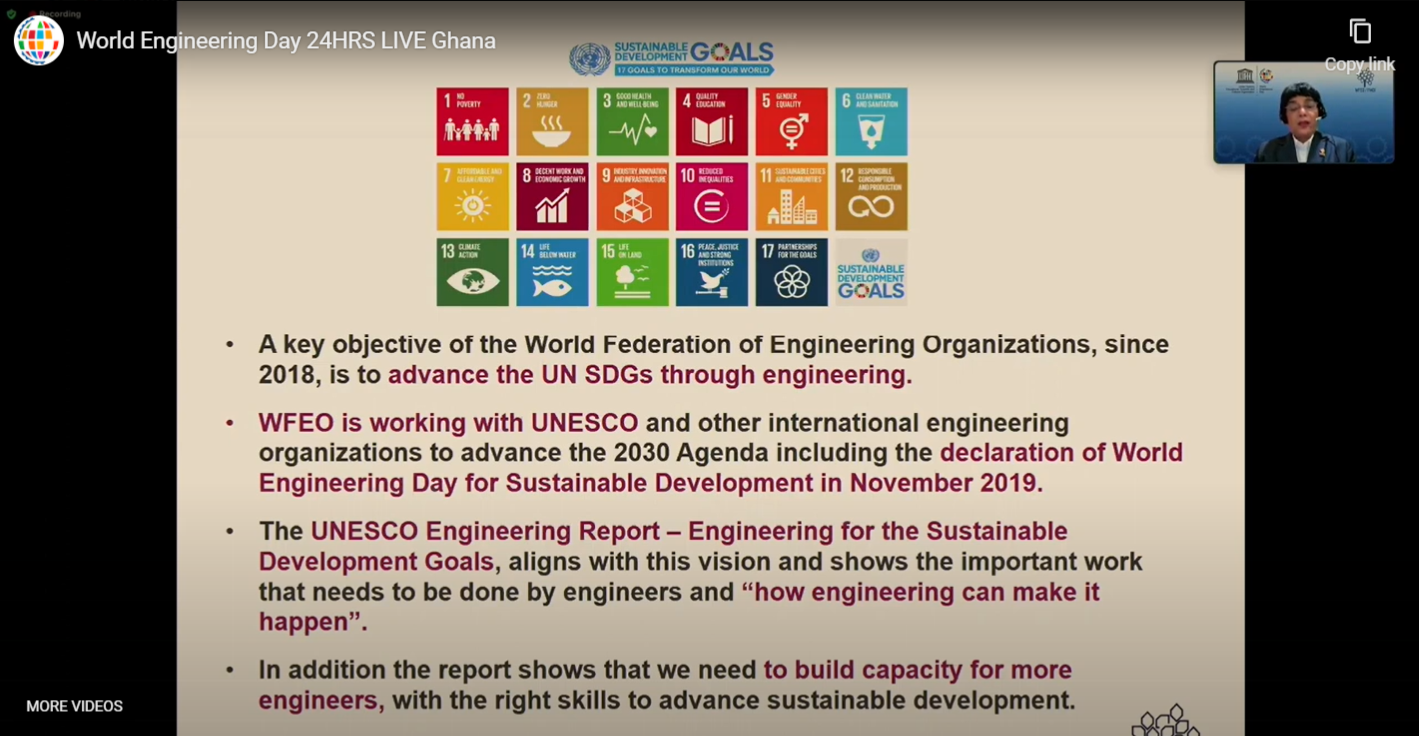 Dr Marlene Kanga WFEO President 2017-2019 speaks at the UNESCO Round table
Article contributed by: Dr Marlene Kanga WFEO President 2017-2019
For more information: