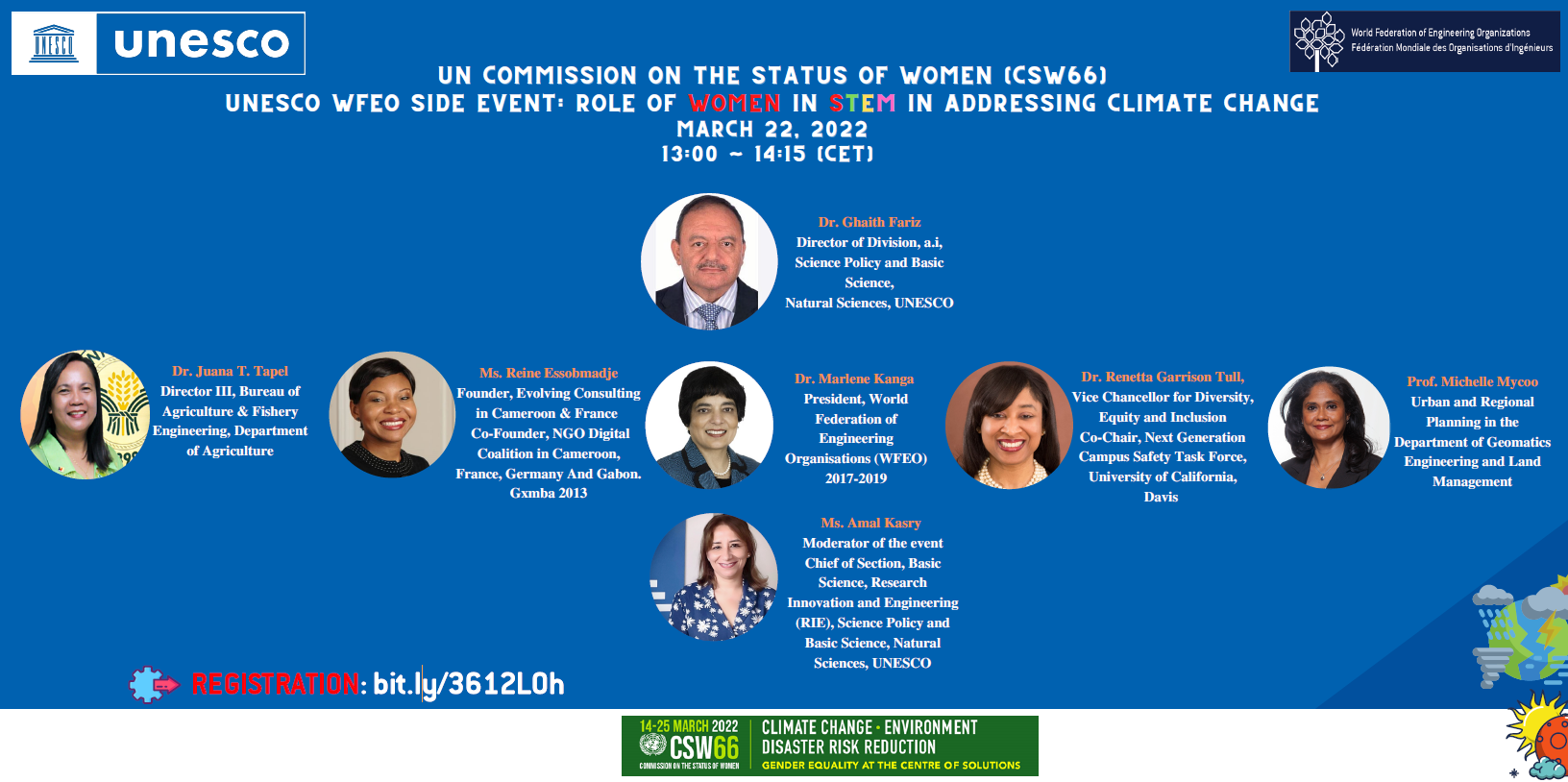 The sixty-sixth session of the Commission on the Status of Women (CSW66) was held from 14 to 25 March 2022. Representatives of Member States, UN entities, and ECOSOC-accredited (NGOs) from all regions of the world were expected to attend the session.
The CSW66 priority theme for 2022 was "Achieving gender equality and the empowerment of all women and girls in the context of climate change, environmental and disaster risk reduction policies and programmes". The review theme was "Women's economic empowerment in the changing world of work".
WFEO and UNESCO jointly hosted the side event "Role of Women in STEM in addressing Climate Change" as part of the discussions at the UN Women Commission on the Status of Women (CSW66) on 22 March 2022.
It was important for these organisation to have a presence and a voice at this important event especially in relation to women and their role in addressing climate change, environmental risks and natural disasters. Empowering women in the STEM fields and ensuring their role in government, industry and academia, is increasingly important after two years of dealing with the pandemic. Women have been under-represented in addressing issues relating to climate change to date and this event discussed the need to address this imbalance.
The event involved speakers from every region of the world, Australia, Europe, America, Caribbean, Asia and Africa and included:
Master of Ceremonies:
Amal Kasry, Chief of Section, Basic Science, Research Innovation and Engineering, UNESCO Natural Sciences Sector
Opening Remarks:
Ghaith Fariz, Director of Division Science Policy and Capacity Building, UNESCO Natural Sciences Sector
Moderator:
Peggy Oti-Boateng, Advisor to ADG/SC, UNESCO Natural Sciences Sector
Speakers:
Marlene Kanga, Past President of the World Federation of Engineering Organizations (WFEO) (Australia)
Renetta Tull, Vice Chancellor for Diversity, Equity and Inclusion, Co-Chair, Next Generation Campus Safety Task Force, University of California Davis (USA)
Juana Tapel, Chair of the Women in Engineering (WIE) group at the Philippines Technological Council and an advocate for action on climate change (Philippines)
Reine Essobmadje, Founder of Evolving Consulting in Cameroon and France and the Co-founder of the NGO Digital Coalition in Cameroon, France and Gabon (Cameroon)
Michelle Mycoo, Professor of Urban and Regional Planning, The University of the West Indies (Trinidad and Tobago).
The event demonstrated the key role of women scientists and engineers in addressing climate change, disaster risk management, innovation and advancing the Agenda 2030 and the Sustainable Development Goals, including Goal #9.5, Goal #5 – Gender, Goal #13 Climate Change. The event also contributed to celebrating the achievements of engineers and agronomists and scientists in this field.
The recording is available by clicking on the below image.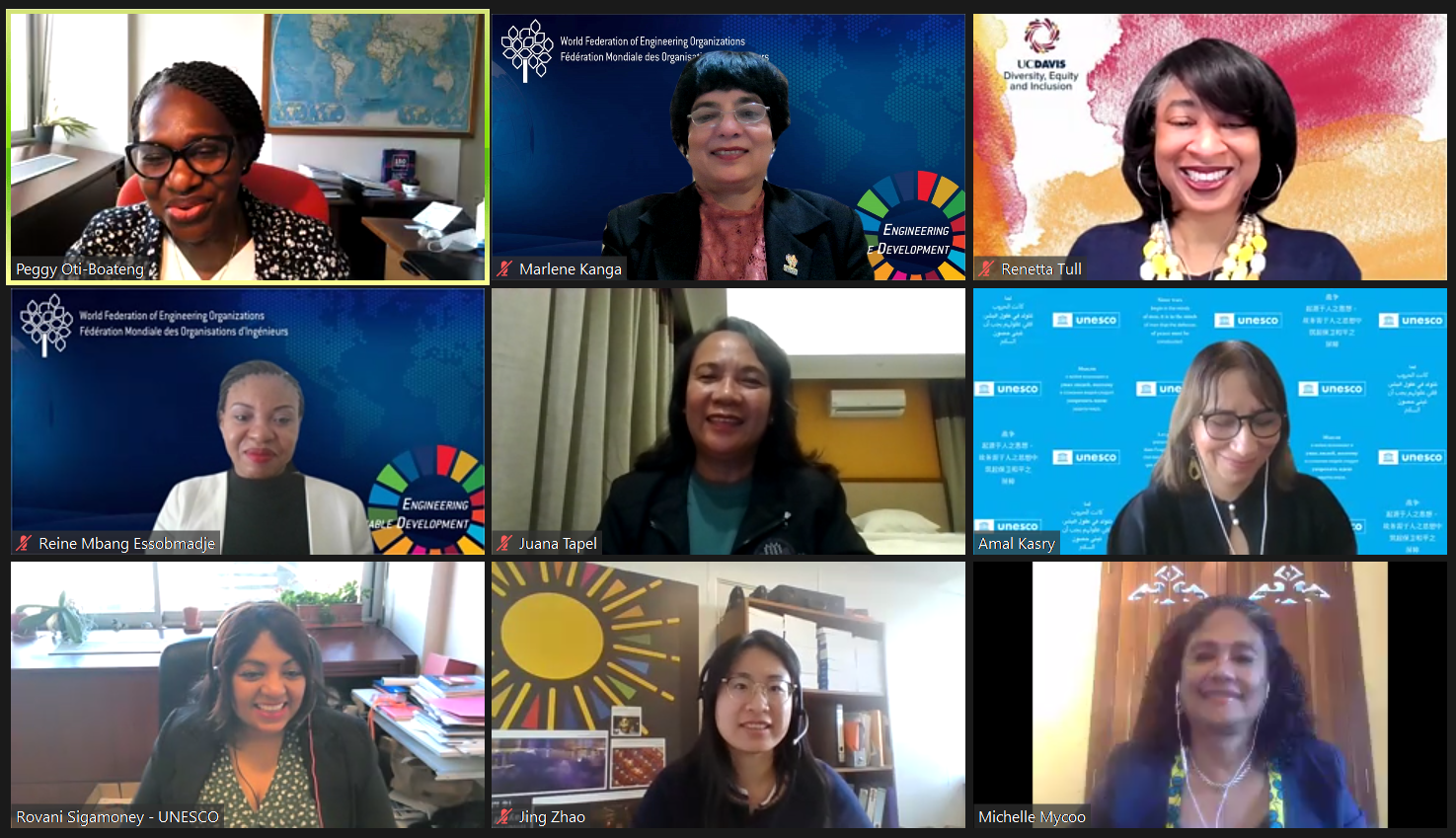 Speakers at the UN CSW66 Side Event 22 March 2022.
Top Row L to R: Dr Peggy Oti-Boateng UNESCO (Paris), Dr Marlene Kanga WFEO President 2017-2019 (Australia), Prof Renetta Tull, University of California, Davis USA)
Middle Row: Reine Essobmadje Evolving Consulting (Cameroon), Juana Tapel, Philippines Technological Council Women in Engineering (Philippines), Amal Kasry UNESCO (Paris)
Bottom Row: Ms Rovani Sigamoney UNESCO (Paris), Ms Jing Zhao UNESCO (Paris), Prof Michelle Mycoo University of the West Indies (Trinidad and Tobago)

Contributed by: Dr Marlene Kanga WFEO President 2017-2019, March 2022
For more information: