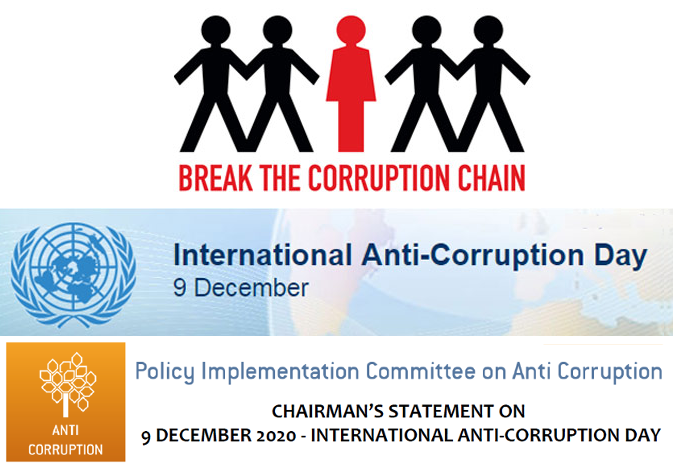 Esteemed members and the community at large,
Today is International Anti-Corruption Day, an important event on our calendar. We are marking it under our 2020 theme which is, "Enhanced collaborations between local, regional and international Anti-Corruption players for Sustainable Partnership."
In making this statement, I acknowledge the unprecedented impact on economic and societal systems brought about by the onset of the global COVID-19 pandemic. At regional and national levels this has affected the pace, scope and mode of the Committee on Anti-Corruption (CAC) strategy roll out.
Since November 2019, the Institution of Engineers Rwanda (IER) has been the host of the CAC, and committee members were appointed to fulfil the committee's mandate. Subsequently, WFEO hosted a webinar on 11 July 2020 to discuss the Draft International Standard ISO37000. This was followed by the webinar on "Detection and Prevention of Corruption in Infrastructure Projects" on 27 August that was done in collaboration with Global Infrastructure Anti-Corruption Centre (GIACC) of UK. The WFEO CAC's annual review meeting was also virtually held on 14 October, followed by the Executive Council meeting from 29 to 30 October.
Looking ahead, it is anticipated that 2021 will bring increased momentum as we adopt a new theme on "Advocacy for enhancement of Integrity Pacts in Infrastructure Projects as a game changer to Eradicate Corruption." In conclusion, I appeal all WFEO members and partners to cooperate with us in building new guidelines that will serve as a reference framework for engineers operating in this sector.
Thank you,
Eng. KAZAWADI Papias Dedeki
Chairman, Committee on Anti Corruption (CAC)
Statement on International Anti Corruption Day by Papias Kazawadi, Chair of WFEO Committee on Anti Corruption
"WFEO Chairman's statement on December 9, International Anti-Corruption Day" – Article by The New Times, Rwanda's leading daily