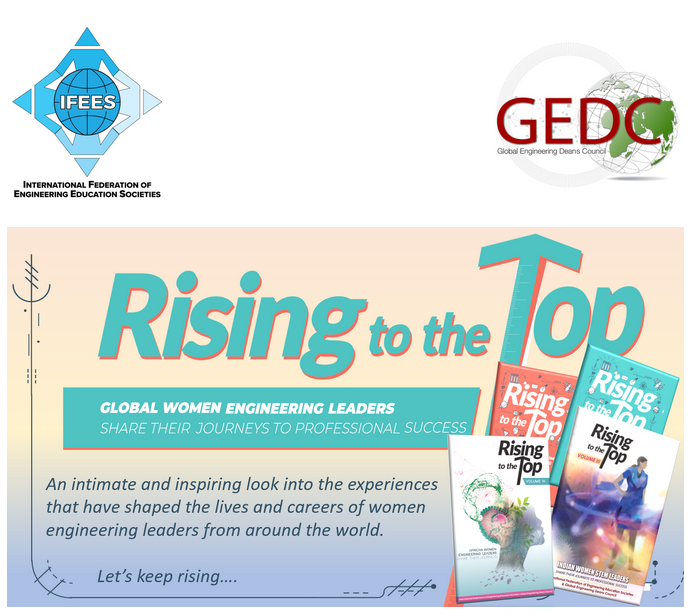 The Rising to the Top book series has added not one, but TWO new volumes! Rising to the Top is a series of books, pioneered by the International Federation of Engineering Education Societies (IFEES) and the Global Engineering Deans Council (GEDC), detailing the stories of female engineering leaders across the globe working in male-dominated fields.
For innovations to continue to evolve, it's necessary to balance gender representation in the field and ensure engineering advancements include all members of society. Rising to the Top provides an intimate and inspiring look into the experiences that have shaped the lives and careers of women engineering leaders from around the world. By openly sharing their personal journeys in these pages, the authors hope to not only inspire the next generation of engineering leaders, but also provide valuable insight into the challenges facing women engineers around the world, and the opportunities that are theirs for the taking.
Rising to the Top makes it clear that women engineering leaders are not only essential for the advancement of all societies — they are here to stay!
We are excited to present Rising to the Top- Volume III: India and Rising to the Top-Volume IV: Africa! For these volumes, we will be focusing on highlighting the unique cultural nuances that shape the experiences of women in a particular region of the world.
We encourage you to use our promotional toolkit to help share news about this important initiative and to purchase your very own copy!

For more information:
WFEO Celebrates: Rising to the Top – Global Women Engineering Leaders Share their Journeys to Success.
Launch of Rising to the Top Book II.