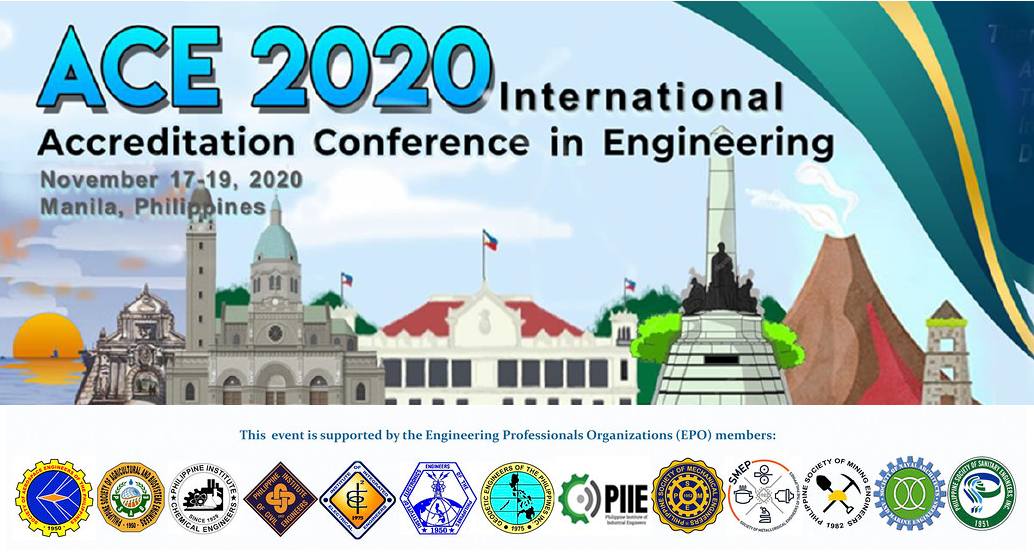 The Philippine Technological Council (PTC) and the Accreditation and Certification Board for Engineering & Technology (PTC-ACBET) organized the ACE2020: International Accreditation Conference in Engineering, as an online event between 16 and 19 November 2020.
The main theme was "Accreditation and QA: Leading Transformations Towards Inclusive and Sustainable Development".
The Philippine Technological Council is the umbrella organization of thirteen engineering professional organizations (EPO) in the country each composed of engineering professionals within one particular engineering discipline. The PTC is a provisional signatory of the International Engineering Alliance.


Dr Marlene Kanga Immediate Past president WFEO, presents at ACE2020, 18 Nov 2020

ACE is the platform for the exchange of information and discussions on current developments in international and local best practices in engineering education, accreditation and quality assurance among higher education institutions, the professional organizations, the accreditation bodies, government agencies, among other stakeholders.
Delegates attended from the 13 member engineering organizations of PTC, engineering schools, and universities. International delegates attended from the 10 members of the ASEAN Federation of Engineering Organizations (AFEO), the members of the International Engineering Alliance (IEA) and the Washington Accord, the Federation of Engineering Institutions of Asia and the Pacific (FEIAP) and WFEO.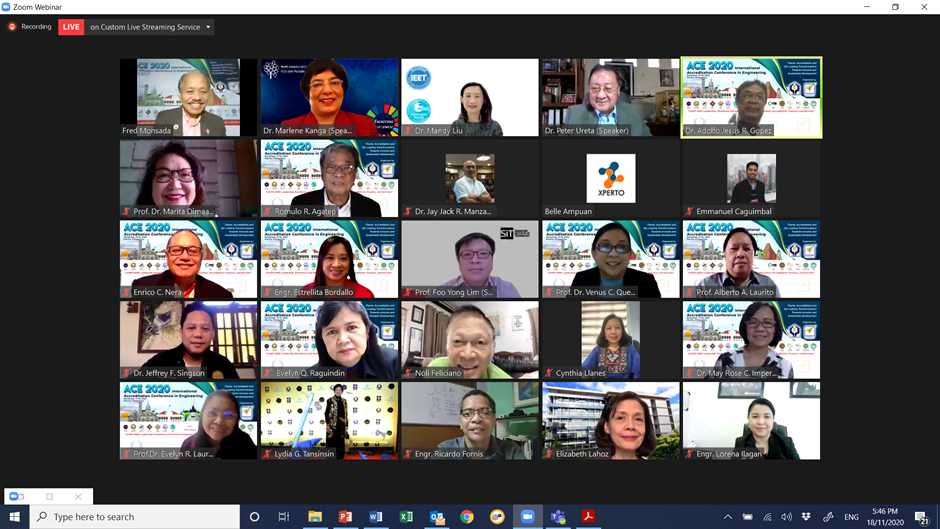 Speakers at Day 2, ACE2020, 18 November 2020

ACE2020 included the following topics:
Washington Accord – "Gold Standard" of Engineering Education Quality: Way Forward
Challenges, Opportunities, and Best Practices in Meeting the Requirements of Washington Accord
Emerging Benchmarks of Graduate Attributes and Professional Competencies
Developments in Engineering Education in the Digital Revolution: Accreditation Towards Mutual Recognition & Mobility
Teaching, Learning and Assessments (TLA) in Engineering Education: Challenges and Opportunities in Online Learning
Complex Engineering Problems and Engineering Activities (CEP/CEA) in the Context of a Washington Accord Engineering Program
WFEO President 2017-2019 Dr. Marlene Kanga was a keynote speaker on the Graduate Attributes and Professional Competencies (GAPC) Framework.

For more information:
"WFEO-IEA Project to Review International Engineering Benchmarks for Graduate Attributes and Professional Competencies for engineers of the future" presentation by WFEO Past President Dr Marlene Kanga