WFEO Immediate Past President Dr Marlene Kanga and WFEO Committee on Education in Engineering (CEIE) Chair, Myanmar Engineering Council Chair Prof Dr Charlie Than, presented the reviewed Graduate Attributes and professional Competencies (GAPC) Framework at the 3rd Pakistan Engineering Council Deans Conference, held in a hybrid mode in Islamabad on 7-8 April 2021.
The Conference, provided an opportunity to share best practices, identify issues and propose possible solutions to address quality assurance in engineering education, standards, industry perspectives of Outcome Based Education/Accreditation, capacity building for online Teaching-Learning and Assessment methodologies and also encompass the approach to comply with the Framework and incorporate the UN Sustainable Development Goals. Engineering educators from around Pakistan and Asia attended the Conference.
The conference was an opportunity for leaders in academia, industry and regulatory/standardizing bodies to share and exchange their experiences and ideas in solving complex issues of engineering education. It was also an opportunity to discuss how the cultural-values and socio-economic challenges of Pakistan can be included in engineering practice, education and curriculum to ensure that engineering graduates are technically proficient and market-ready.
The Conference also featured Prof Dr Arif Bulent Ozguler, Bilkent University, Ankara, Chair of the WFEO-IEA Working Group on the review of the GAPC Framework and Emeritus Professor Elizabeth Taylor, Chair of the IEA Washington Accord. A number of other experts in engineering education from around Asia presented various aspects of this important area for a stimulating and informative conference.
The presentation by Dr Marlene Kanga is available in this link.
The presentation by Prof Dr Charlie Than is available in this link.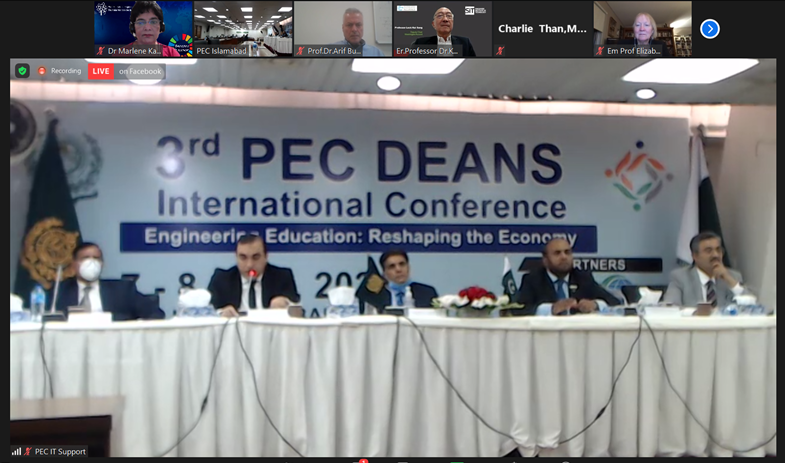 Session Chairs at the PEC Deans International Conference, 7 April 2021

For more information:
Myanmar Engineering Council website
Pakistan Engineering Council website