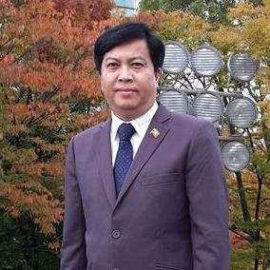 Dr. Zaw Min Aung started his career with the Rangoon Institute of Technology (RIT) in March, 1992 as an Instructor at the Electronic Engineering Department, and mainly taught Basic Electrical Engineering subjects at YIT. He then moved to the Mandalay Institute of Technology (MIT) in September, 1993. He had worked there for 12 years and was promoted as Assistant Lecturer, Lecturer, Associate Professor, and Professor.
Dr. Zaw Min Aung got his Master Degree from the Tottori University, Japan, in 2000. He researched the degradation of a blue laser diode for his Master Degree. From 2001 to 2005, he did his doctoral research, especially on active filters in the telecommunication field at the Moscow State Engineering Physics Institute, Russia, and finally, he got a Doctorate Degree in 2005.
He wrote 27 International Papers concerned with electronic fields beside the research papers for a Master Degree and a Doctorate Degree. Furthermore, Dr. Zaw Min Aung served as a Rector of the West Yangon Technological University from 2005 to 2010. Then he was appointed as a Director-General for the Department of Technical and Vocational Education (DTVE) from August, 2010 to February, 2013. When working as the Director- General, he implemented many human resource development programs concerning technical education under his supervision and management.
In February 2013, Dr. Zaw Min Aung was appointed as a Deputy Minister for the Ministry of Science and Technology. He supervised drawing up science and technology development and policies, human resource development policies. He also guaranteed the implementation programs of the departments under the Ministry of Science and Technology.
Then he was reshuffled as a Deputy Minister for the Ministry of Education in July, 2013. He participated in drafting the National Education Law, Strategies, Policies, and Plans for educational reform and education development. On 31 March 2016, he retired from the Ministry of Education and started business in the energy field as a Chairman of Green Alliance Energy Co., Ltd.
He is currently serving the country as a Full Member of the Myanmar Academy of Technology. He continues to take part in quality engineering education reform as the Chair of Engineering Education Accreditation Committee of Myanmar Engineering Council.