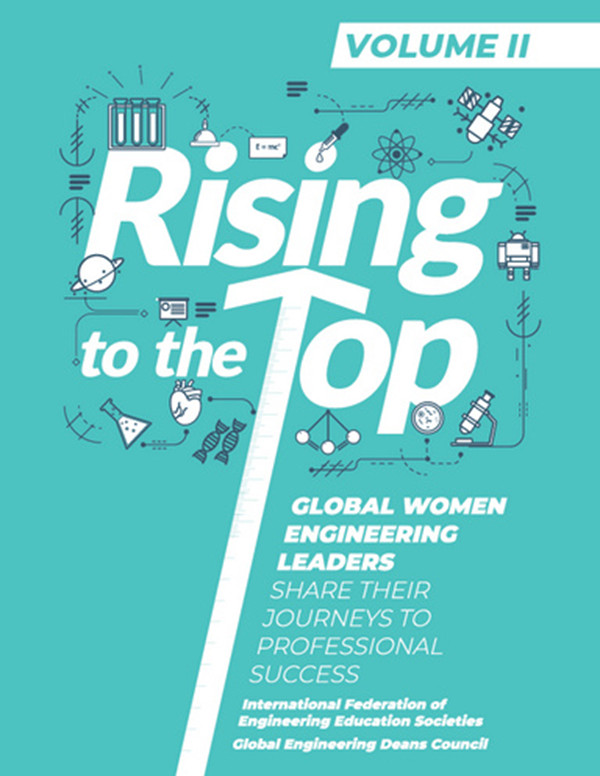 The International Federation of Engineering Education Societies (IFEES) launched Volume II of "Rising to the Top – Global Women Engineering Leaders share their journey to professional success" at their annual WEEF and GEDC 2020 Conference, held virtually between 16 and 19 November.
A number of the authors from Volume I and Volume II spoke about their journeys and the issues facing women engineers around the world. The webinar featured WFEO Immediate Past president Dr Marlene Kanga, Prof. Lidia Zakowska, Poland and a member of the WFEO Committee for Women in Engineering and Prof. Niranjanie Ratnayake, a Past President of WFEO National Member, the Institution of Engineers Sri Lanka.
The second edition featured many women involved with WFEO as a result of the nomination by WFEO Immediate Past President Marlene Kanga. Prof. Hans Hoyer, Executive Director, IFEES has acknowledged her contribution, as follows: "For this, our second edition, I was fortunate to be able to get it started by working closely with Marlene Kanga, an important global engineering leader based in Australia. She played a key role as we identified other women leaders and new voices to contribute their stories."
Prof Hoyer is a tireless advocate for the advancement, of women engineers and states:
"The goal of the first and second editions of Rising to the Top is for a new generation of female engineering leaders to be inspired by their peers. Equally important is that many of our male colleagues are sure to be positively impacted as they read about the unique journeys honestly shared within these pages. My hope is that this second edition will trigger even more men in the profession and in engineering education to seriously reflect on how they can be more effective, engaged, and sensitive in terms of supporting women in their leadership roles—regardless of what culture they live in.".
We are proud of the achievements of the women engineers who are active at WFEO and its partners who are featured in Volume 1 and II and congratulate them all for their achievements. They include (in alphabetical order):
Volume 1:
Prof Dawn Bonfield, Deputy Chair WFEO Committee for Women in Engineering
Dr Marlene Kanga, Immediate Past President WFEO
Volume 2:
Ms Valerie Agberagba, former Chair WFEO Women in Engineering Committee
Prof. Raida Al Alawi, Bahrain Society of Engineers
Ms Carlien Bou-Chedid, first female FAEO President 2021-2023
Ms. Maria Teresa Dalenz Zapata, Past president UPADI
Ms Irene Campos Gomez, Former Minister for Housing Costa Rica, Past president UPADI
Ms Gail Mattson, President INWES, 2017-2020
Ms. Jun Hada, founder, Women in Science and Engineering, Nepal
Ms. Reine Essobmadje, Member WFEO Committee for Women in Engineering, Cameroun
Ms Ariunbolor Purvee, Founder Women in Science, Technology Engineering and Mathematics, Mongolia, Chair INWES Asia Pacific Nation network 2020-2023
Prof. Niranjanie Ratnayake, Past president, Institution of Engineers Sri Lanka
Dr Lydia Tansinsin, Past President Philippine Technological Council, Winner, WFEO Women in Engineering Award, 2019
Dr Khin Sandar Tun, Chair, Women in Engineering, Myanmar Engineering Society
Prof. Lidia Zakowska, Member WFEO Women in Engineering Committee, Poland
Copies of the book can be purchased from this link.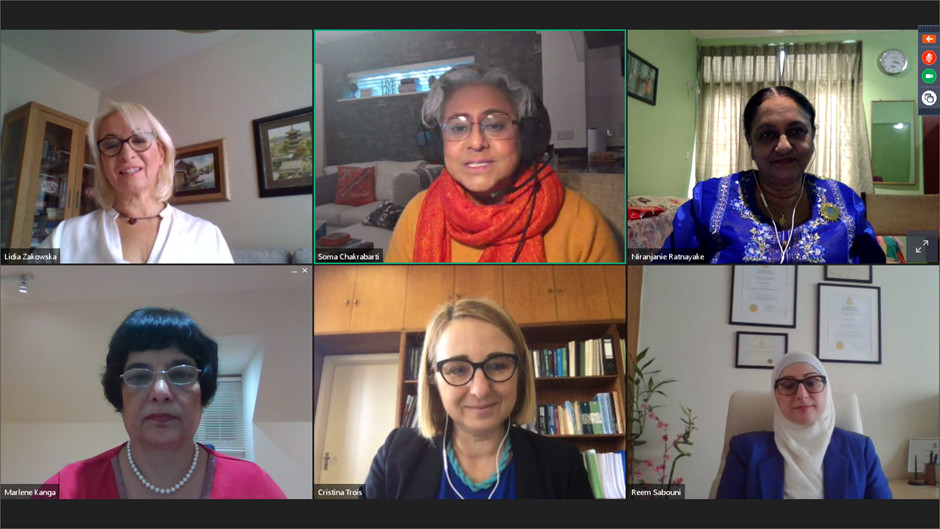 Launch of Rising to the Top Volume II, Virtual event, 18 November 2020
Presenting: Top L to R: Prof Lidia Zakowska, Dr Soma Chakrabati Organizing Committee for Rising to the Top, Prof Niranjanie Ratnayake
Bottom L to R: Dr Marlene Kanga, Prof Cristina Trois, Prof Reem Sabouni

For more information:
Rising to the Top Book II webpage