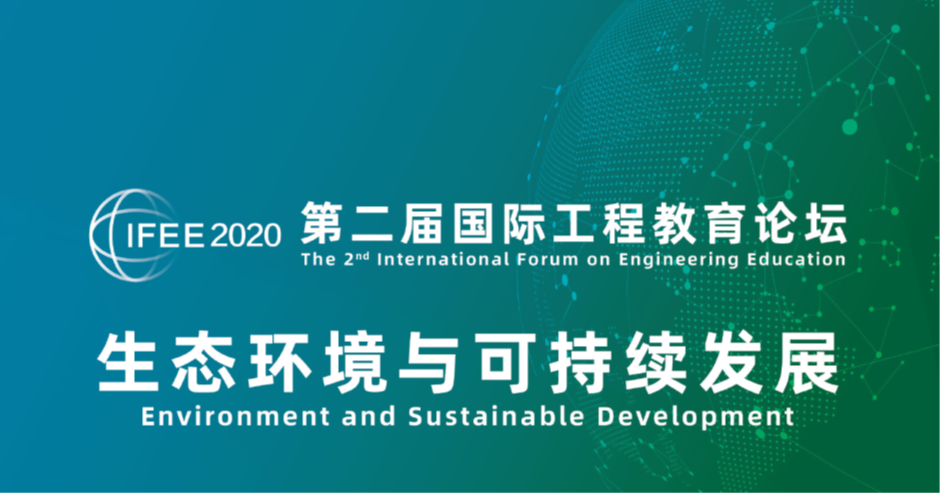 The 2nd International Forum on Engineering Education co-organized by the Chinese Academy of Engineering, and the UNESCO Category 2 Centre, the International Centre for Engineering Education (ICEE), Tsinghua University, was held between 2 and 4 December 2020.
The Forum had the theme of "Environment and Sustainable Development", and included presentations and discussions on aspects of engineering education including topics on water environment and water ecology, climate change and blue sky action, environment and health, sustainable chemical engineering and the future, engineering education for sustainable development.
A Forum on Engineering Education for Sustainable Development was held on 4th December and included speakers from UNESCO, WFEO and the International Engineering Alliance. The Forum was an opportunity to showcase the collaborative work being done, including with ICEE as a partner.
The Forum was Chaired by Prof Wu Qidi, Director of the International Centre for Engineering Education (ICEE).
Speakers at this Forum included:
Panel Speakers:
Dr Peggy OTI-BOATENG (Director, Division of Science Policy and Capacity-Building, UNESCO)
Dr Marlene KANGA (Immediate Past President, WFEO)
Prof. Elizabeth TAYLOR (Chair, the Washington Accord, International Engineering Alliance)
Prof. ZHENG Qinghua (Vice President, Xi 'an Jiaotong University)
Dr LI Ming (Senior manager, Education and Training Division, Human Resource Department of China Academy of Space Technology (CAST)
Dr REN Nanqi (Member of CAE; Vice President, Harbin Institute of Technology)
Dr WANG Shuiguo (President, XuetangX)
Mr ZHOU Shuhua (President, Huahe Capital)
An interesting discussion followed the presentation with questions from researchers at ICEE and other delegates.

Speakers at the On Line Forum on Engineering Education for Sustainable Development, 4th December 2020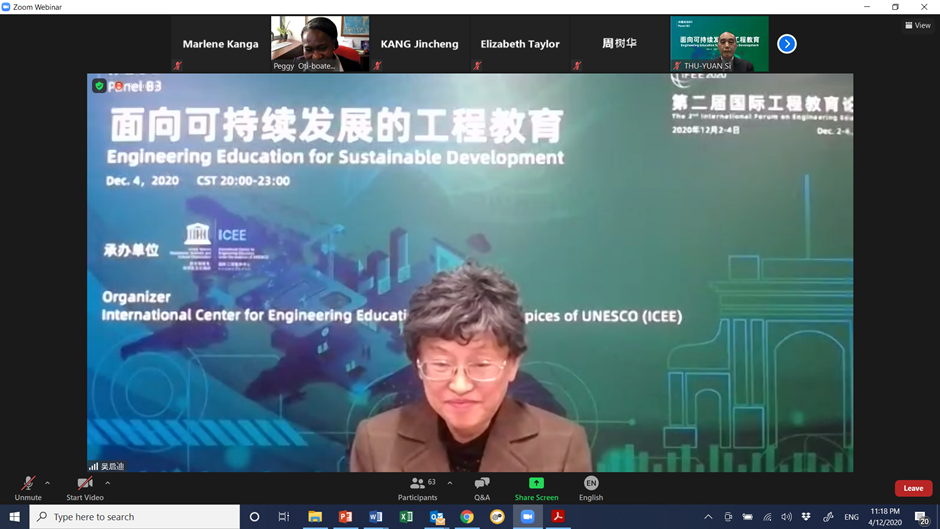 Prof. Wu Qidi Chairs the session on Engineering Education for Sustainable Development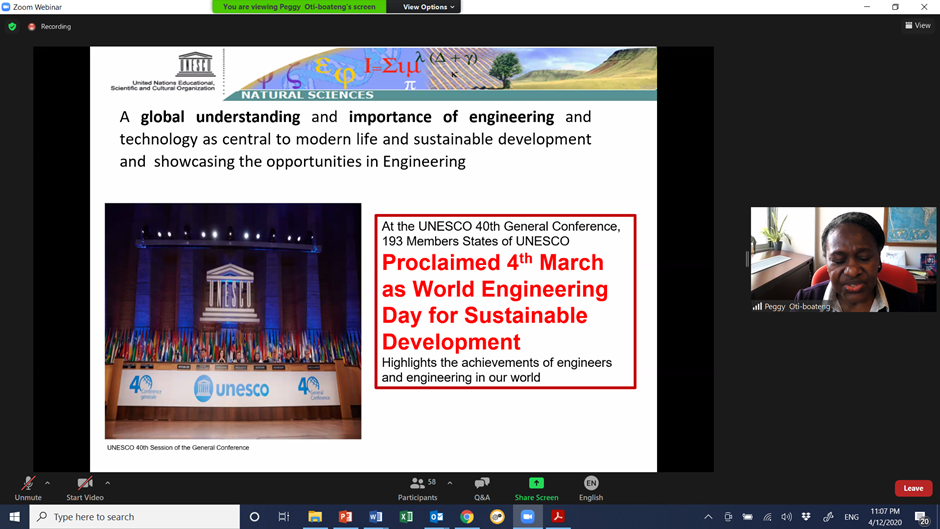 Dr Peggy Oti-Boateng speaks on the importance of engineering education for sustainable development
For more information:
"UNESCO-WFEO-IEA Project Review International Engineering Benchmarks for Graduate Attributes and Professional Competencies for engineers of the future and for sustainable development" presentation by WFEO Past President Dr Marlene Kanga