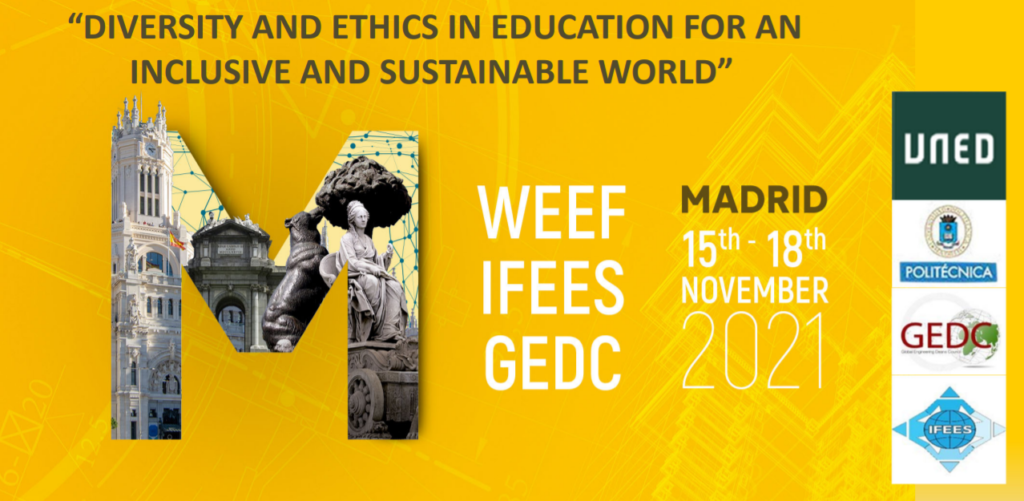 The International Federation of Engineering Education Societies (IFEES) and Global Engineering Deans Council (GEDC) hosted their annual WEEF (World Engineering Education Forum) integrating Academia, Industry, Social Institutions, Associations and Students, in Madrid from 15 to 18 November 2021. The Forum theme was "Diversity and Ethics in Education for an Inclusive and Sustainable World".
IFEES and GEDC are important partners of WFEO on a range of projects in engineering education and diversity.
WFEO Immediate Past President Dr Marlene Kanga was a speaker on a panel on "Diversity in Engineering Education: Support and Technologies" and made a presentation on "The revised International Engineering Benchmarks for Graduate Attributes and Professional Competencies for engineers of the future."
A panel discussion was also held on the "UNESCO Engineering Report—Engineering for Sustainable Development", co-moderated by Dr Amal Kasry, Section Chief for Capacity Building in Basic Science and Engineering at UNESCO and Rovani Sigamoney, Engineering Programme Specialist. The speakers included Prof. Tariq Durrani, the co-chairperson of the Advisory Board for the Engineering Report, Prof. Dawn Bonfield, author of the section on diversity and women in engineering, Dr Soma Chakrabarti author of lifelong learning in engineering and Prof. Yuan Si, of the International Centre for Engineering Education author of the section on interregional trends in engineering.
Other important streams were: "The Decade of Action: a quest for a sustainable world" and students' forums which included discussions of Agenda 2030 and COP26 topics with students.
For more information: