The 2023 FAEO Conference and Investiture ceremony held successfully on 27 January 2023 in Kigali, Rwanda at the Convention Centre and attracted over 100 delegates composed of leaders of engineering institutions from Ghana, Nigeria, Burkina Faso, Ethiopia, South Sudan, Kenya, Uganda, Tanzania, Malawi, Zambia, Angola, DRC, South Africa, Zimbabwe, Burundi, USA and the host country, Rwanda.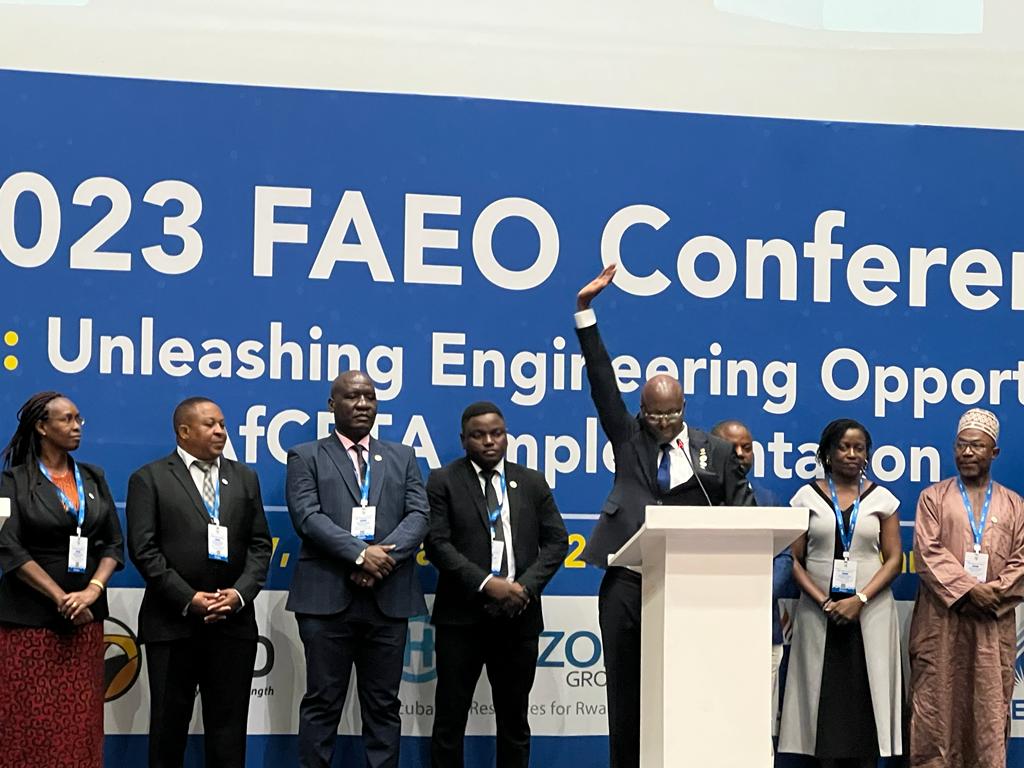 Oath taking of the 6th President of FAEO, Eng. Papias Kazawadi

The theme of the Conference was "Unleashing opportunities in the AfCFTA (African Continental Free Trade Area) implementation" and the delegates realized that, without proper partnership models with the AfCFTA, robust frameworks for engineering education and practice informed by accurate data of engineering capabilities, quality and quantity of human capital needs required to achieve the Sustainable Development Goals, the African Union Agenda 2063 and other developmental aspirations, economic development will be impossible in developing countries, especially Africa. The delegates agreed with the Presidents focus areas and declared the following focus areas for FAEO for 2023-2024:
Institutional reforms
Enhancing Partnerships
Digitalization as a game changer
Enhancing Equality Diversity and inclusion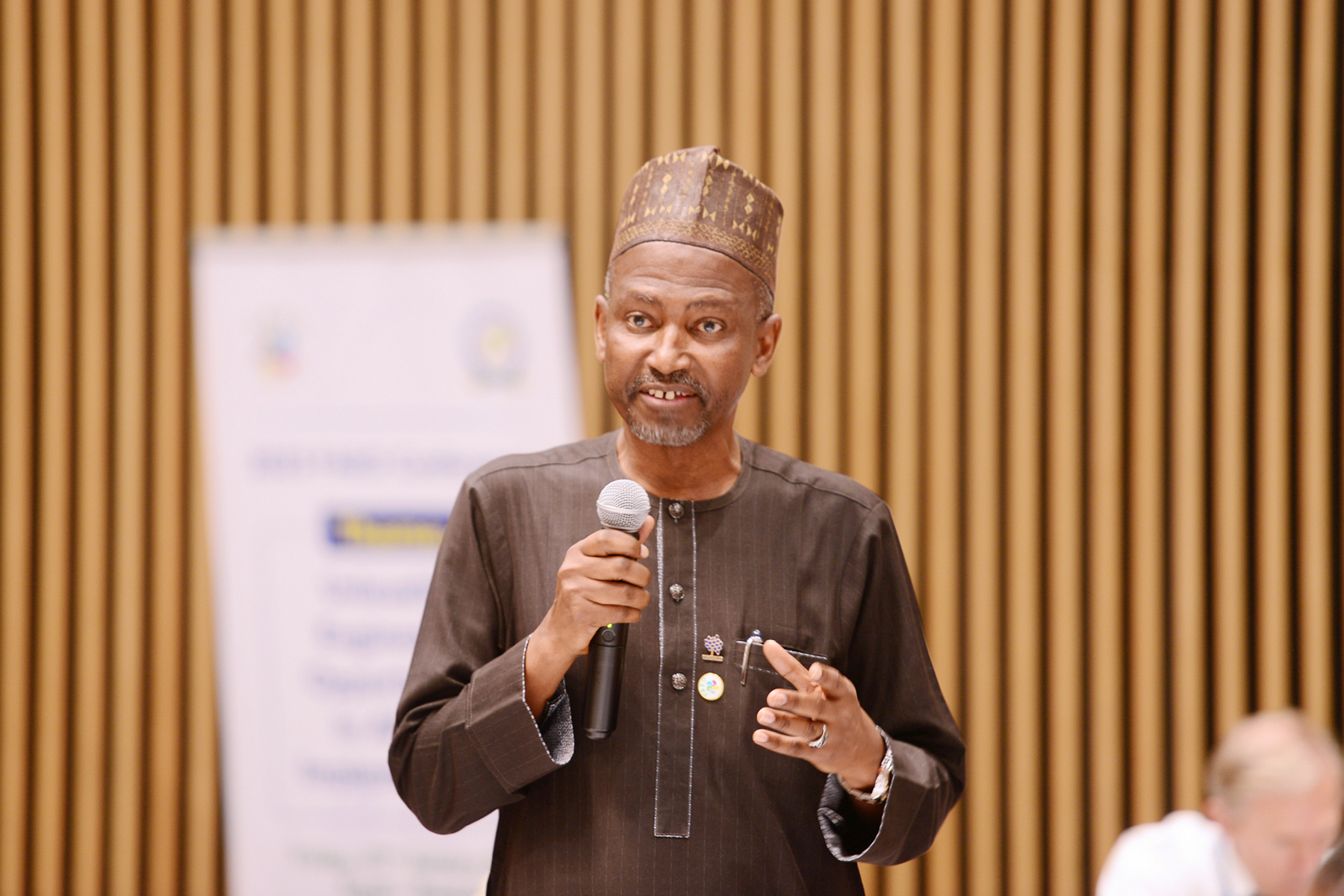 WFEO President-Elect Mustafa Shehu

Delegates at the 2023 FAEO Conference and investiture ceremony resolved to closely lobby to work with the African Union, AfCFTA and other Governments in Africa to achieve the goals and objectives of FAEO.
Goodwill messages were received from:
Eng. Prof Jose Vieira, the President of the World Federation of Engineering Organisations (WFEO);
Eng. Jorge Abramian, President of the World Council of Civil Engineers;
Academician Prof. Huang Wei, President of the Federation of Engineering Institutions of Asia and the Pacific (FEIAP);
Eng. Dr. Francois Baillon, CEO of International Humanitarian Infrastructure Platform (IHIP);
Presidents of Engineering Organisations of Mauritius, Liberia, Zimbabwe and other Presidents that were physically present.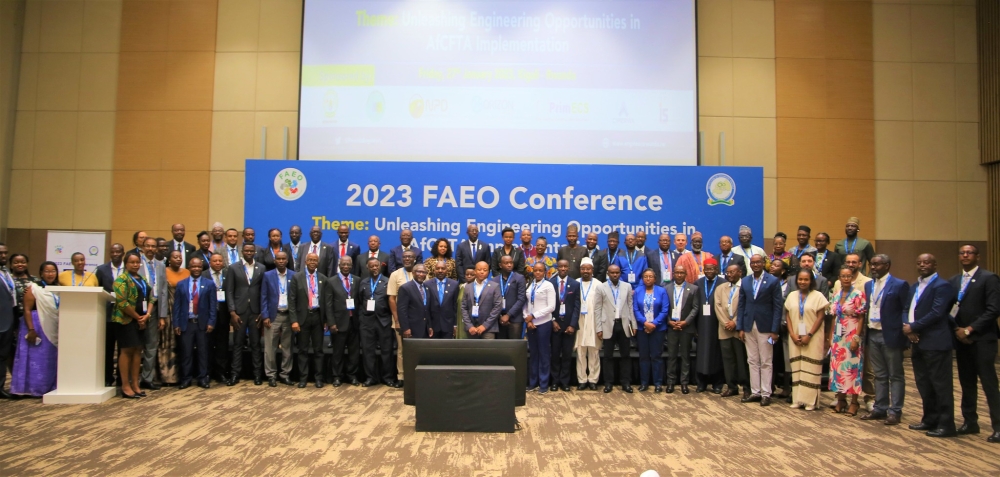 Delegates in a group photo

Notable dignitaries at the event were:
Hon. Prof. Jean Chrysostome Ngabitsinze, honourable Minister of Trade and Industry for Rwanda;
, Eng. Hon. Patricie U. Kabasha, honourable Minister for State, Rwandan Ministry of Infrastructure (MININFRA);
Mr Antoine Kajangwe, Director General of Trade and Investment in the Rwandan Ministry of Trade and Industry;
Eng. Mustafa Balarabe Shehu, President-Elect of the World Federation of Engineering Organisations (WFEO);
Eng. Dr. Charles Nmai, President of American Concrete Institute (ACI);
Eng. Rizwan Qadri, Vice President of FIDIC Africa;
Eng. Dr. Kwame Boakye, who was the keynote Speaker.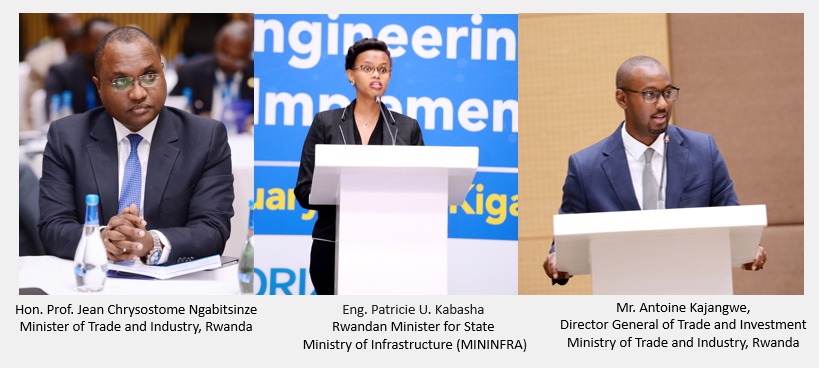 Other representatives from WFEO that were in attendance were Eng. Martin Manuhwa, Chair of the WFEO Committee Engineering Capacity Building and Eng. (Mrs.) Carlien Bou-Chedid, representing FAEO in the WFEO Executive Council.
Report by Eng. Ovens F Ehimatie, FAEO Executive Director

For more information:
Resolutions from the Conference
Concept note for revamping FAEO
Focus areas of the 6th president from 2023-2024
President's inauguration speech