WFEO-YEFL & YEA webinar – Psychological Safety in the Workplace
November 20 @ 11:00 pm

-

November 21 @ 12:00 am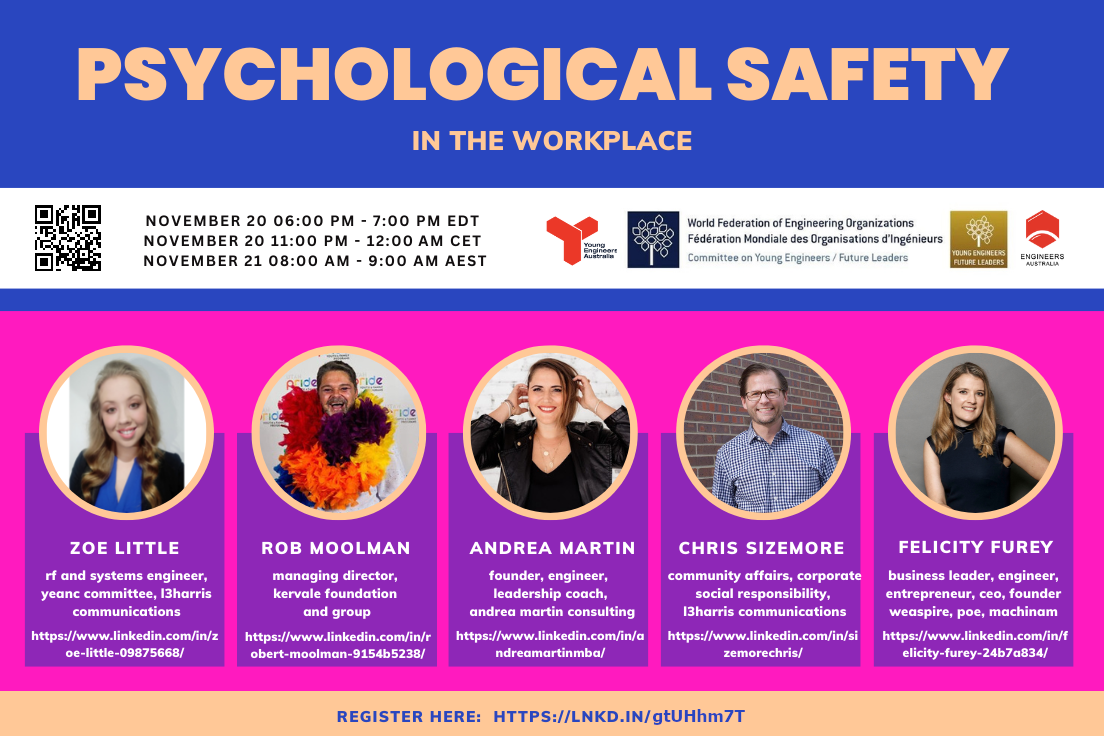 WFEO Committee on Young Engineers / Future Leaders (WFEO-YEFL) and Young Engineers Australia (YEA) will organize the webinar "Psychological Safety in the Workplace" on 20 November 2022, at 6:00 pm EDT (New-York time) / 11:00 pm CET (Paris time) / 21 November, at 8:00 am AEST (Brisbane time).
Psychological safety has become increasingly popular due to its relevance to agility, diversity, inclusion and remote working, especially since the pandemic.
Psychological safety is a belief that you feel individually and uniquely valued, empowered and respected. A culture that encourages psychological safety means that all feel comfortable to be completely themselves, where diversity, vulnerability and candour are encouraged and welcomed.
This discussion will provide its participants greater understanding of how and why to cultivate psychological safety in the workplace. You can submit your questions or comments in this page.
Event overview:
Why is it so important.
What the absence and presence of it can look like.
How policies, mechanisms, volunteering extra-curriculars can encourage it.
How individuals can encourage it.
How training, leadership, mentorship and support communities can encourage it.
Success stories.
The speakers (biographies available in the PDF presentation):
Zoe Little – RF and Systems engineer, YEANC committee, L3harris communications
Rob Moolman – Managing director, Kervale foundation and group
Andrea Martin – Founder, engineer, leadership coach, Andrea Martin consulting
Chris Sizemore – Community affairs, corporate social responsibility, L3harris communications
Felicity Furey – Business leader, engineer, entrepreneur, CEO, founder Weaspire, Poe, Machinam