WFEO-CECB Forum – Africa Asia Pacific Accord Meeting – Zimbabwe Institution of Engineers Biennial Conference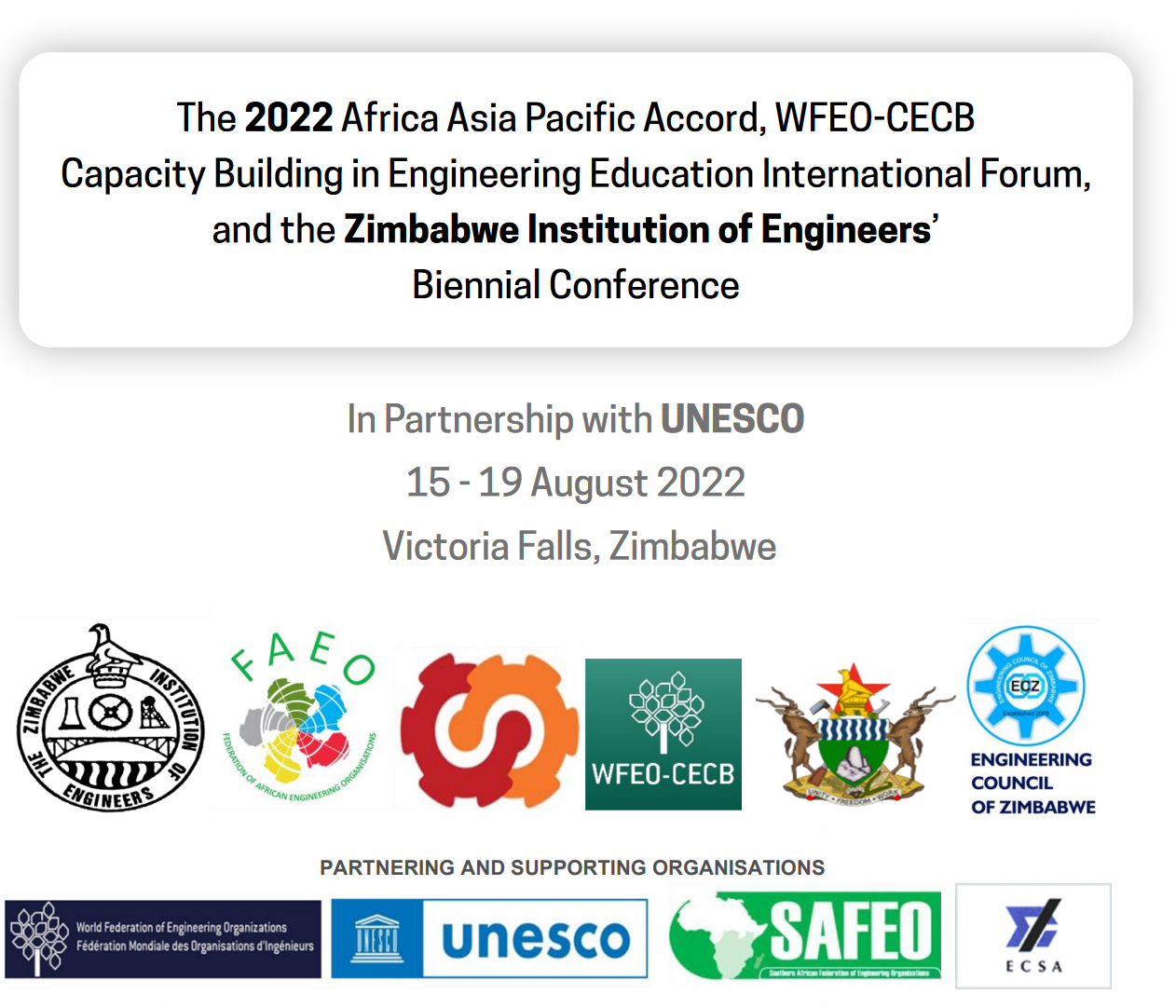 Introduction
The WFEO Committee on Engineering Capacity Building (WFEO-CECB), the Zimbabwe Institution of Engineering (ZIE), the Engineering Council of Zimbabwe (ECZ) the Federation of African Engineering Organisations (FAEO), and Federation of Engineering Institutions of Asia and Pacific (FEIAP) are organizing the "WFEO Committee on Engineering and Capacity Building Education Forum, the 2022 Africa Asia Pacific Accord International meeting and the Zimbabwe Institution of Engineering Biennial Conference" from 15 to 19 August 2022 in Victoria Falls, Zimbabwe at the Elephant Hills Resort Conference Center.
The Conference theme is "Engineering the Future through Quality Engineering Education, Partnerships, Capacity Building and Innovation".
The invited stakeholders include but are not limited to governments, educators, students, engineering practitioners and industry representatives to engage in meaningful conversations around the future of engineering education globally and the role of innovative infrastructure development in Zimbabwe and Africa. We are particularly focusing on how we have adapted to the global disruption brought about by the COVID-19 pandemic, looking at this topic from the perspective of meeting the challenges with integrative, holistic, and sustainable engineering solutions in engineering education and practice.
In 2018 the Federation of African Engineering Organisations (FAEO) under the leadership of Eng. Martin Manuhwa signed an agreement of co-operation with the Federation of Asian and Pacific Engineering Institutions (FEAIP) under the leadership of Prof Dr Huang Wei , which gave rise to the Africa Asia Pacific Accord (AAP) which was signed into effect by the current FAEO President, Ing. Carlien Bou-Chedid. The AAP has approved an engineering education capacity building conference to be hosted in Zimbabwe in August 2022. The WFEO CECB is hosting this conference in collaboration with the ECZ and ZIE. This international conference is supported by UNESCO and other international partners. The participation of WFEO Standing Technical Committees will be enhanced as the WFEO-CECB will be collaborating with other WFEO STCs like Engineering Education (hosted by Myanmar), Women in Engineering (hosted by Nigeria), Innovation and Technology (hosted by CAST of China) , Information and Communication (hosted by India) and Young Engineers (hosted by Lebanon).
Background to the Forum and Conference
The United Nations has unanimously adopted 17 Sustainable Development Goals (SDGs) and an associated Development Agenda to address the grand challenges of development – this conference is premised on developing sustainable engineering capacity to achieve these goals and revisit the development agenda. According to the 2nd UNESCO engineering report there is both a shortage in the number and quality of engineers to address the SDGs which has been driven by an increasing technological world and an aging profession in some global regions.
Africa in particular lacks adequate qualified professional engineering practitioners and effective engineering policies. This means that the continent's economic growth is slow; and that building of safe and reliable infrastructure and other economic activities is slowed down.
Africa requires large numbers of professional engineering practitioners to facilitate growth;
International governance institutions in international partnerships are required to strengthen the involvement and linkages between science, engineering, education, and policy for sustainable development;
Adequate infrastructure must be developed to enable the growth of Africa;
A focus on enhancing ethics and professionalism is required to ensure zero tolerance to corruption as a guarantee for development and prosperity to create the Africa we want;
Africa has challenges in engineering education delivery due to lack of adequate educational infrastructure, competent human capital, and a poor engineering education discipline-based research capacity. Capacity and capability building in Engineering has been slow making Africa unable to adequately participate in the Engineering projects for the building of Africa and beyond.
Most African countries are not members of the International Engineering Alliance, affecting the recognition of quality graduates and professionals.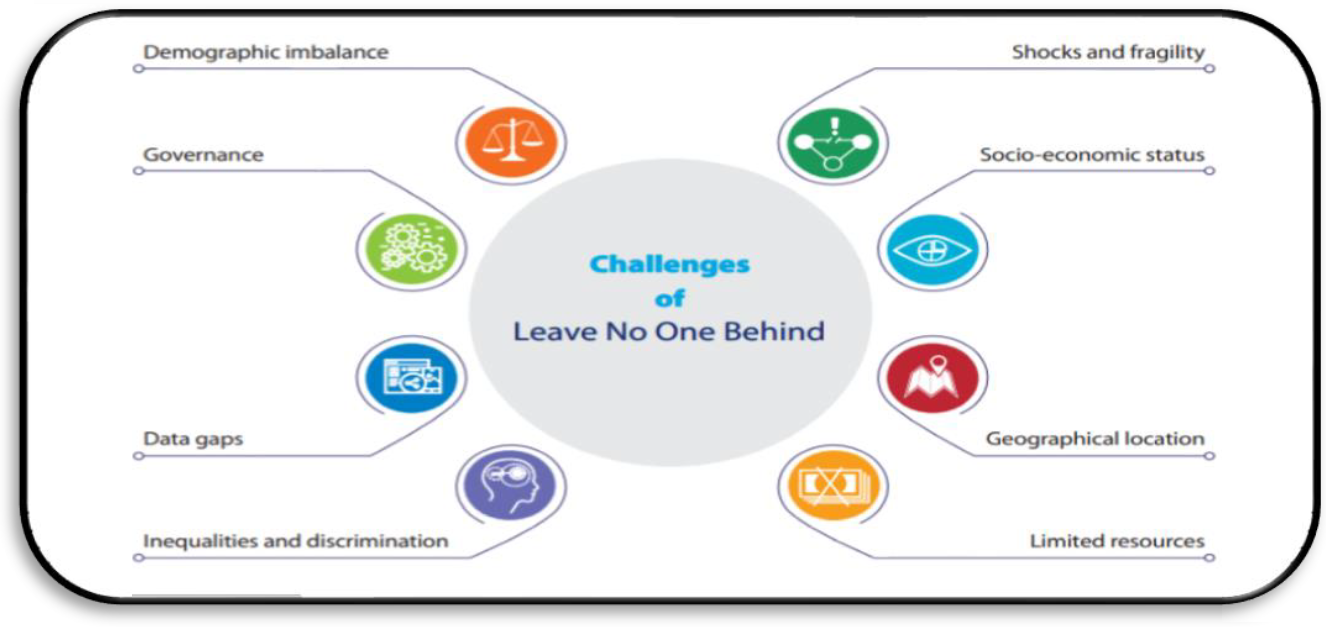 Challenges being faced by Africa
The Event
The event is unique in bringing together professional bodies, universities, regulators, policy makers, industry, governments, and international partners to advance the development of engineering capacity building in Africa. The event will be held from 16 to 20 August 2022 in Victoria Falls, Zimbabwe. This event will celebrate and leverage on several capacity initiatives of organizations working together in the past decade in Africa and beyond, from the recent UNESCO and SADC reports, and the Africa Asia Pacific Engineering Accord. There will be collaborative forum to create a unified strategy and plan for policy and practical initiatives to advance the growth of engineering capacity in Africa and beyond.
Objectives of the Event
The objectives of the conference are :
To develop a strategy and implementation plan for engineering capacity building in Africa,
To leverage on the number of engineering professionals and organizations to grow engineering capacity in Africa,
To strengthen global partnerships and build rapport with the African Union, the United Nations family, and other societies and bodies to support the development of engineering capacity in Africa,
To advance the integration of Africa through cooperation among African countries for education, culture, natural and social sciences, and communication and information,
To build a collaborative plan to develop engineering professionals with competencies that meet both international and local standards,
To develop a plan for an accreditation system for universities in Africa.
The program and the list of speakers is available in the Conference agenda available in this link.

For more information:
WFEO Committee on Engineering Capacity Building (WFEO-CECB) website
Zimbabwe Institution of Engineering (ZIE) website
Engineering Council of Zimbabwe (ECZ) website
Federation of African Engineering Organisations (FAEO) website
Federation of Engineering Institutions of Asia and Pacific (FEIAP) website