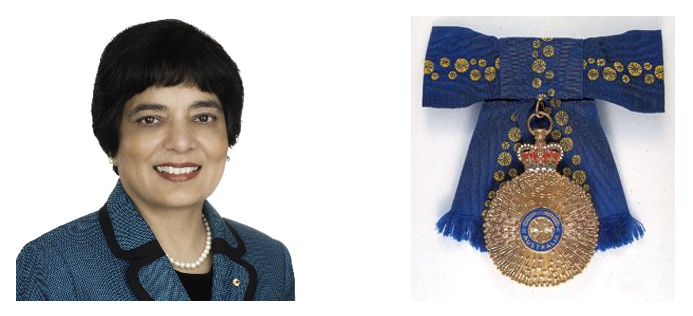 Dr Marlene Kanga AO, an outstanding and transformative leader of engineering and technology organisations in Australia and internationally has been made an Officer of the Order of Australia, a national honor, "for distinguished service to engineering, particularly as a global leader and role model to women, to professional organisations and to business."
Listed among Australia's top 10 women engineers, Marlene is currently a non-executive director of Sydney Water Corporation, Air Services Australia, Standards Australia and BESydney and previously of Innovation Science Australia and Chair of the Department of Industry and Science R&D Incentives Committee, the largest government support program for industry R&D, exceeding $4 billion, and various boards involving innovation and research commercialisation. She is an advisor to several start-up boards and a director of iOmniscient Pty. Ltd. which has developed artificial intelligence for video technologies.

As WFEO President, Marlene successfully led the proposal to declare 4th March World Engineering Day for Sustainable Development by UNESCO, the only international day for engineering.

Marlene was President of the World Federation of Engineering Organisations (WFEO), 2017-2019, with 100+ national/continental members, representing 30+ million engineers. She was 2013 National President, Engineers Australia, with more than 100,000 members.
As WFEO President, Marlene successfully led the proposal to declare 4th March World Engineering Day for Sustainable Development by UNESCO, the only international day for engineering. In 2022 the social media reach for this Day was 56 million. She also led the review of the international engineering education benchmarks which underpin mutual recognition of engineering qualifications by the International Engineering Alliance, including contemporary values such as diversity, and inclusion, consideration of the UN Sustainable Development Goals, and a commitment to consider the impacts of engineering works on society and the environment. This is the most significant review since the benchmarks were first established, and they are now endorsed by WFEO and by UNESCO.
As National President Engineers Australia, she implemented the first consolidated Member Regulations and transformed the governance structure for a relevant and contemporary organisation, enabling greater access for members, including to nominate directly for election to the Board. She continues to contribute through various positions.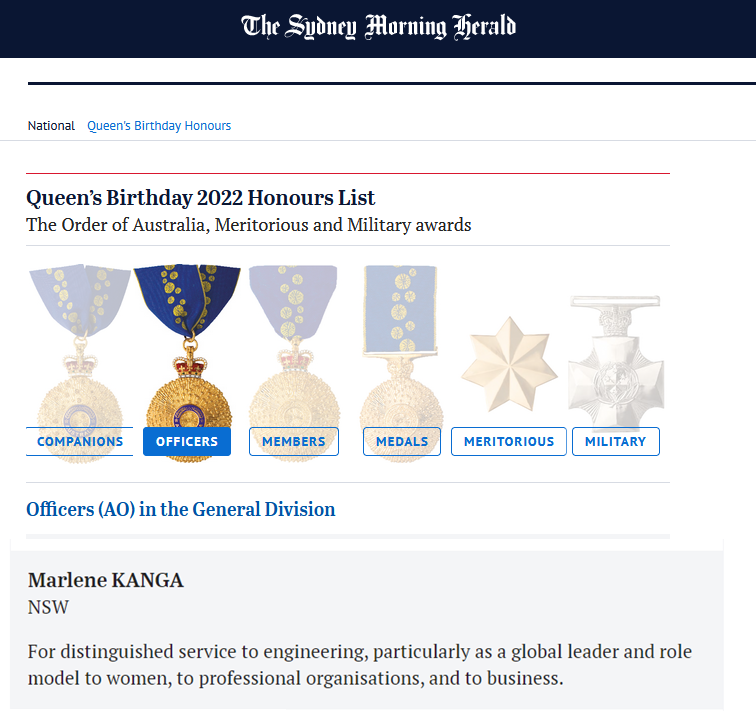 Marlene has made significant contributions to process safety engineering in Australia and New Zealand and is Chair designate of the international IChemE Safety Centre, advancing process safety practice around the world.
Championing diversity in science, technology and engineering organisations in Australia and internationally for more than 20 years, Marlene was Chair, Engineers Australia National Committee for Women in Engineering, leading world-first initiatives including the Year of Women in Engineering in 2007. She currently Co-Chairs the Australian Government's $41 million, 7-year Elevate program through the Australian Academy of Technology and Engineering (ATSE). to support the careers of women in STEM in Australia.
At WFEO, women gained greater visibility during her term as President, as event speakers, and chairs of technical and board committees. She initiated the international GREE Award for women engineers and leads initiatives for women in STEM at UNESCO and the UN.
A former Vice President of the International Network for Women Engineers and Scientists (INWES), she hosted its inaugural Asia Pacific Nation Network meeting in 2011, in Adelaide, that has grown successfully to 19 national women's organisations in the Asia-Pacific. She also mentors and supports young engineers in Australia and internationally through various programs and projects.
Marlene is an Ambassador for Sydney and was previously on the Board of Asialink and the New Colombo Plan Advisory group, facilitating greater engagement between Australia and Asia.
Marlene is an Honorary Fellow of Engineers Australia and of the Institution of Chemical Engineers (UK), a Foreign Fellow of the ASEAN Academy of Engineering and Technology and a fellow (honorary) of the engineering institutions of New Zealand and India. She was the 2018 Engineers Australia National Professional Engineer of the Year and awarded the 2019 CHEMECA Medal for contribution to chemical engineering in Australia and New Zealand. She has been listed among the 100 engineers making a contribution to Australia in the last 100 years as part of Engineers Australia Centenary celebrations in 2019 and among the Top 100 Women of Influence in Australia.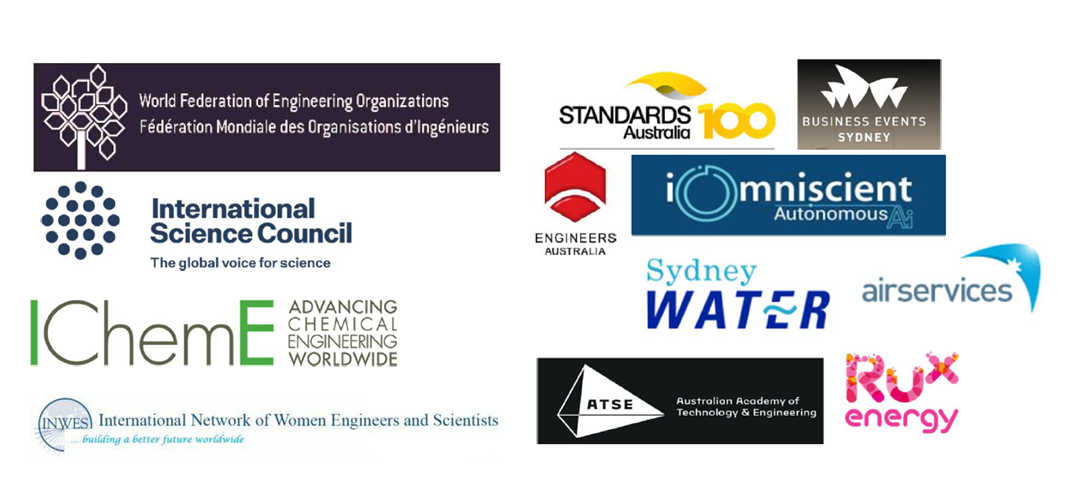 For more information:
Dr Marlene Kanga, Officer (AO) in the general division of the Order of Australia
ABC Radio website – Starts at 58:45 for 7 minutes