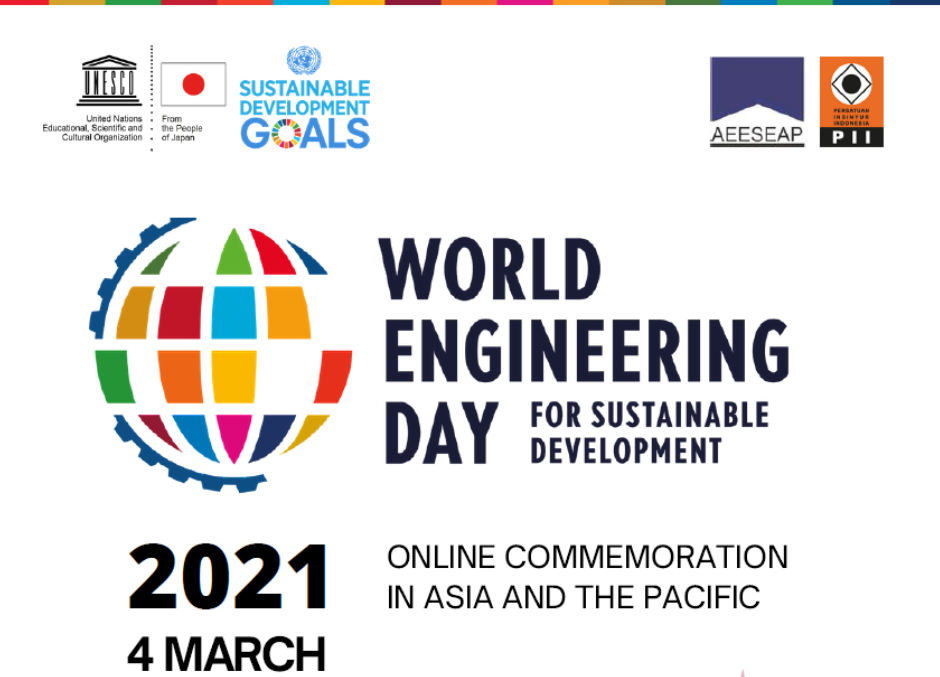 The UNESCO Regional Science Bureau for Asia and the Pacific, Jakarta, in collaboration with the Association for Engineering Education in Southeast Asia and the Pacific (AEESEAP) and the Institution of Engineers Indonesia (PII), organised an online event to celebrate World Engineering Day for Sustainable Development on 4 March 2021.
The event was a follow-up to the meeting held on 3 November 2020 exploring possible collaborations between the three institutions to strengthen the engineering value chain in Asia and the Pacific, and the 2020 AEESEAP Workshop "Enhancing Engineer Value Chain" in October 2020 on how engineering education and professional competency development can further improve global engineer collaboration to support sustainable and inclusive economic advancement.
The online event was the regional celebration of the World Engineering Day for Sustainable Development in Asia and the Pacific since its declaration in 2019. Eight international experts discussed and exchanged their perspectives on raising awareness and promoting services of engineering to society.
The event also provided an occasion and a platform to raise awareness of the engineering value chain, to increase the engineering sector's visibility and regional collaboration for an accelerated transition to a knowledge-based society through the delivery of Agenda 2030 in the Asia Pacific region. More than 330 participants joined the online session.
The Director of UNESCO Jakarta, Dr Shahbaz Khan, and the President of AEESEAP and PII, Dr Heru Dewanto, delivered their remarks to welcome the panellists and the participants. Dr Dewanto then presented the UNESCO-AEESEAP-PII Joint Publication "Enhancing Engineers Value Chain for Global Collaboration in achieving SDGs" and a proposal and invitation to develop a Global Digital Platform.
This was followed by a panel discussion moderated by Dr Ai Sugiura, Programme Specialist, UNESCO Office Jakarta
Panellists were:
Prof. Shahbaz Khan, Director and Representative UNESCO Regional Science Bureau for Asia and the Pacific
Dr Marlene Kanga, WFEO Immediate Past President,
Prof. Dr. Chuah Hean Teik, Federation of Engineering Institutions of Asia and the Pacific (FEIAP) former President
Dr. Chang Liu, Director of Division of International Cooperation, International Knowledge Centre for Engineering Sciences and Technology (IKCEST)
Dr. Leni Sophia, Universitas Gadjah Mada (UGM), Indonesia
Prof Misri Gozan, Chair of Indonesian Accreditation Board for Engineering Education (IABEE PII)
Dr Malik Adnan, UNESCO Chair on Environmental Management and Infrastructure Development Engineering, Saitama University, Japan
The recording of the webinar is available in this page.
The booklet that was released with a summary of presentations and conclusions is available here.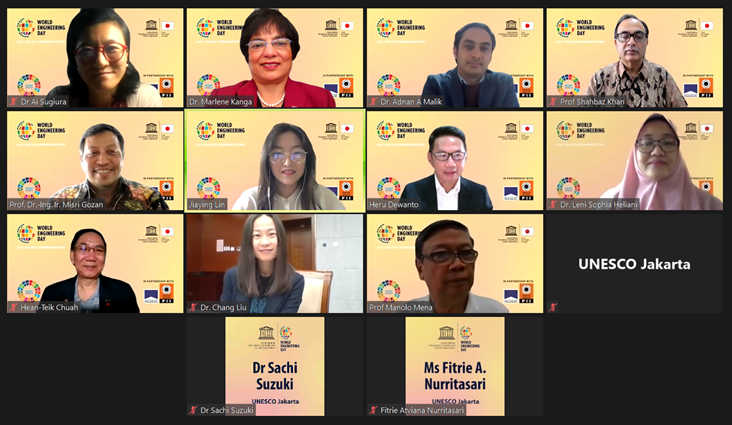 Screenshot of presenter and panellists at the online celebration.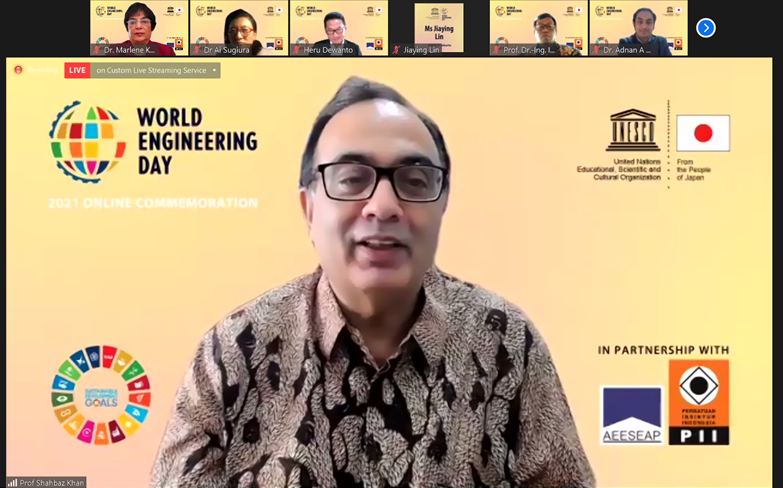 Prof. Shahbaz Khan, Director UNESCO Jakarta Regional Office, speaks at the opening.