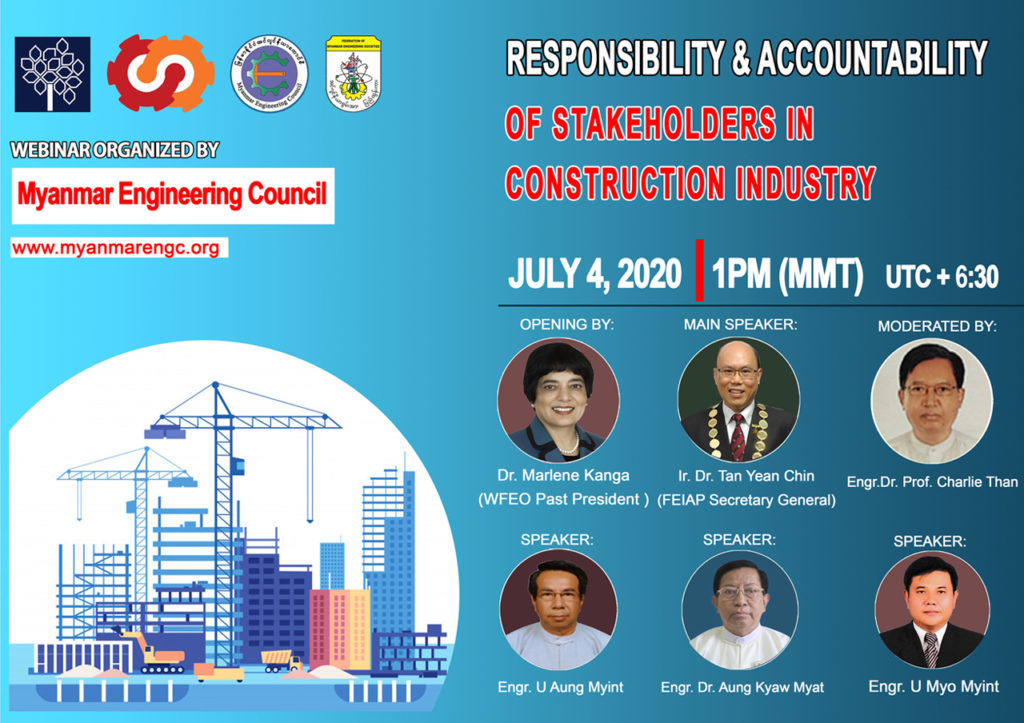 A successful international Webinar on Responsibility and Accountability of Stakeholders in the Construction Industry was held on 4th July 2020 in Rangoon, Myanmar, with speakers from Malaysia and Australia.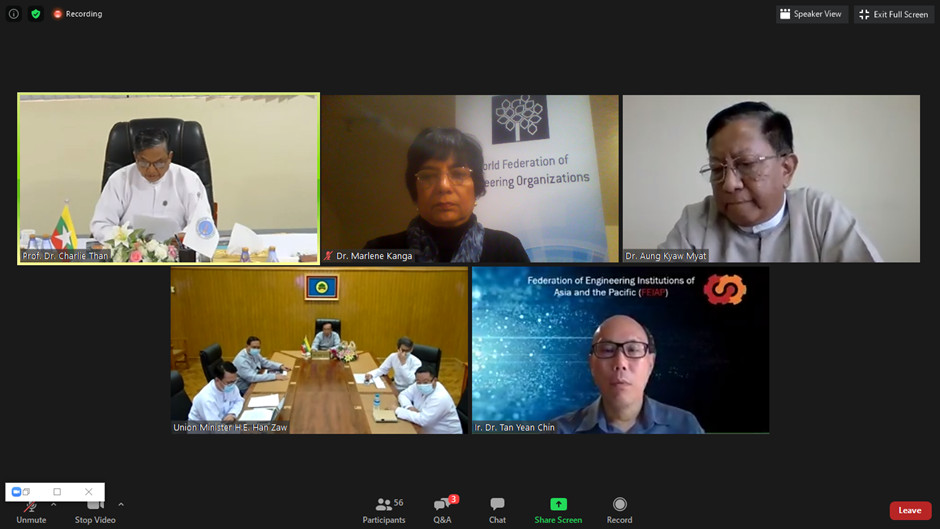 Speakers at the online webinar hosted by the Myanmar Engineering Council, 4 July 2020

The event was hosted by the Myanmar Engineering Council, an important national member of WFEO.
The event focused on the need for all parties in the supply chain of the construction industry to work together for sustainable development.
The recording of the webinar is available in this page.
Moderator: Prof. Dr. Charlie Than, President of Myanmar Engineering Council (MEngC)
Guest of Honour: H.E. U Han Zaw, Minister of Construction (Myanmar), who gave the opening speech.
Speakers:
Dr Marlene Kanga, Immediate Past President, WFEO, made opening remarks and a presentation of the latest changes in the construction industry in Australia, including legislation passed in June 2020 and need to register engineers
Ir. Dr. Tan Yean Chin, Secretary General of Federation of Engineering Institutions of Asia and Pacific (FEIAP) Responsibility and Accountability of Stakeholders in Construction Industry in Malaysia
Engr. Aung Myint, President of Federation of Myanmar Engineering Society (Fed. MES), Myanmar Construction Industry & Institutions
Engr. Dr. Aung Kyaw Myat, Chairman of High-Rise and Public Building Projects Committee (HPBC), Present Inspection System for High-rise and Public Building Projects
Engr. Myo Myint, Councillor of MEngC, Challenges ahead for Myanmar Construction Industry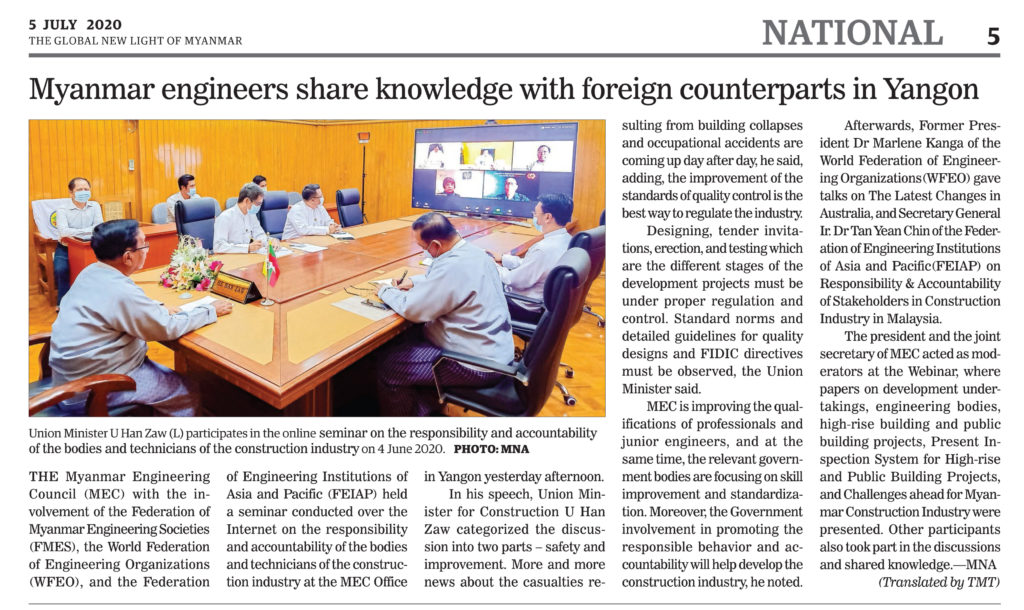 Newspaper article on the webinar, 5 July 2020. The photo shows the Union Minister for Construction and staff attending the webinar.

The webinar was very well received by the Minister for Construction and the many delegates who attended and who asked many questions on the issues with regulating the construction industry.
The meeting concluded with a decision to prepare a positon paper similar to the one developed in Malaysia and which resulted in significant legislation changes. Ir Tan Yean Chin agree to provide guidance for the project. The information from Australia by the Building Ministers was also well received and will inform the project.
Copies of the presentations are available via the links at the bottom of the page.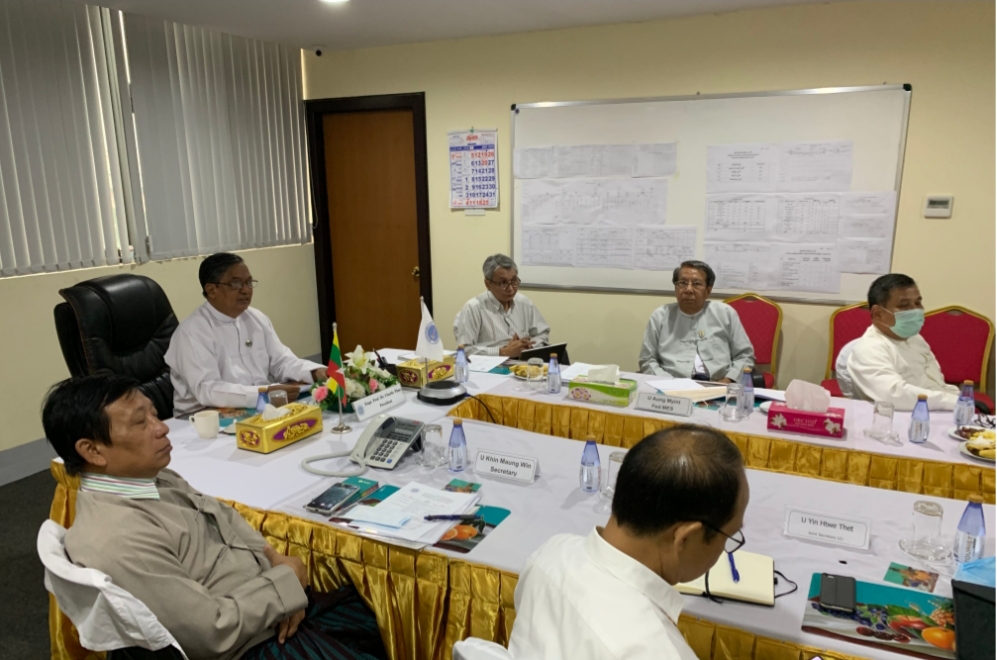 Prof Dr Charlie Than and councillors of Myanmar Engineering Council attending the webinar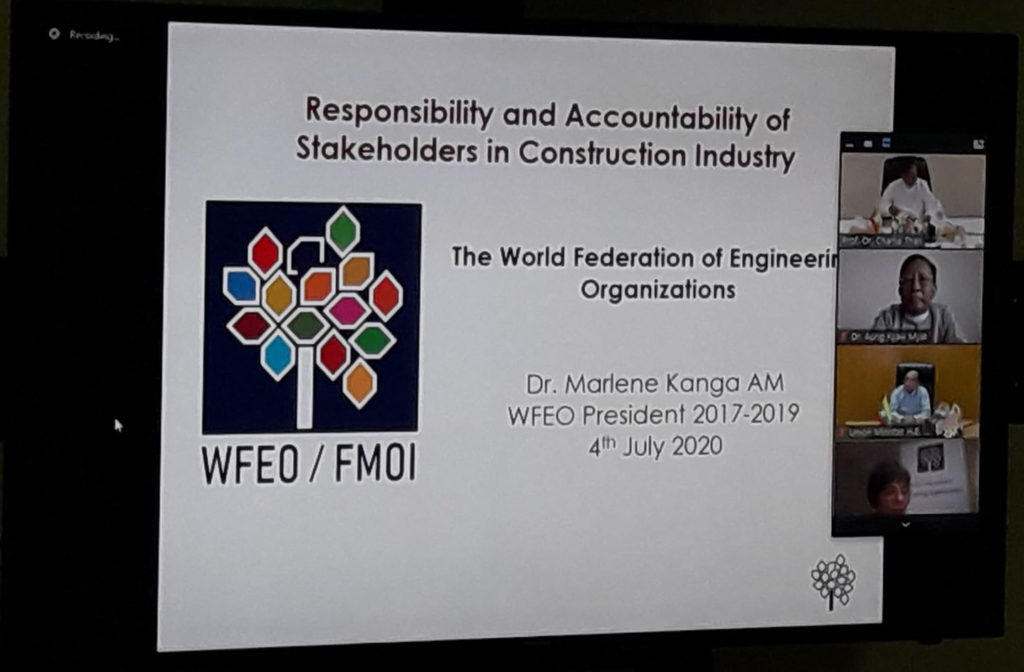 WFEO Immediate Past President Dr Marlene Kanga presents at the webinar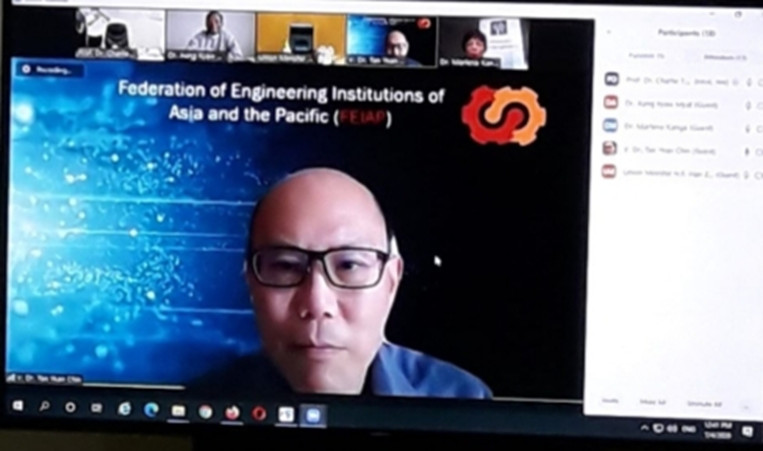 FEIAP Secretary General Ir Tan Yean Chin, presents at the webinar
For more information:
"Responsibility and Accountability of Stakeholders in Construction Industry" by Dr. Marlene Kanga
"Myanmar Construction Industry and Institutions" by Eng U Aung Myint
"Present Inspection System For High-Rise And Public Building Projects" by Prof. Dr. Aung Kyaw Myat
"Challenges Ahead for Myanmar Construction Industry" by Mr. Myo Myint
Position Paper on Responsibility and Accountability of Stakeholders in Construction Industry
"Building Confidence" by Peter Shergold and Bronwyn Weir – February 2018