The World Federation of Engineering Organizations (WFEO) is the international organization for the engineering profession. Founded in 1968, under the auspices of UNESCO, WFEO brings together national engineering institutions from some 100 nations and represents more than 30 million engineers.
Dear colleagues and visitors, stay safe under these circumstances ! WFEO Secretariat remains at work from home.
White Paper: Geospatial Engg Sustainable Development
This White Paper, produced by WFEO, WGIC and UN-GGIM provides insights and data about the value of Integrated Geospatial and Building Information Modelling (BIM) solutions to advance the United Nations Sustainable Development Goals (Agenda 2030).
Webinar on the Construction Industry
Webinar on Responsibility and Accountability of Stakeholders in the Construction Industry was held on 4th July 2020 in Rangoon, hosted by the MEngC, focused on the need in the supply chain of the construction industry to work together for sustainable development.
The 4th World Intelligence Congress – WIC2020
WFEO President attented the 4th World Intelligence Congress – WIC2020, successfully held online in light of the ongoing COVID-19 pandemic around the globe, in Tianjin from June 23 to 24, 2020 under the theme of "Intelligence New Era: Innovation, Energization and Ecology".
Participation in the Creativity 2030 Forum
ICCSD organized the online event of the "Creativity 2030 Forum" in May 8 to conduct discussions in respond to the challenge posted by COVID-19 from perspectives of public health policy, urban planning, application of science and technology, community building, etc.
Latest Flash-Infos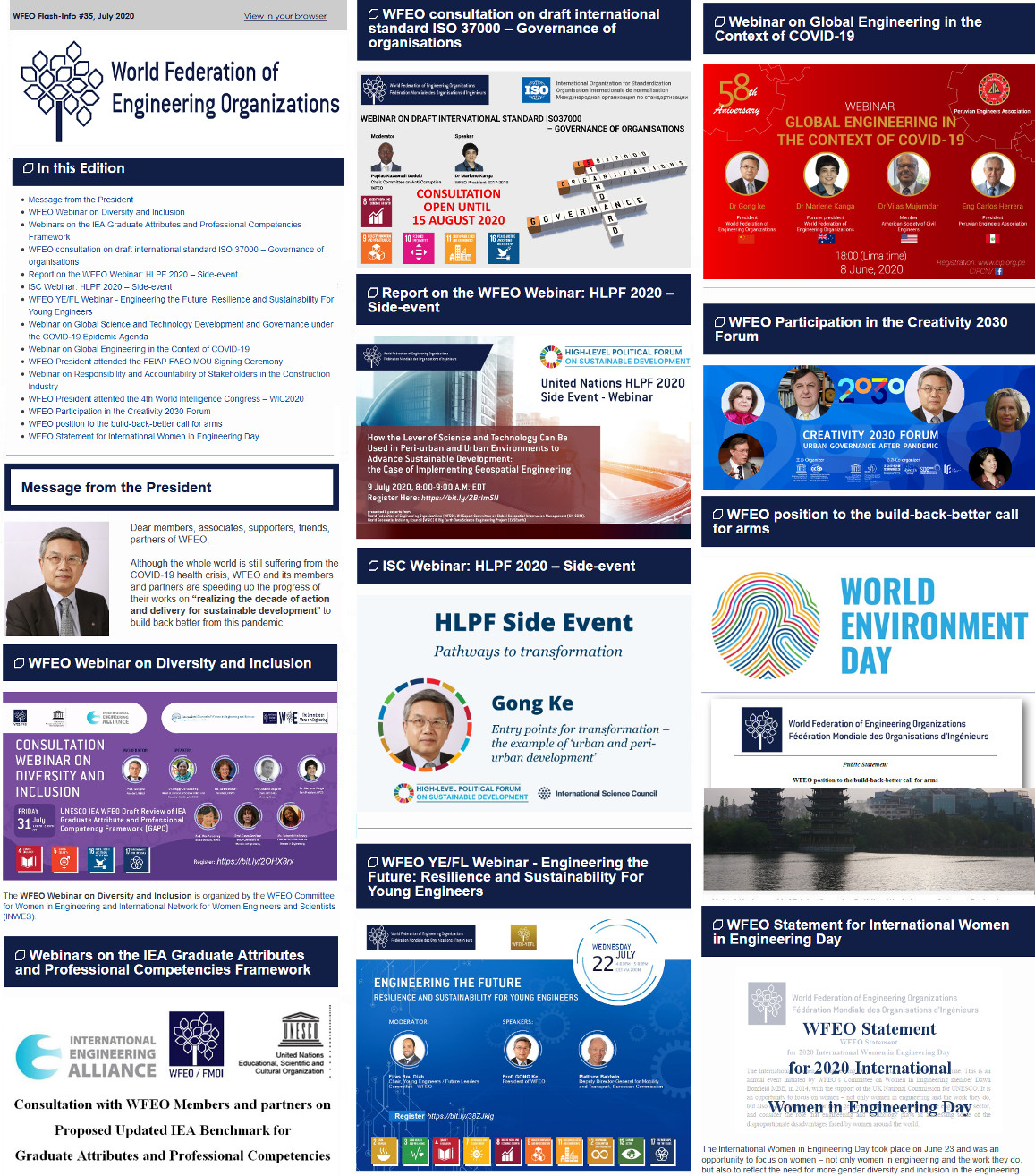 • Message from the President
• WFEO Webinar on Diversity and Inclusion
• Webinars on the IEA Graduate Attributes and Professional Competencies Framework
• WFEO consultation on draft international standard ISO 37000 – Governance of organisations
• Report on the WFEO Webinar: HLPF 2020 – Side-event
• ISC Webinar: HLPF 2020 – Side-event
• WFEO YE/FL Webinar – Engineering the Future: Resilience and Sustainability For Young Engineers
• Webinar on Global Science and Technology Development and Governance under the COVID-19 Epidemic Agenda
• Webinar on Global Engineering in the Context of COVID-19
• WFEO President attended the FEIAP FAEO MOU Signing Ceremony
• Webinar on Responsibility and Accountability of Stakeholders in the Construction Industry
• WFEO President attented the 4th World Intelligence Congress – WIC2020
• WFEO Participation in the Creativity 2030 Forum
• WFEO position to the build-back-better call for arms
• WFEO Statement for International Women in Engineering Day
Read more…
/
See all Flash-Infos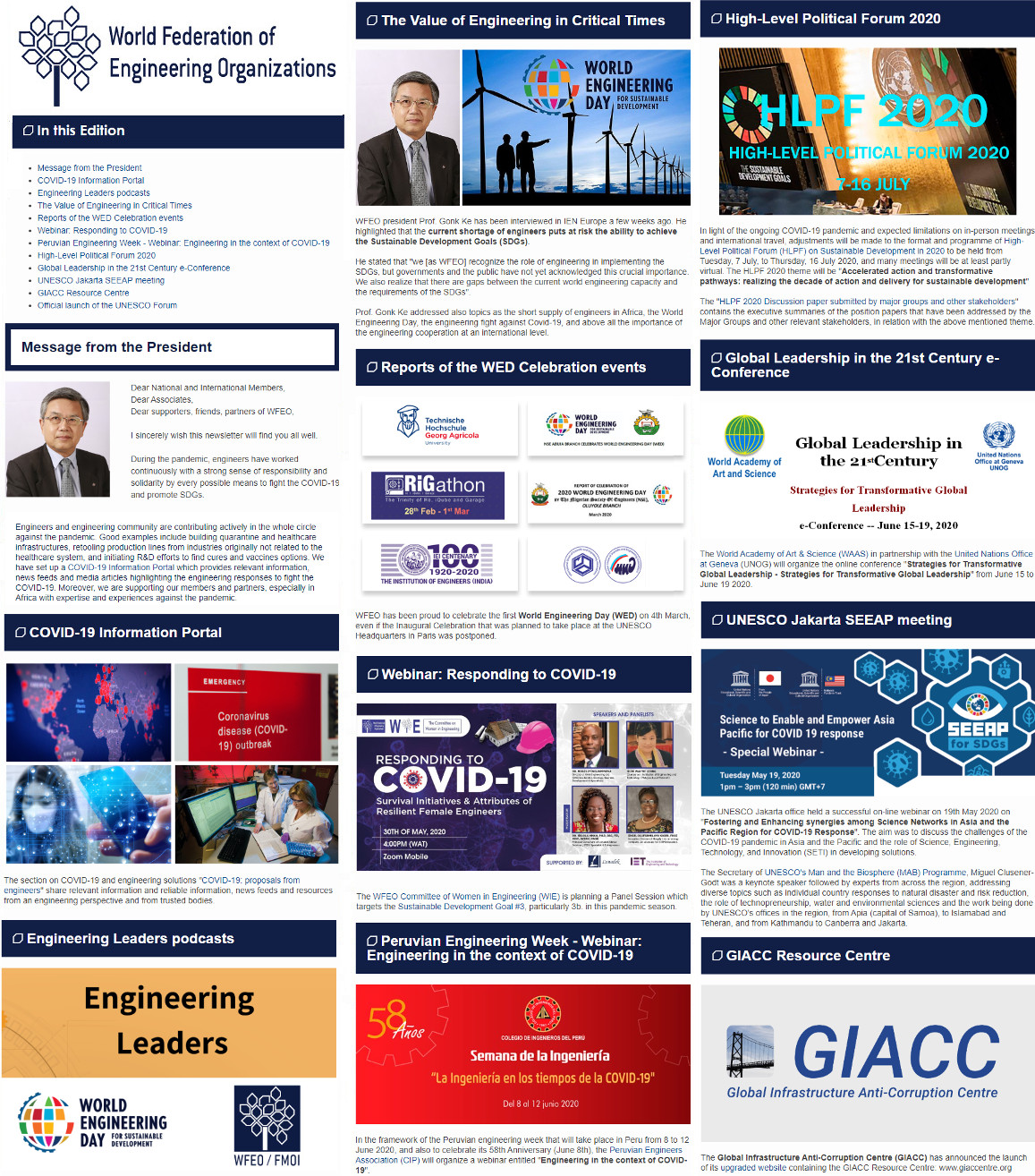 • Message from the President
• COVID-19 Information Portal
• Engineering Leaders podcasts
• The Value of Engineering in Critical Times
• Reports of the WED Celebration events
• Webinar: Responding to COVID-19
• Peruvian Engineering Week – Webinar: Engineering in the context of COVID-19
• High-Level Political Forum 2020
• Global Leadership in the 21st Century e-Conference
• UNESCO Jakarta SEEAP meeting
• GIACC Resource Centre
• Official launch of the UNESCO Forum
Read more…
/
See all Flash-Infos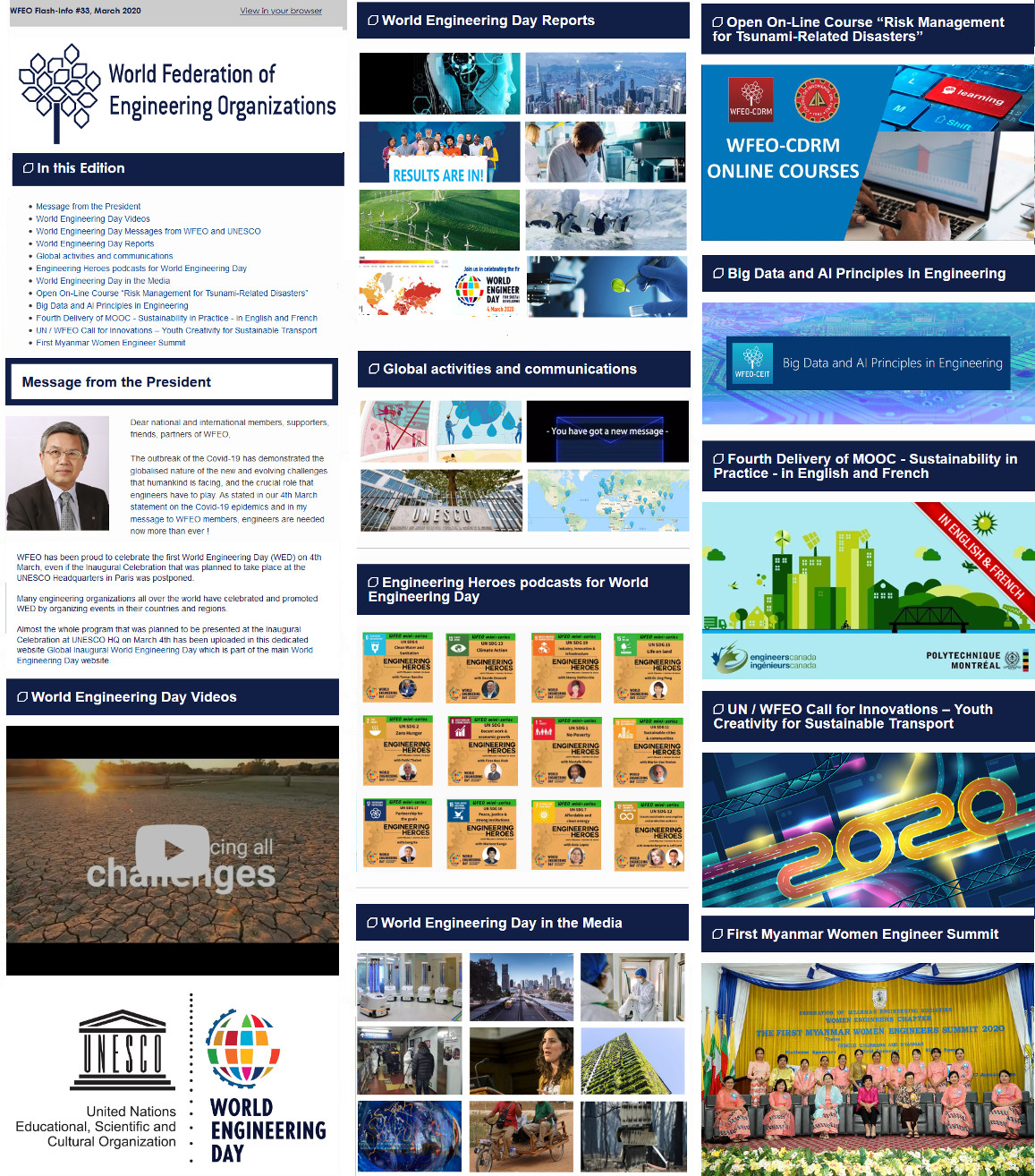 • Message from the President
• World Engineering Day Videos
• World Engineering Day Messages from WFEO and UNESCO
• World Engineering Day Reports
• Global activities and communications
• Engineering Heroes podcasts for World Engineering Day
• World Engineering Day in the Media
• Open On-Line Course "Risk Management for Tsunami-Related Disasters"
• Big Data and AI Principles in Engineering
• Fourth Delivery of MOOC – Sustainability in Practice – in English and French
• UN / WFEO Call for Innovations – Youth Creativity for Sustainable Transport
• First Myanmar Women Engineer Summit
Read more…
/
See all Flash-Infos