Episode 4 – Internet of Things (IoT) for Sustainable Development Goals
By Ir. Dr. CheeFai TAN
Associate Professor, Universiti Tunku Abdul Rahman (UTAR)
Member of Big Data and AI Working Group, WFEO-CEIT


About Ir. Dr. CheeFai TAN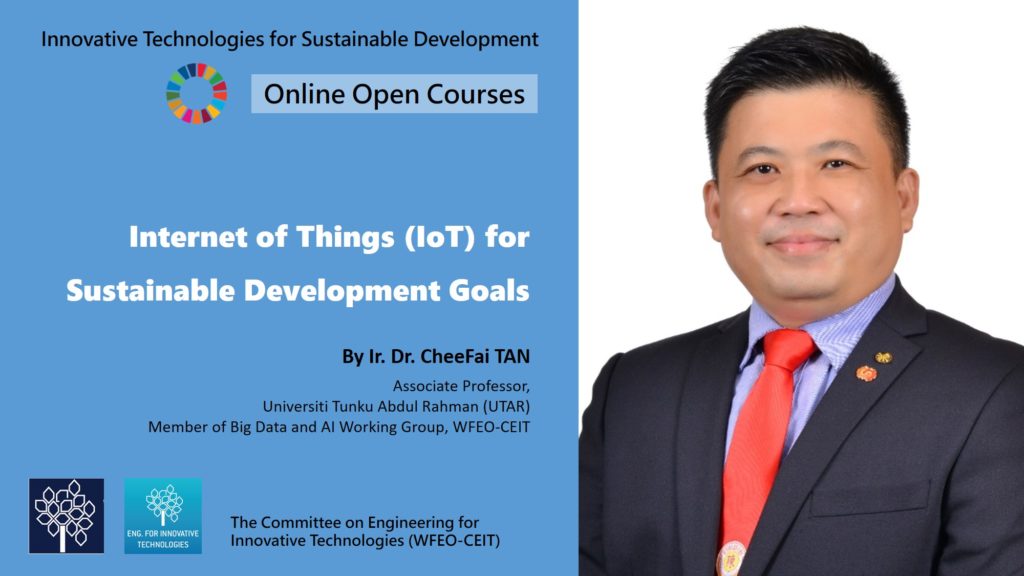 Ir. Dr. Tan Chee Fai has more than 20 years of working experience in the manufacturing industry. He is a Professional Engineer (Malaysia), Professional Technologist (Malaysia), ASEAN Engineer (AER), APEC Engineer and International PE (IEA).
Ir. Dr. Tan is a Fellow of the ASEAN Academy of Engineering & Technology (AAET), Honorary Fellow of ASEAN Federation of Engineering Organizations (AFEO), and Fellow of the Institution of Engineers Malaysia (IEM). He is the committee member of WFEO's Committee on Engineering for Innovative Technologies (CEIT) since 2018. He is actively involved in various intelligent strategic and technical consultations to assist the industry towards Digital Transformation. He is the Malaysia Productivity Corporation (MPC) Digital Transformation advisor/mentor. Additionally, Ir. Dr. Tan is the Technical Expert for ISO/IEC Smart Manufacturing Standards Map Task Force (ISO/IEC SM2TF) since 2019.
He was the UNESCO Consultant to review the implementation of the "FEIAP Engineering Education Guidelines in Pakistan and Nigeria". Based on his contribution to the engineering community since 1998, Ir. Dr. Tan was awarded the 2014 Ten Outstanding Young Malaysian Award Honoree.