Episode 1 – Big Earth Data Management Development and Its Application for SDG15
By Prof. Juanle WANG
Professor, Institute of Geographic Sciences and Natural Resources Research, Chinese Academy of Sciences
Member of Big Data and AI Working Group, WFEO-CEIT


About Prof. Juanle WANG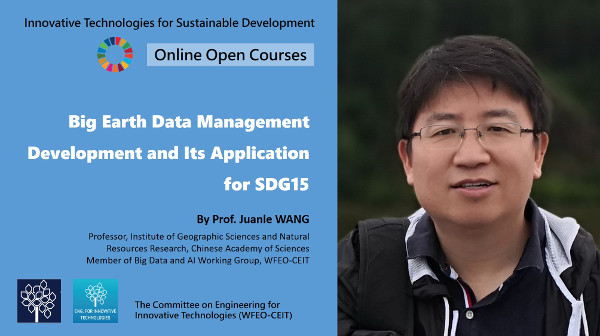 Juanle WANG, received a Ph.D. degree in 2005 from University of Chinese Academy of Sciences and a B.S and a Master degree from China University of Mining and Technology.
He is currently a professor and deputy director of department of Geodata Science and sharing at Institute of Geographic Sciences and Natural Resources Research, Chinese Academy of Sciences, member of Science Committee of World Data System in the International Science Council (ISC-WDS), director of World Data Center for Renewable Resources and Environment in World Data System of the International Science Council, executive director of sub center of Disaster Risk Reduction Knowledge Service in IKCEST of UNESCO, editorial board of "Data Science Journal" (CODATA), "Data" (MDPI), "China Science & Technology Resources Review" (CHINA) and "China Scientific Data" (CHINA).
His main research interests are data curation and sharing in geosciences, disaster risk reduction knowledge service, and remote sensing in environmental management. He published more than 100 papers, 4 monographs and 2 atlases. He was awarded the Second prize of National Science and Technology Progress Award of China in 2014, and the Third prize of outstanding map award of China in 2018.