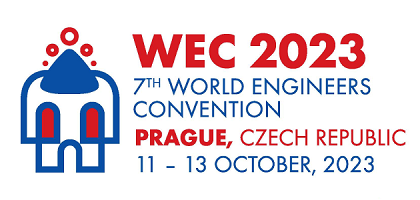 In October 2023, the global engineering community will meet in Prague to discuss our contribution to the "great transformation" through UN SDGs !
WFEO DELEGATES REGISTRATION
Please fill in this on-line Registration form and follow the steps outlined on the invitation letter (available here) that has been sent to your Member organization, last 12 June.
If you are not a member of the Executive Council, you will need the discount codes that were sent to your Member organization, last 13 June.
The registration process consists of three easy steps:
1. Fill out the Personal data form. Choose preferably "organization – non-taxable" in order to receive an invoice. The field "Company identification number:" does not need to be filled. Once you have filled the form, you will receive by email a password, to be used for registration in other modules.
2. On the main portal menu: choose one of the following registration's buttons:
WFEO meetings, WEC 2023 Conference, Accommodation, Social Events/Tours;
Once you have completed one of those, you can either finalize your payment, or go back to the main portal menu. When relevant, choose your registration fee and use the appropriate discount code when applicable;
3. Pay on-line by debit/credit card or by bank transfer.
The Czech Association of Scientific and Technical Societies (CSVTS) in collaboration with WFEO will hold the 7th World Engineers Convention WEC 2023 and the WFEO General Assembly in Prague, the capital of the Czech Republic, in October 2023.
The theme of WEC 2023 "Engineering for life: Breakthrough Technologies and Capacity Development Focused on UN SDGs" responds to current planetary challenges and reflects the main goal which is to explore and find how high-tech, as well as low-tech innovations, artificial intelligence and a transdisciplinary approach, can ensure environmental sustainability and assure a safer, fairer, more efficient, better, healthy and peaceful future.
 




The organizers of WEC 2023 would like to invite engineers, academics, global thought leaders, technical specialists, professional and engineering association members, educators, students, industry influencers and professionals from other fields from all over the world to share their latest knowledge, experience, research, suggestions and visions which would present the latest achievements of the engineering art at this magnificent engineering event.
Technical program of the congress is focused to 8 United Nations' Sustainable Development Goals in the wide range of areas of engineering which are grouped to the following topics (detailed in this page):
New Solutions for Energy
Smart Cities, Concept of Urbanization
Engineering Approach to Environment Protection
Engineering Education and Continuing Professional Development
Green Transport
Safe Digital World
Innovative Technologies in Industry
Engineering in Health Care
Food and Fresh Water Supply
Natural and Industrial Disasters Prevention
Climate Change Mitigation and Adaptation
From Earth to the Universe
Young Engineers Forum
Women in Science and Engineering
For more information:
WFEO Meetings Programme (as of 18 May 2023)
WEC 2023 Programme at a Glance
Czech Association of Scientific and Technical Societies (CSVTS) website